Walk-in Closet Latest Design Ideas in 2023
A walk-in closet is a wonderful luxury that provides you the space to organize your clothes and other personal belongings. This is an welcome convenience, and a well-designed walk-in closet makes the experience even more pleasing.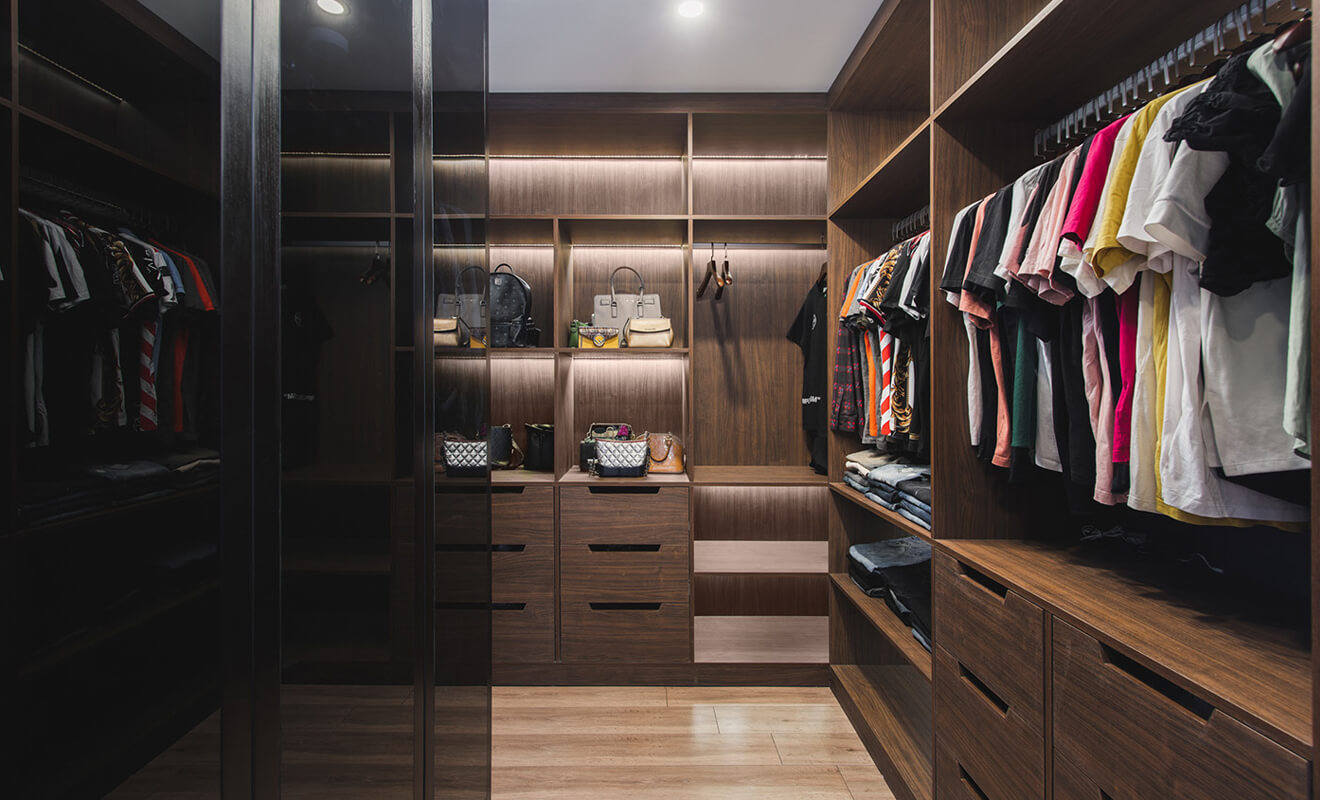 Here are some of basic and the most important elements to be considered with a walk in closet design:
Storage cabinets: Getting your clothes, shoes, bags and accessories organized in cabinets is important to save both time and energy to help you easily find what you need.
Drawers: Storage drawers are very efficient is storing things They can help maximize organization. When you open the drawers, everything is visible.
Shelving: Choose high quality shelving system in your walk-in closet, which makes everything in-view and more accessible.
Lighting: Interior lighting adds ambiance to the overall space and highlight personal effects besides illumination. It's a good idea to select light stripes install inside the cabinets, beneath the shelves and around the walk-in closet island.
Island: A walk-in closet island is a must-have feature when it comes to walk-in closet design that have your convenience in mind. It can serve several functions, from simply storage of more important things like jewelry and shoes to a simple counter you can use as a table with an installed power plug for charging phones.
Here are some stunning walk-in closet designs for your reference: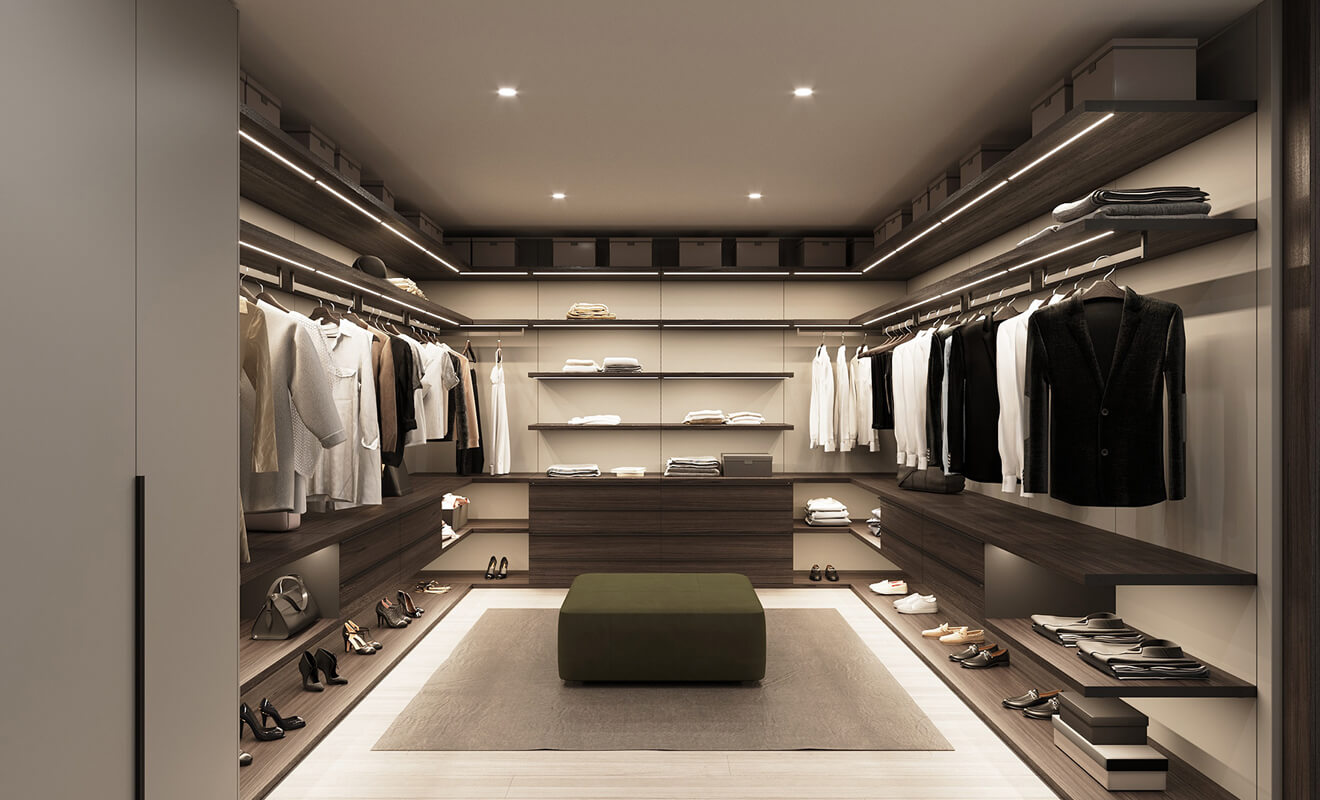 It feels like stepping into your personal showroom. Use open shelving to add to the utilitarian feel that's still stylish. The fixed wooden shelves and drawers provide ample storage and allow you to keep your pretty clothes on display. Incorporate under-mount lighting for a high-end look.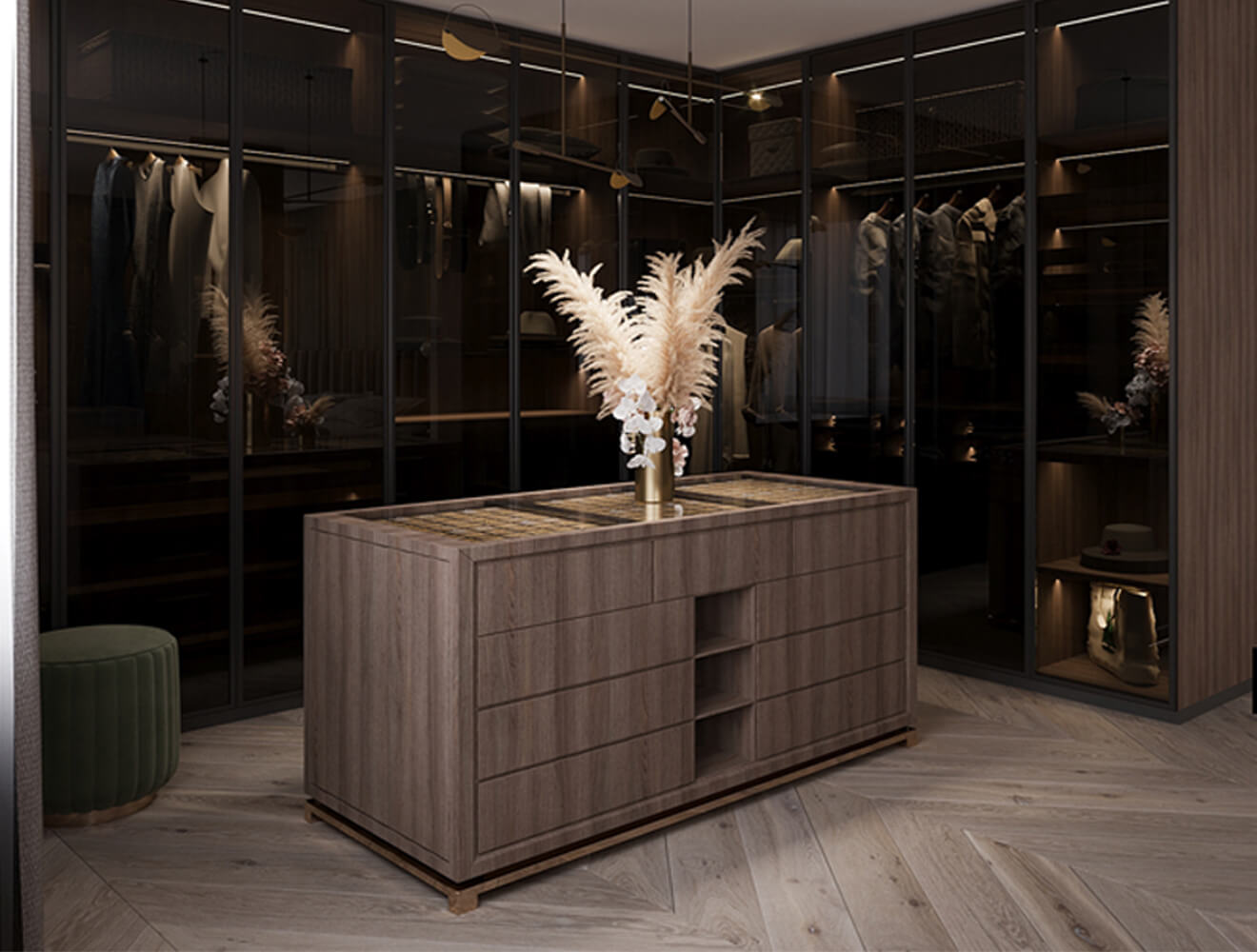 Glass L-shaped cabinets with metal frames and interior lighting make for splashy storage while allowing the owner's clothing to steal the show in this walk-in closet. The centre island rounds up the entire ensemble towards a more elegant and trendy look.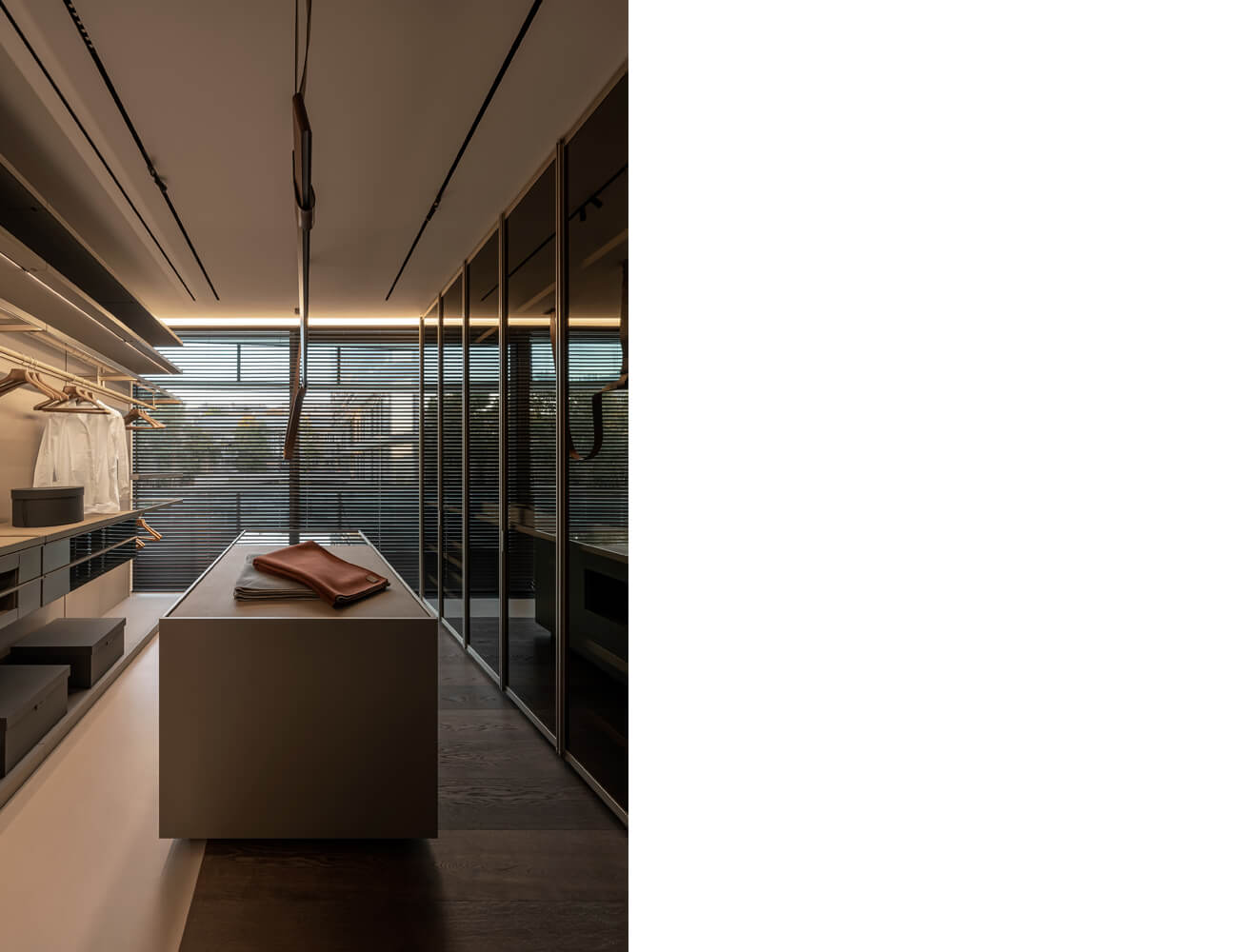 This walk-in closet design includes a combination of open and closed storage. Shelving on the left is for easier access to clothes, while colored-glass wardrobe on the right giving a sense of luxury and privacy. The island provides a handy spot for placing items temporarily and folding clothing. This multi-purpose closet feature also provides valuable extra storage space.
If your home has some long, narrow gallery space, utilize it for your walk-in closet. Space is definitely maximized in this design as it successfully uses all available wall space to its maximum, by installing floor to ceiling height glass cabinets.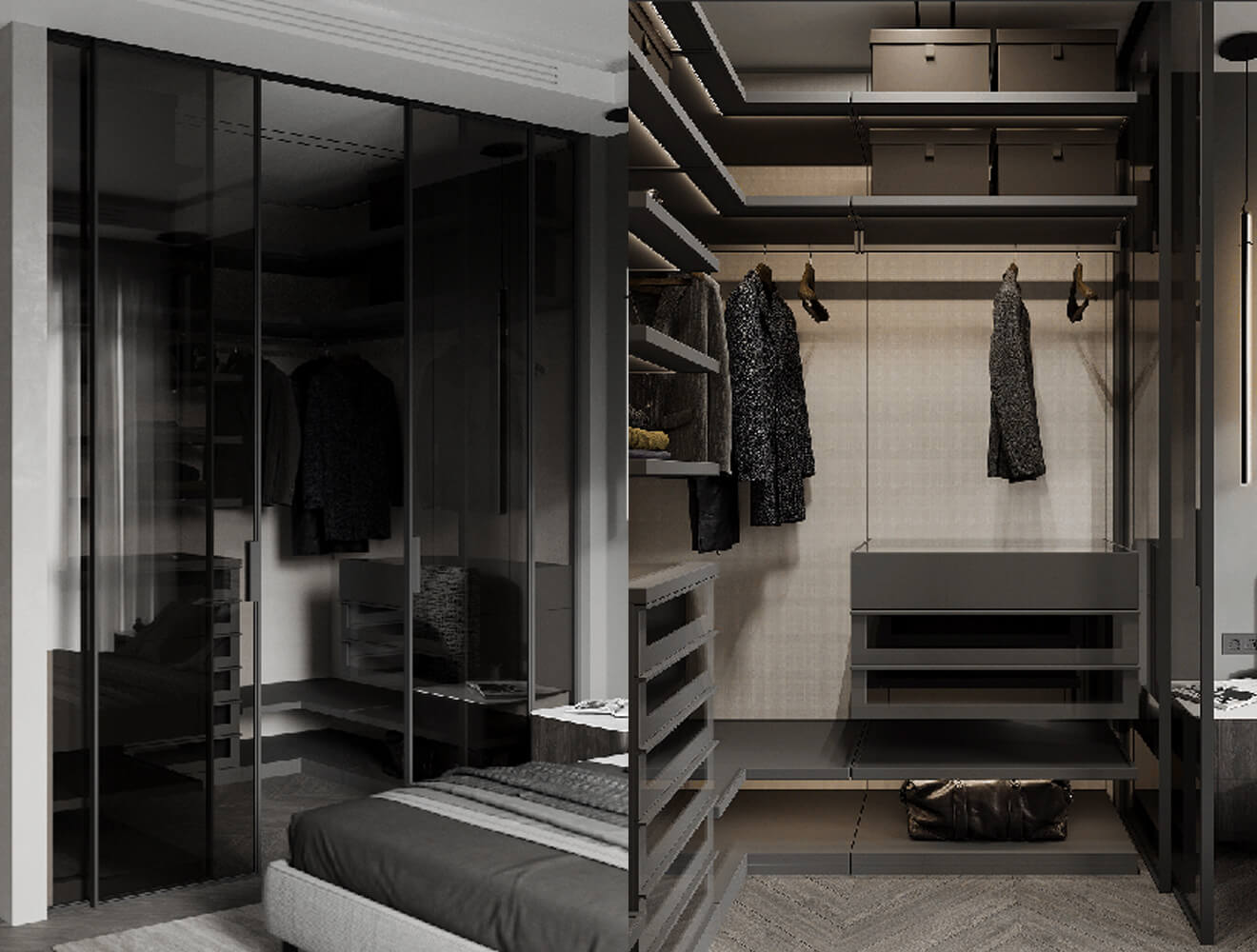 Incorporate wonderful glass doors, interior shelves and hangers for the storage and display of personal clothing. Have interior lighting to provide essential lighting and add ambiance to the overall space. Gray outlines a tough and high-end look. It feels really soft and private for your dressing area.
Learn more about cabinet knowledge:
12 Sets of Beautiful Luxury Kitchen Designs
Latest High Gloss Kitchen Cabinets Ideas