Decorate Your Kitchen with Versatile Glass
Whether you are in the process of renovating your current kitchen or constructing a brand new one, incorporating kitchen cabinets with glass doors can add a touch of artistic flair and creativity to your overall kitchen decor. Installing glass doors on your kitchen cabinets offers a plethora of benefits, the most obvious of which is the ability to see the contents within.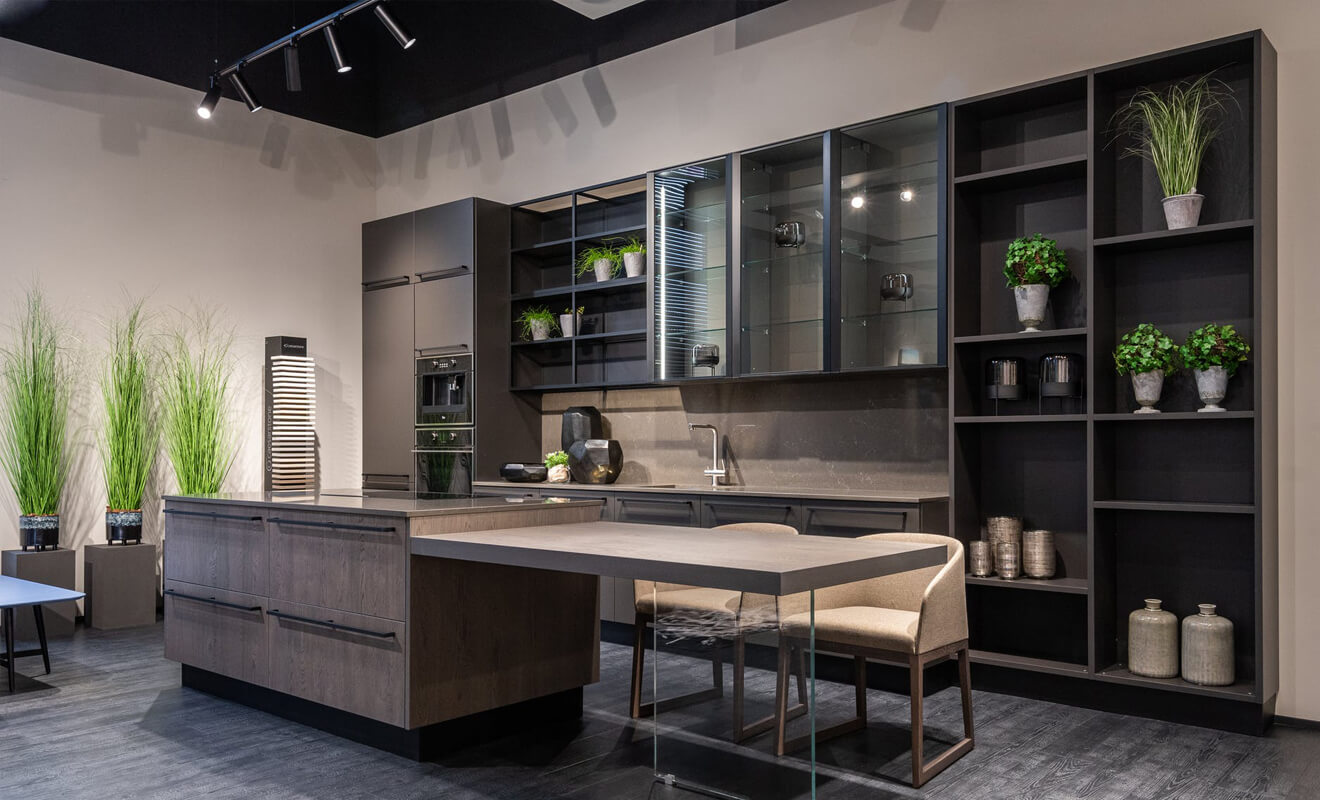 Incorporating glass cabinet doors in your kitchen design also adds a touch of refinement and sophistication. Not only do they break up the monotony of repeated cabinet fronts, but they also provide both aesthetic and functional appeal, allowing you to showcase your elegant dishware or cherished treasures. A traditional designer's technique, glass cabinets and doors create the illusion of depth, making smaller spaces appear larger.
Moreover, you have a wide selection of glass kitchen cabinet doors to choose from. These designs can match nearly any cabinet design, from entirely transparent and translucent to slightly opaque, patterned, etched, frosted, or grooved glass.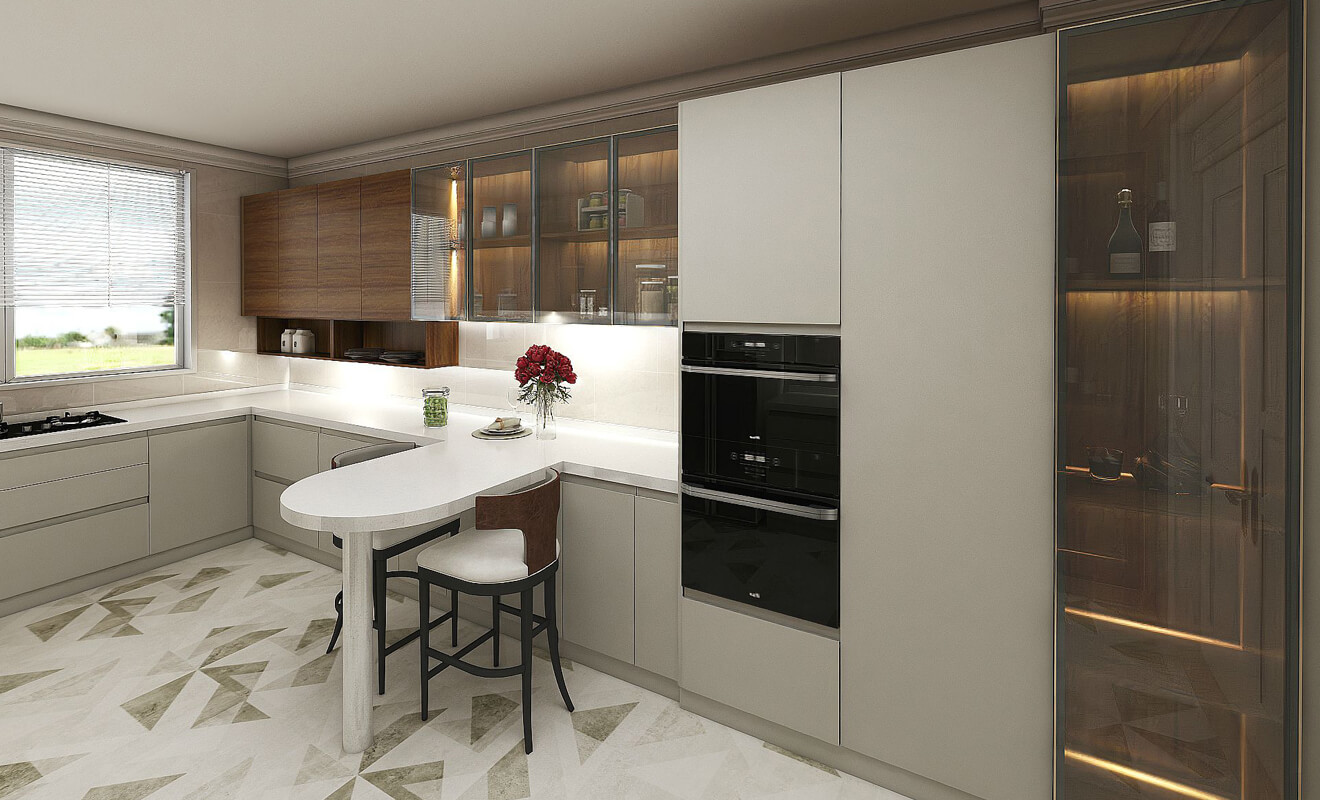 Decorative glass inserts for your kitchen cabinets can add a unique touch of artistry to your overall design. They can be used to create any style and accentuate any design, making them incredibly versatile. Depending on the cabinets and glass type, decorative glass inserts can feel either modern or antique.
Adding a decorative glass insert is a small change that can make a significant impact on your kitchen's appearance. Here are some types of decorative glass inserts that can give your glass kitchen cabinets a more modern or traditional look:
Colored Glass: Colored glass inserts usually have various tints printed directly onto the glass. Subtle hues highlight the design and opacity of the decorative glass. You can create a unique glass insert by experimenting with different hues and opacities.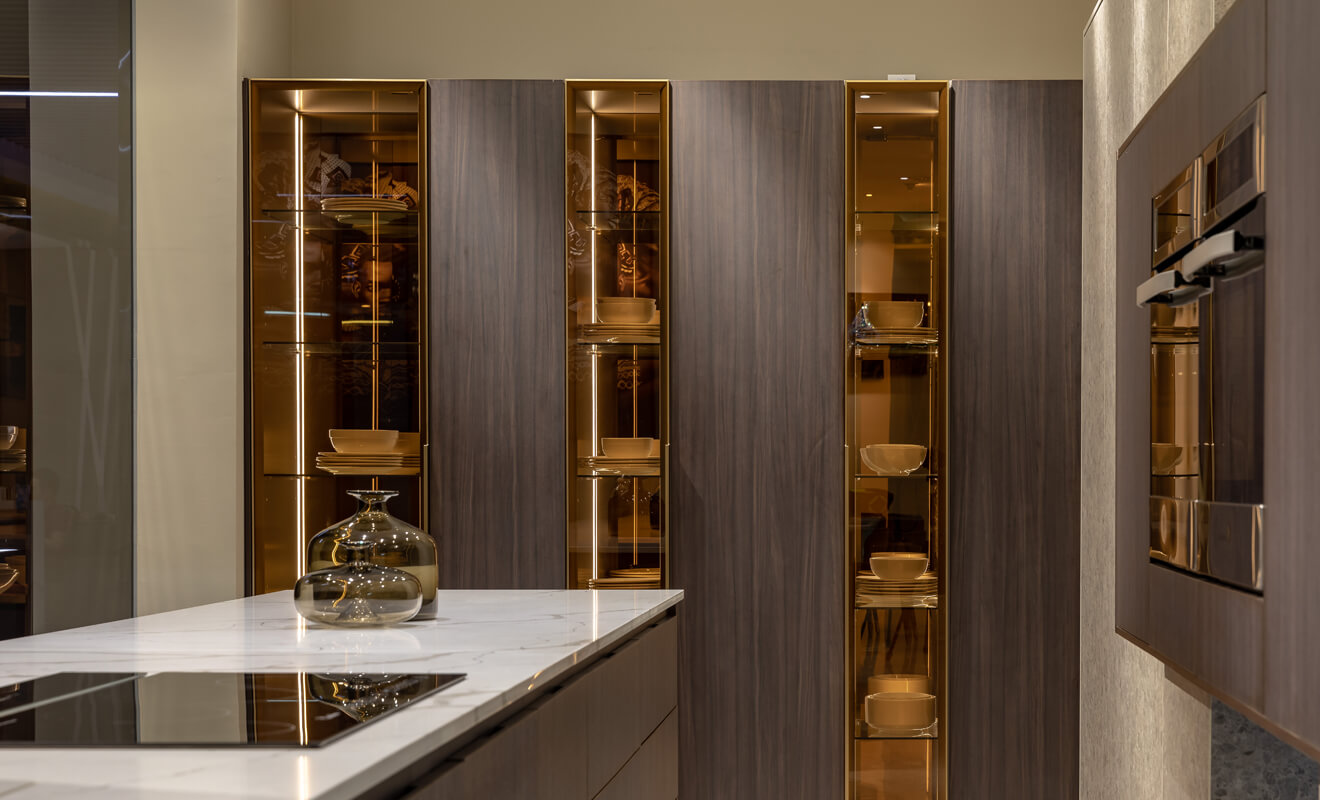 Patterned Glass: Patterned glass inserts are an excellent alternative to the more common transparent and frosted glass options for kitchen cabinets. They come in various styles, with delicate textures and smooth, yet precise fluidity, bringing light to medium opacity to your kitchen cabinets.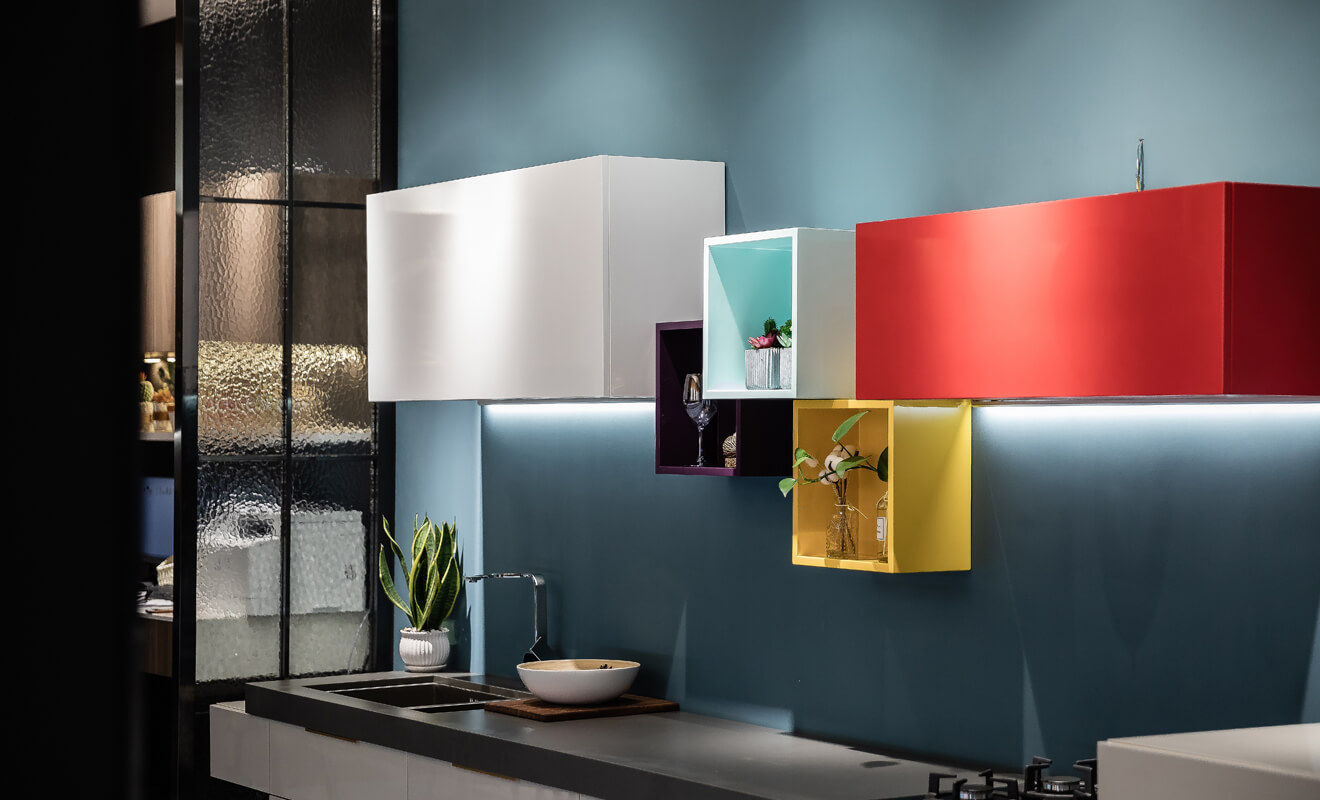 Textured Glass: Textured glass inserts refer to glass that has been molded or engraved to create aesthetic and textural interest. It can be grooved, pebbled, ribbed, beveled, or layered in various ways to add unique texture to your cabinets.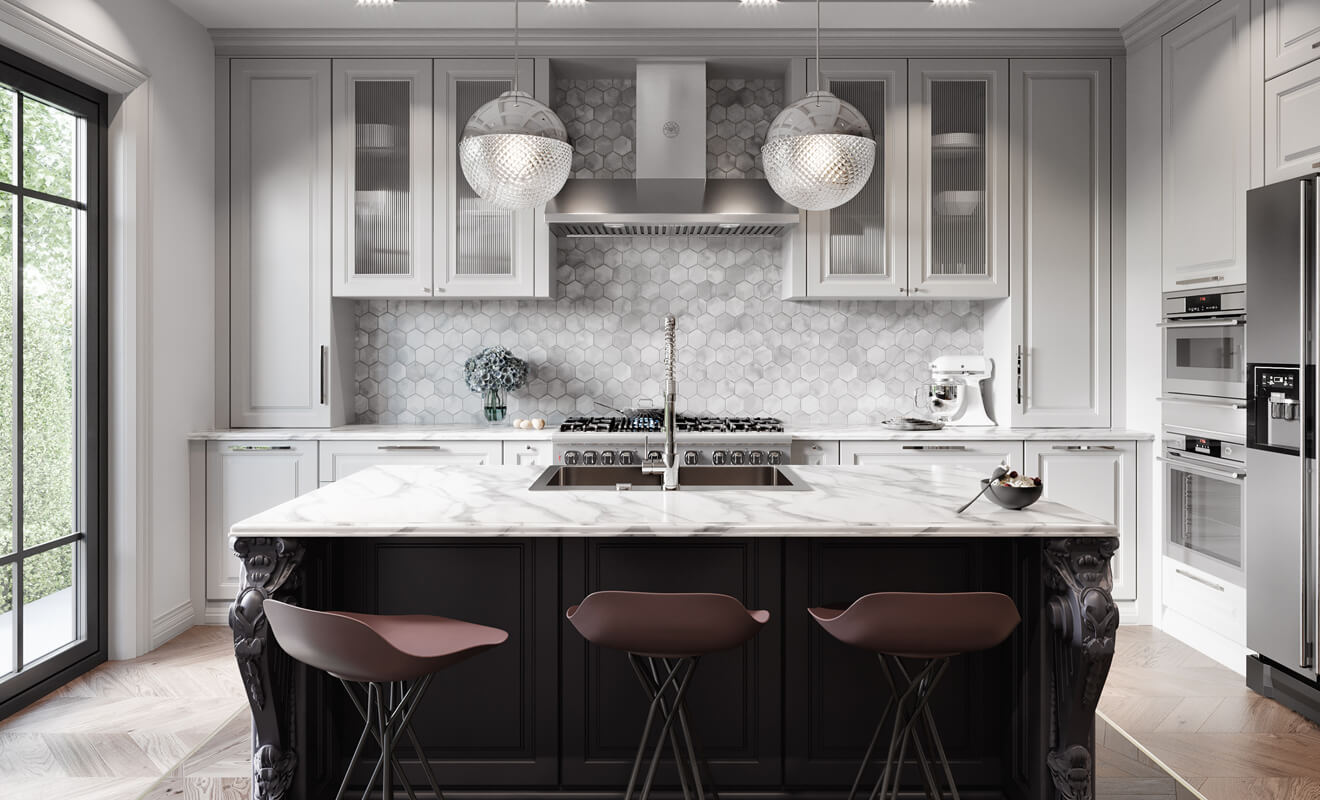 Frosted Glass: Frosted glass inserts, also referred to as acid-etched glass, can bring a sophisticated and stylish look to your kitchen cabinets. They provide a polished and customized touch to your cabinets. Frosted glass is available in various opacities and designs, making it a versatile option.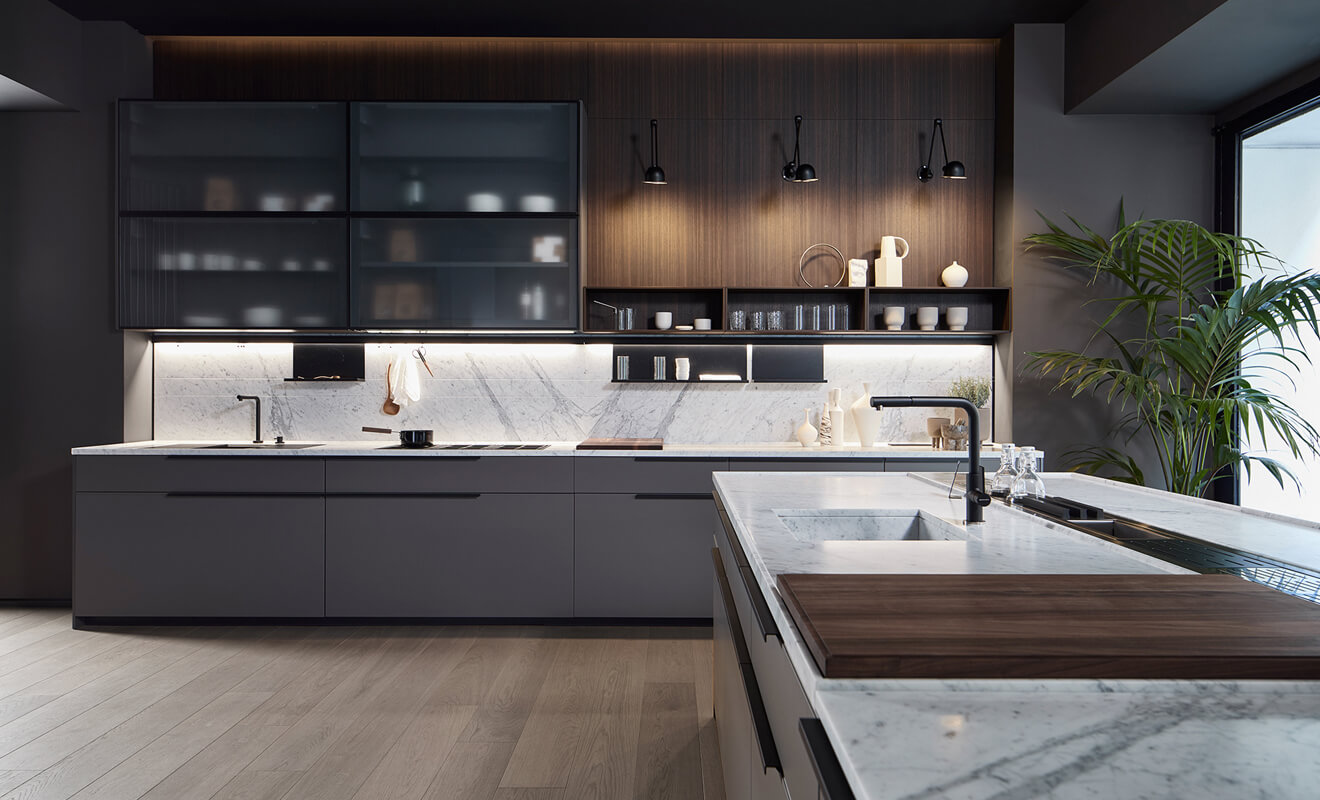 Here we share some of the best glass cabinet ideas for kitchens:
If you want a contemporary appearance and feel for your kitchen remodeling, frameless glass cabinet doors could be a great option. The virtually smooth edges of frameless glass kitchen cabinets' drawers and doors assist produce a clean visual style in a kitchen that framed kitchen cabinets cannot achieve because their frame is constantly seen.
Upper kitchen cabinets with clear glass cabinet doors let you show off your tableware while keeping it safe. Furthermore, glass is suitable for minimalist décor and is an excellent option for small kitchens.
Steel and glass cabinets are the ideal complement to a minimalist and modern kitchen. To emphasize the cabinet's size, it must be constructed up to the ceiling. Glass and steel are a timeless mix that works beautifully together. The exhibition of the pricey dinnerware adds to the cabinet's luxurious appearance.
Designers appreciate how the tinted glass provides the kitchen with a balance of modern and classic ambiance. It need not be dull just because it is a glass cabinet. A black-tinted glass is also a good option if you want something inconspicuous. You can also decorate the glass cabinet with overlay designs.
White is the most popular kitchen cabinet color, and that is for a good reason – white signifies neatness, minimalism, and style. The pristine white cabinets contrasted with the exquisite and gleaming appearance of glass design transform your kitchen into a timeless and bright space.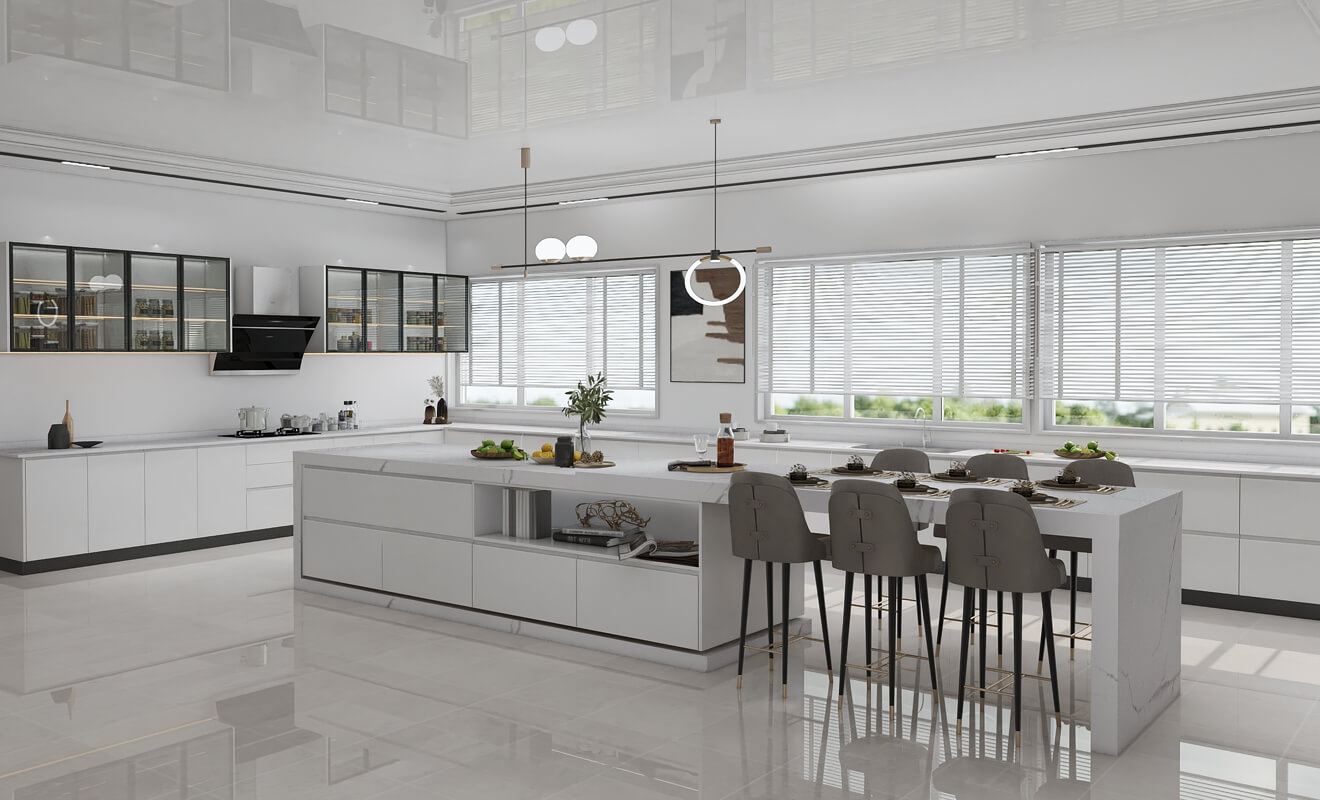 Indeed, white kitchen cabinets with glass doors can withstand the ravages of time due to their uncontested status. Although other kitchen trends come and go, white cabinets that are paired with glass doors have consistently been an ideal selection for modern kitchen designs.
The combination of black cabinet framing, as well as glass doors, exudes elegance, luxury, and sophistication. Because most kitchens are lighter in color, black kitchen cabinets with glass doors might help you produce a stunning contrast.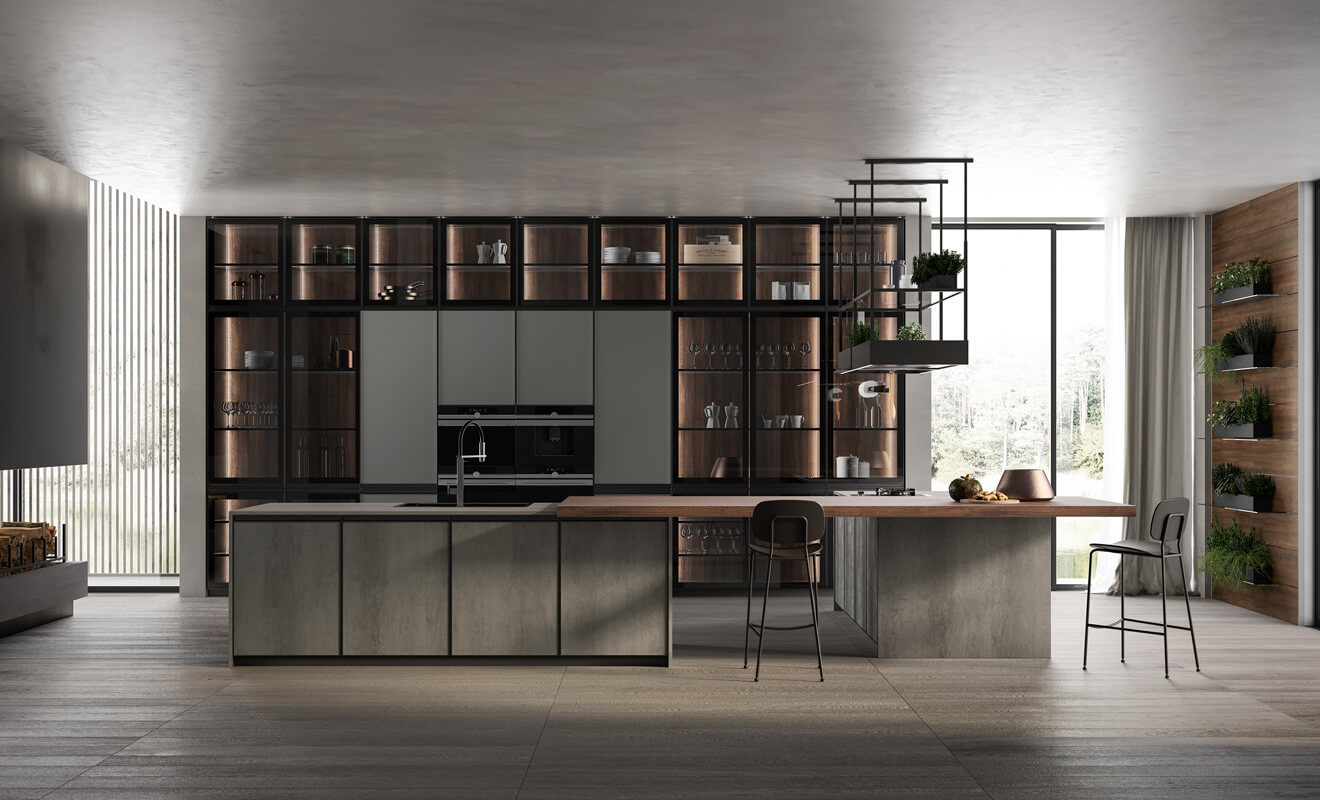 Learn more about cabinet knowledge:
12 Sets of Beautiful Luxury Kitchen Designs
Latest High Gloss Kitchen Cabinets Ideas