Versatile Kitchen Sideboard Ideas
Most small-sized dining areas in apartments are not spacious, but the need for storage is significant. Therefore, many homeowners choose to incorporate a dining sideboard in their small dining spaces to fully utilize the area; it has become an essential rule in small apartment design.
Sideboard Functions
Lower Kitchen Storage Pressure: Small dining areas are common in compact apartments, and the kitchen area is often limited as well. Kitchen items can be quite numerous and varied, so creating storage space is crucial for maintaining a tidy kitchen. A dining sideboard proves to be practical by allowing the placement of infrequently used kitchen items, thus saving valuable kitchen space.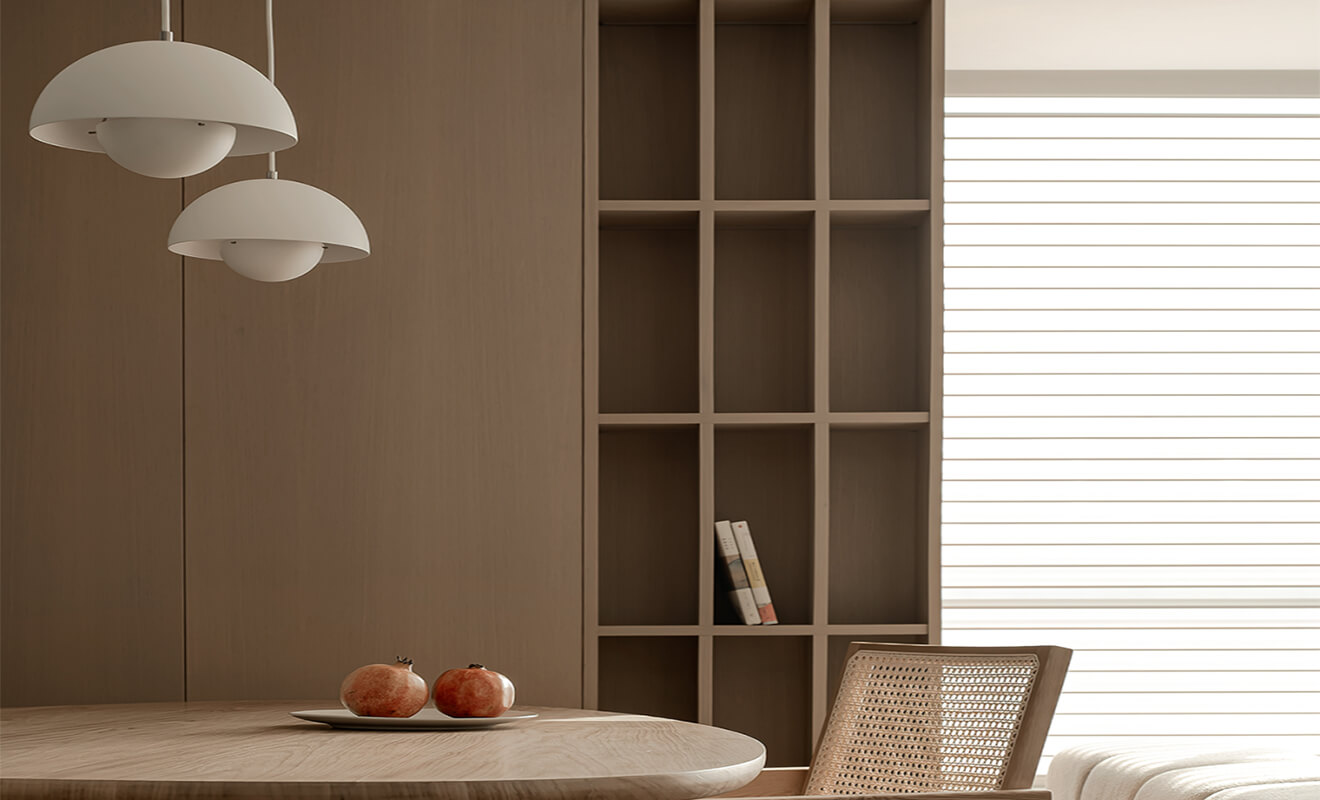 Decorative Effect: Besides its practicality, a dining sideboard can add a touch of decoration to the dining area. By arranging it as a combination or an open-style sideboard and placing decorative items, it becomes a beautiful focal point in the home.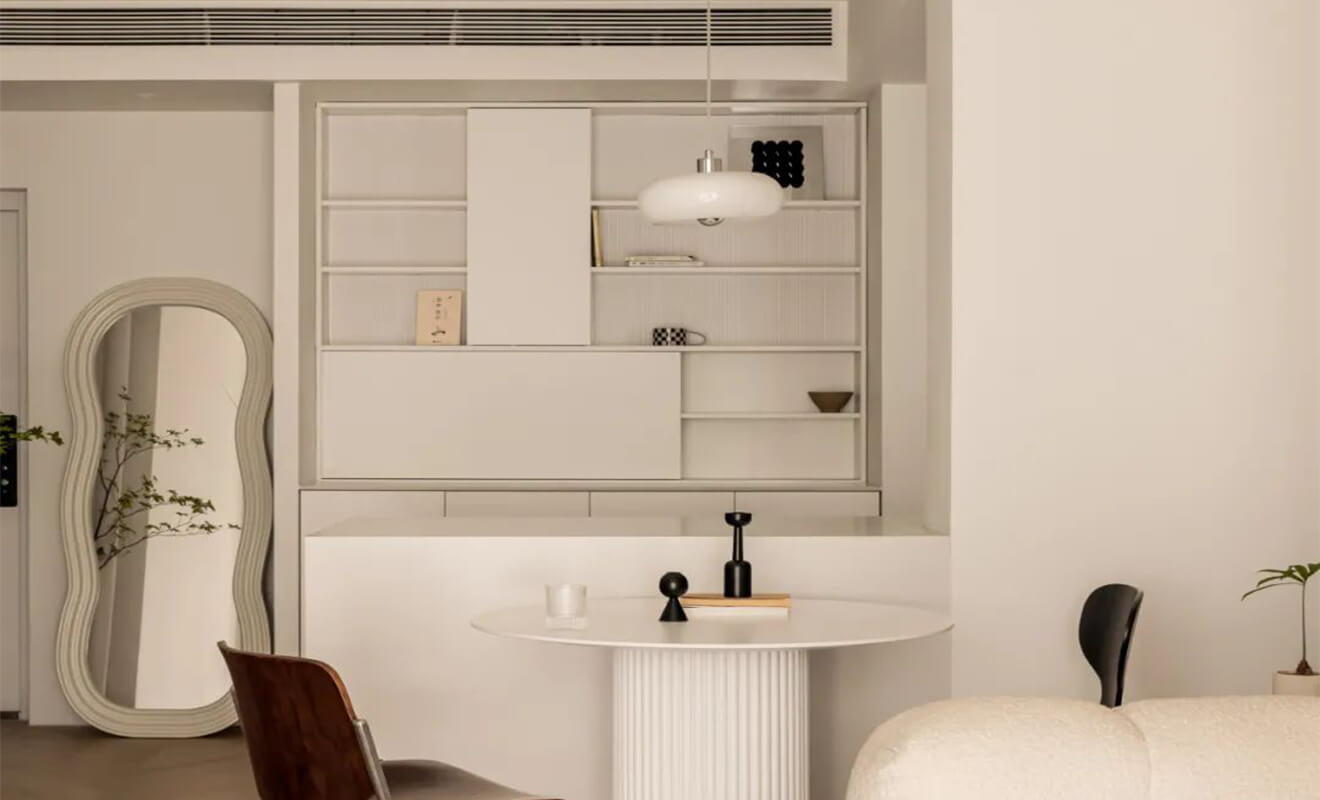 Daily Convenience: Having a dining sideboard in the dining area brings considerable everyday convenience. For instance, it allows homeowners to store fruits and snacks bought for daily consumption, avoiding the need to take them back and forth from the dining table during mealtimes.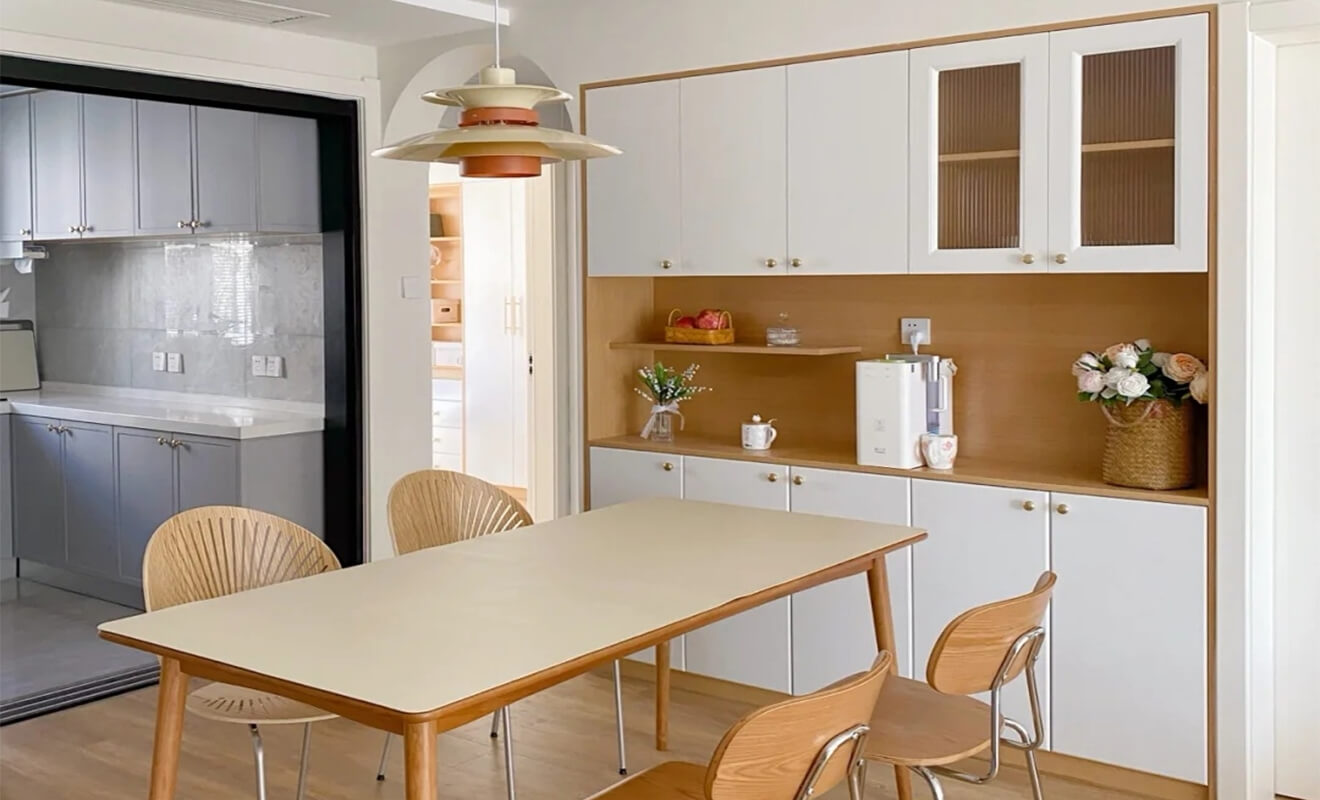 Sideboard Design Ideas
While most small dining areas are not spacious, having essential storage is still necessary for organizing various dining items. Common dining room accessories often require a dining sideboard to fulfill their storage function.
Base cabinets + wall cabinets: For small apartments, custom-made dining sideboards with combined floor cabinets and wall-mounted cabinets are popular. Leaving some space in between for frequently used items creates a strong overall look.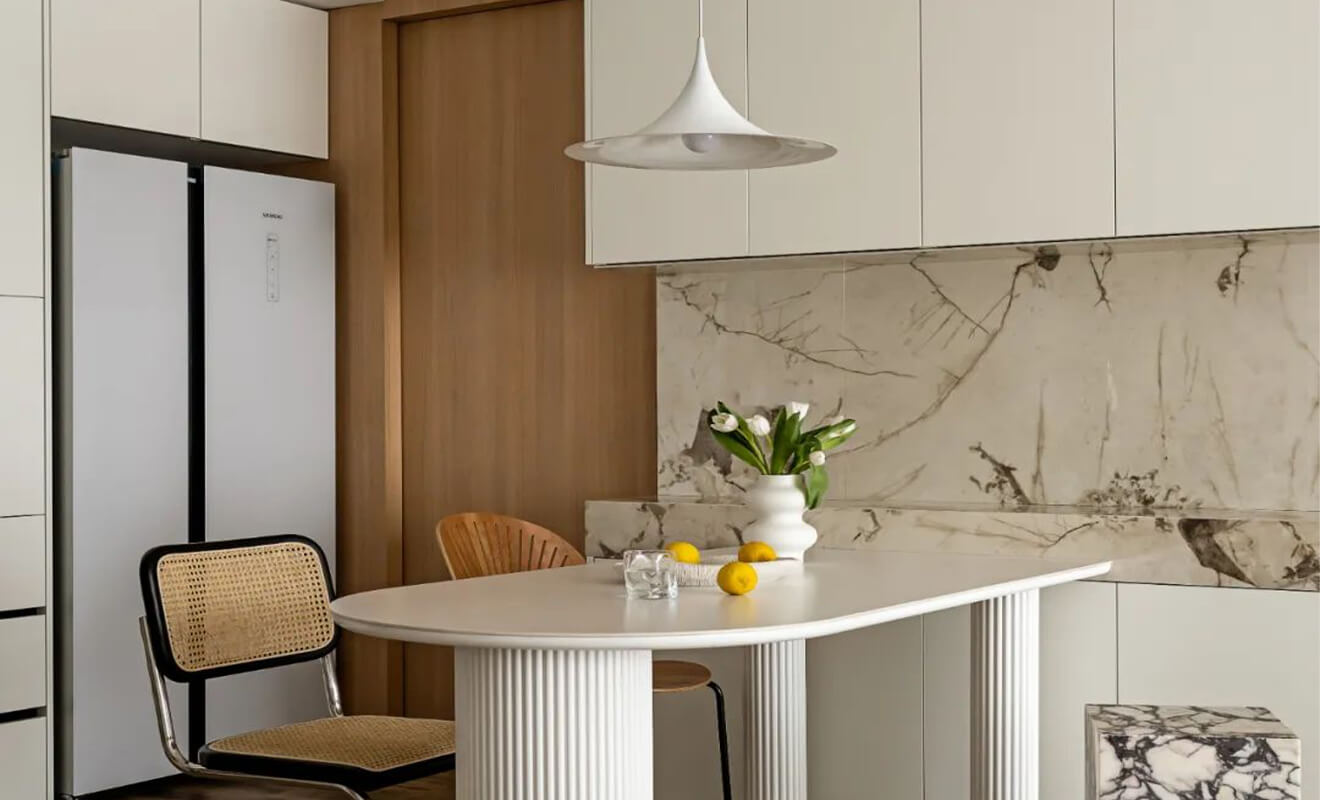 Embedded Sideboard: For small apartments, an embedded custom-made dining sideboard is quite suitable. Utilizing the space within the wall for storage avoids occupying additional dining area, resulting in a more spacious feel. The embedded dining sideboard seamlessly blends with the wall, reducing any sense of clutter. The upper and lower cabinets offer ample storage space and are equipped with slide-out sockets for easy placement of small kitchen appliances.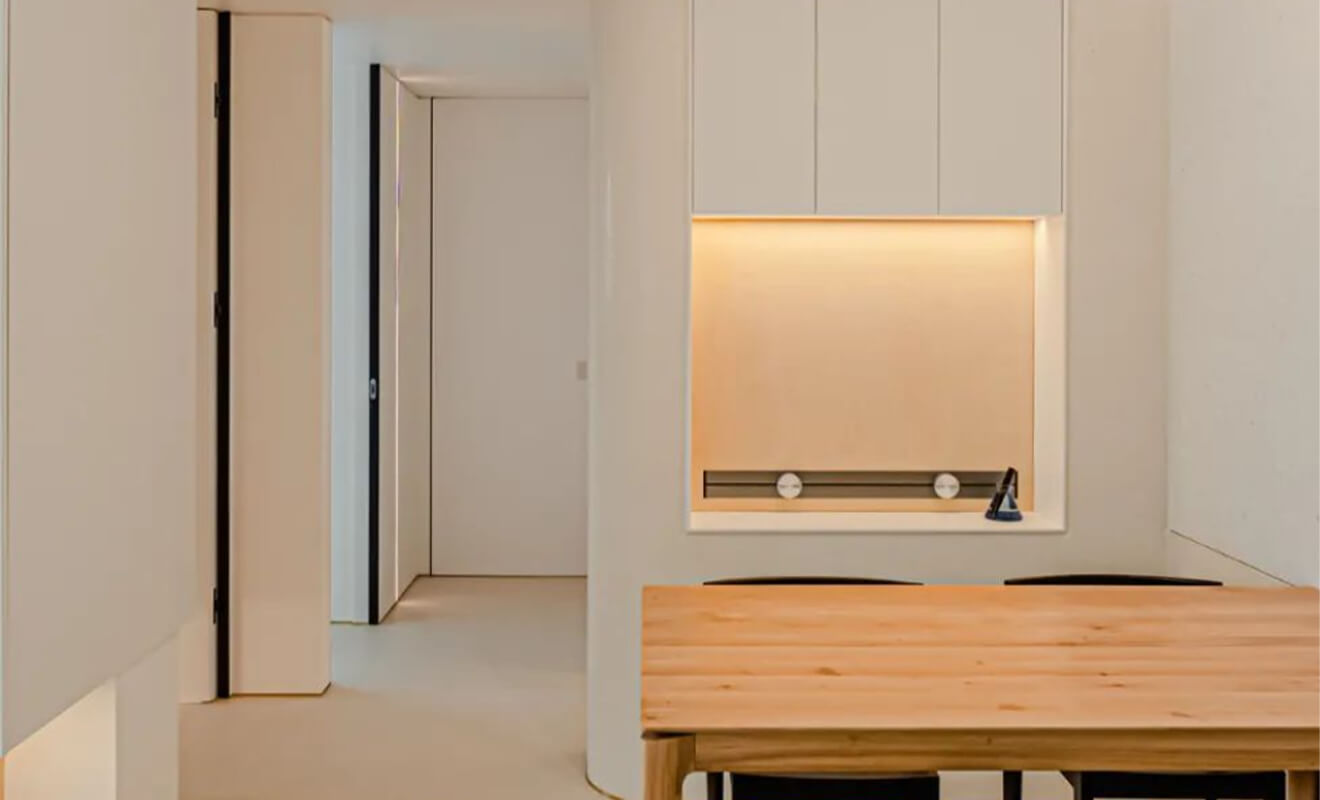 Such design may also include embedding the refrigerator within the sideboard to blend more seamlessly. The vacant area can be transformed into a wine cabinet, providing storage for red wine.
Homeowners can customize their dining sideboards according to the dining area's size and specific needs, even embedding the dining table into the sideboard to avoid wasting any space.
Separate kitchen area: Opting for separate wall-mounted cabinets and dining sideboards, with more significant space in between, allows for the placement of larger kitchen appliances and miscellaneous items, creating a suitable space for western-style cooking and baking, avoiding overcrowded and messy kitchens.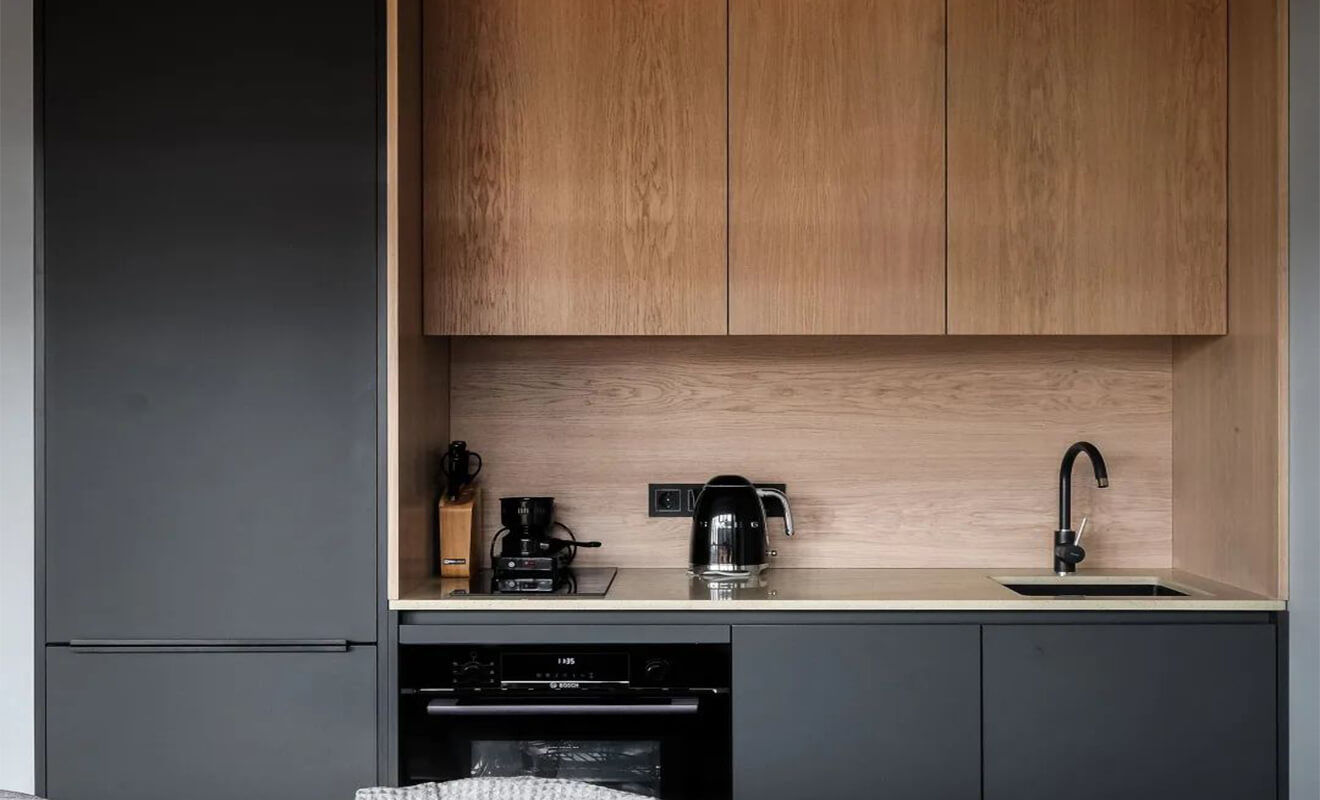 It becomes highly convenient to prepare simple western-style meals or have coffee or afternoon tea in this area.
Corner Sideboard: For dining areas situated in corner spaces, choosing a corner dining sideboard provides additional storage space, ensuring there is no shortage of storage capacity.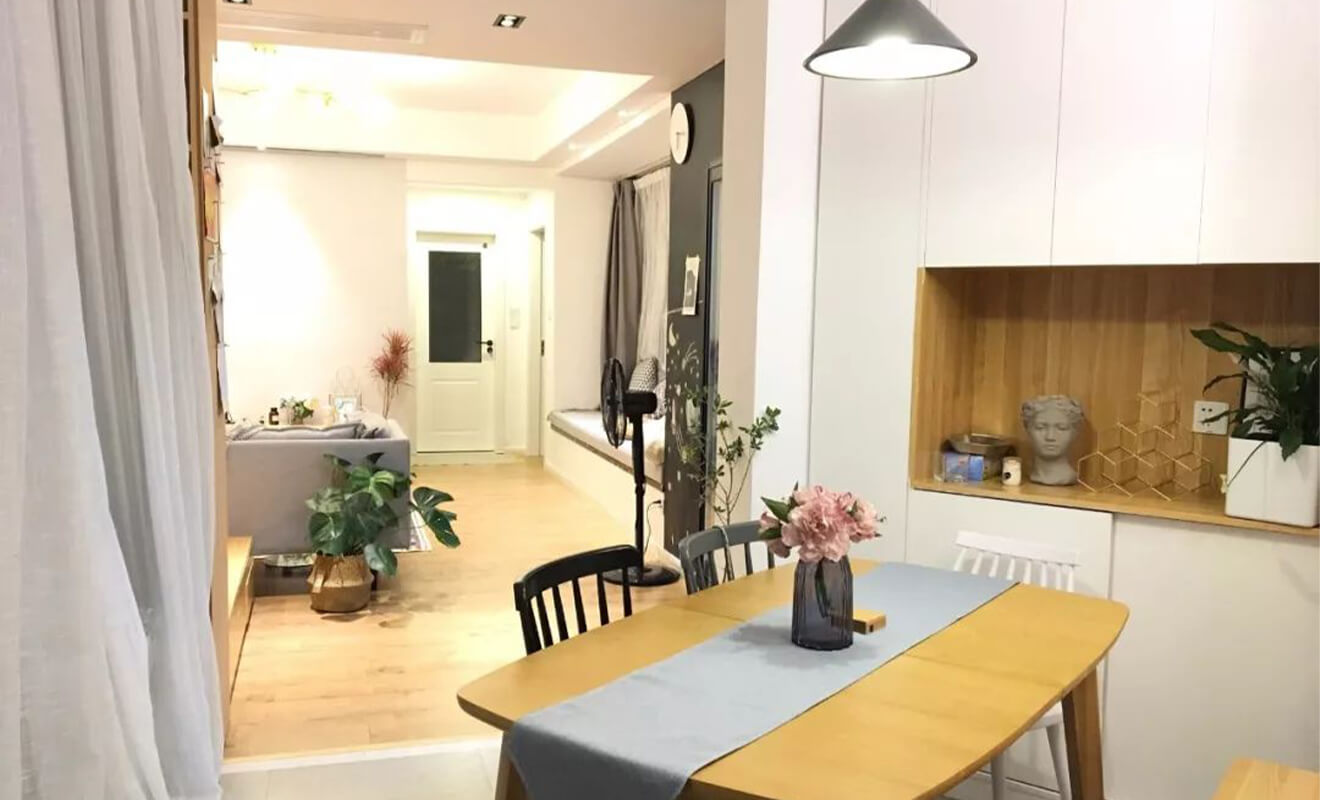 Sideboard with Booth-style Seating: In many small apartments, homeowners opt for booth-style dining spaces. In addition to the storage within the booth itself, wall-mounted cabinets can be added above the booth area to avoid clutter and provide extra storage space.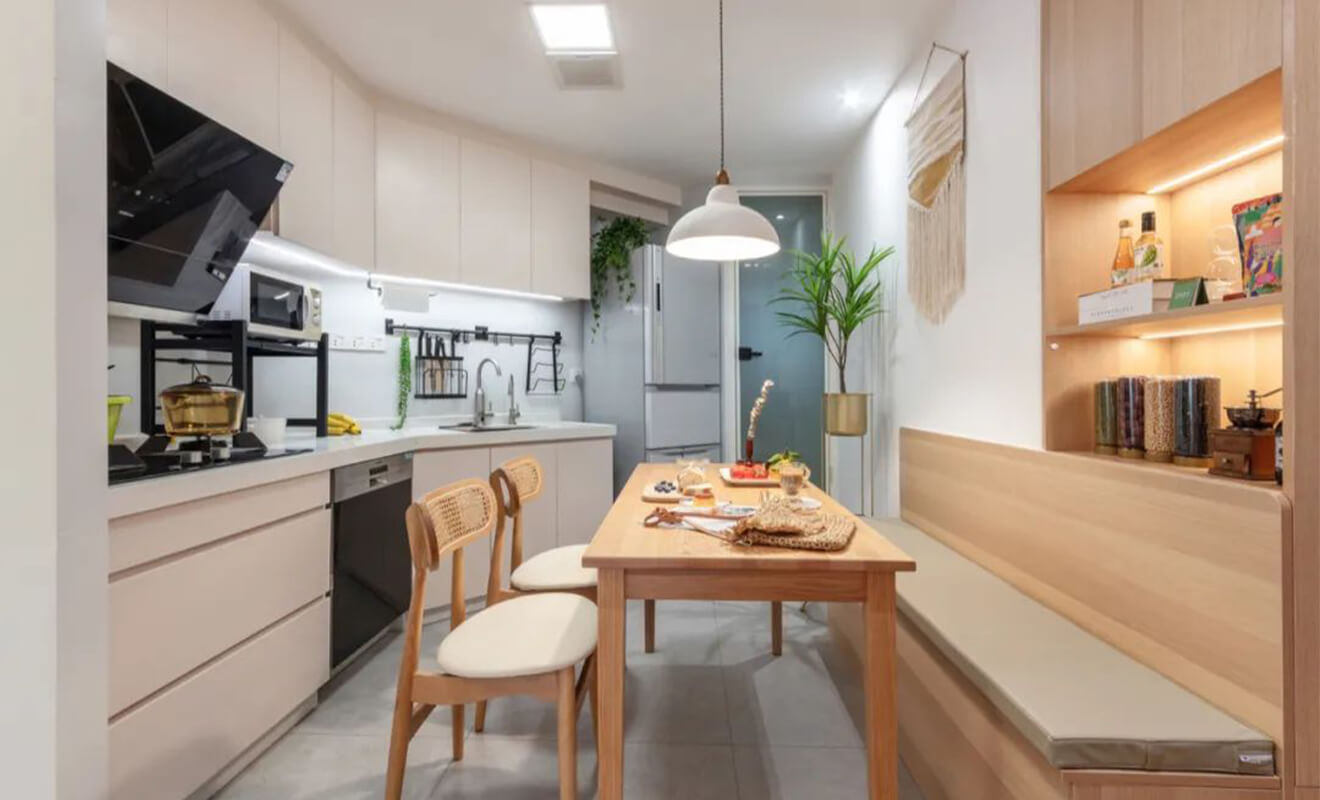 In cases where the dining area is exceptionally small, combining booth seating with a dining sideboard proves to be a versatile solution, utilizing the space effectively and serving as an essential tool for both small and large apartments.
Freestanding Sideboard: Low freestanding dining sideboards not only lower the visual center of gravity but also create an illusion of a larger dining area. Placing the sideboard against the wall does not occupy much aisle space, and it can be moved easily, offering flexibility in design.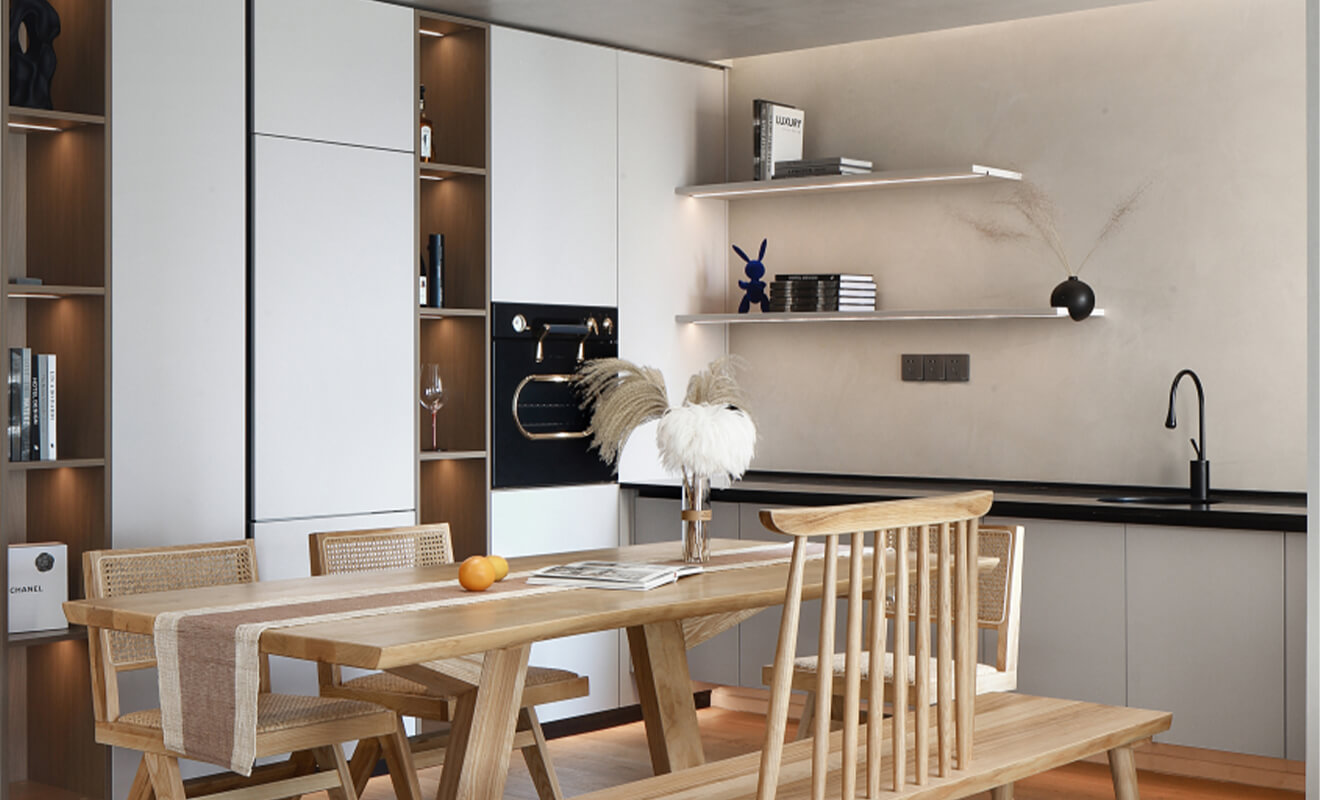 Shelving Design: Even in mini-sized dining areas where it's not feasible to install a dining sideboard, maximizing wall space for storage through wall-mounted cabinets, partitions, or shelves is an excellent option for small apartment dining area storage design.