High-end Customization Trend: Full-length Cabinet Door
The current generation prefers a minimalist style when it comes to home decoration. They eliminate complex elements and unnecessary structures to create a more sophisticated and high-end look. Even cabinet doors follow the trend, with an increasing presence of floor-to-ceiling doors known as full-length cabinet doors.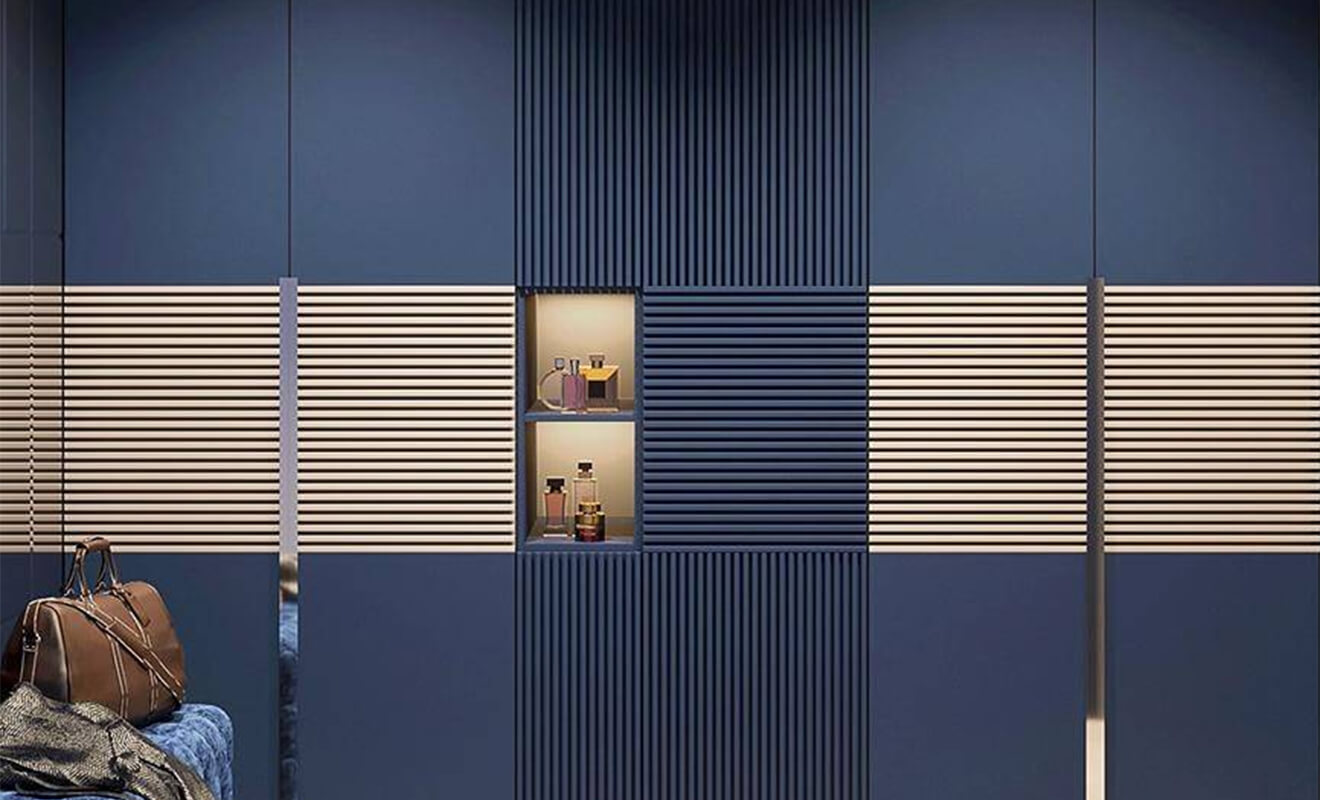 Traditional cabinets are typically divided into upper and lower parts and come with handles. Full-length cabinet doors, on the other hand, are large, seamless panels that extend from the floor to the ceiling, creating a sleek and smooth appearance. That's why they are also known as "floor-to-ceiling" cabinet doors. These doors often feature handleless designs, emphasizing simplicity. Alternatively, they can have long iron handles or grooves on the door panels, adding a clean and minimalist touch. Their natural and minimalist style is a major reason for their popularity.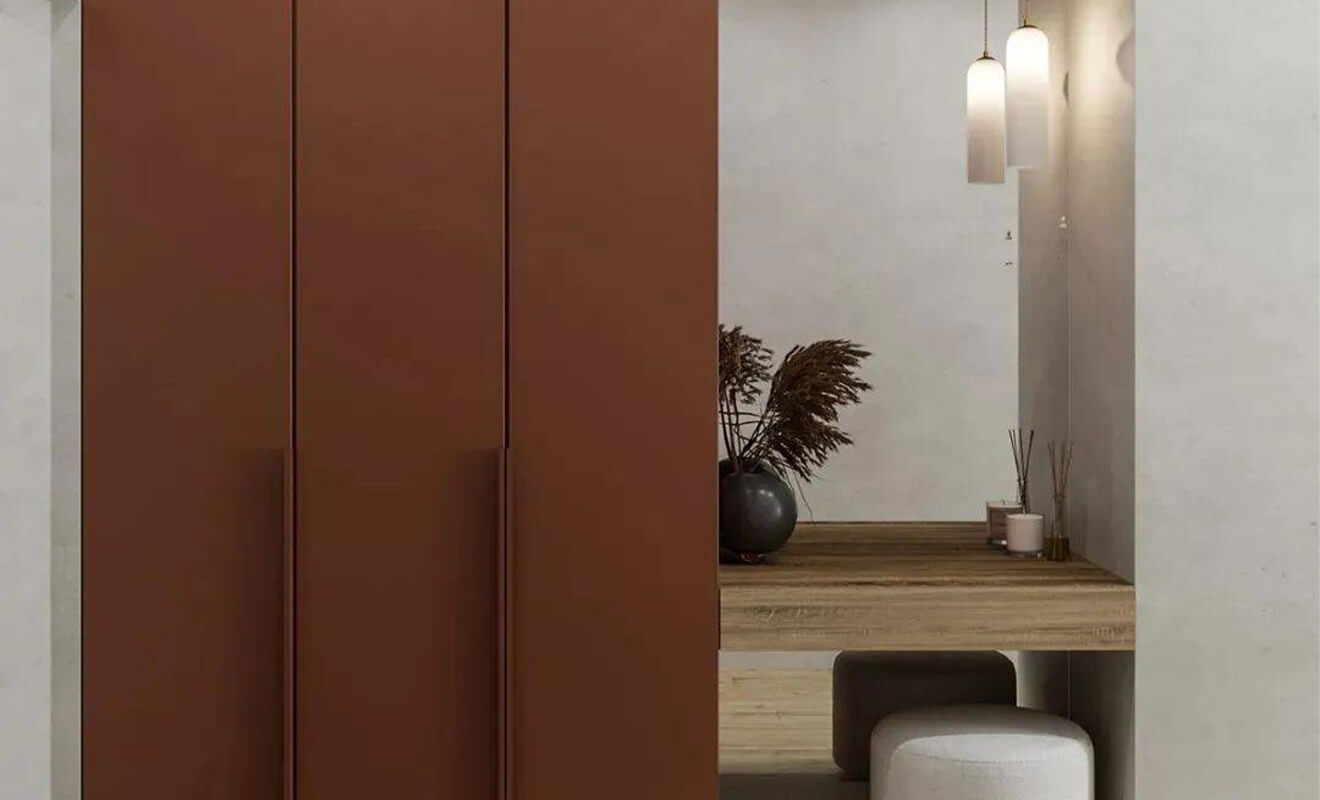 Advantages of full-length cabinet doors
Exquisite aesthetics: Full-length cabinet doors seamlessly integrate with the wall, with visible lines that add fluidity and depth to the space. These doors achieve a simple yet non-monotonous look. The tall and clean design also enhances the sense of spaciousness and brightness in the room.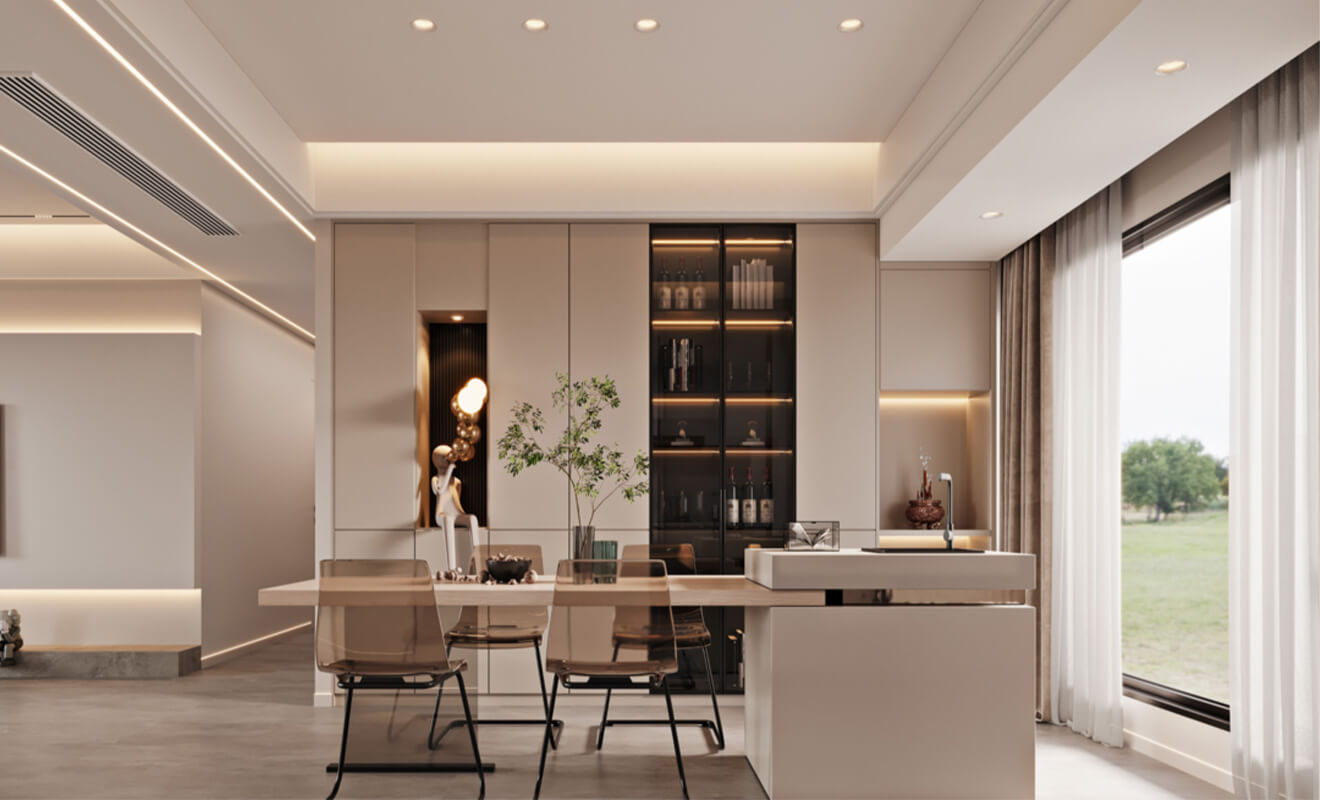 Ample storage space: Compared to traditional cabinets, full-length cabinet doors offer more storage space. The interior can be customized to accommodate specific needs, maximizing storage capacity. This allows for a well-organized storage system, bidding farewell to clutter.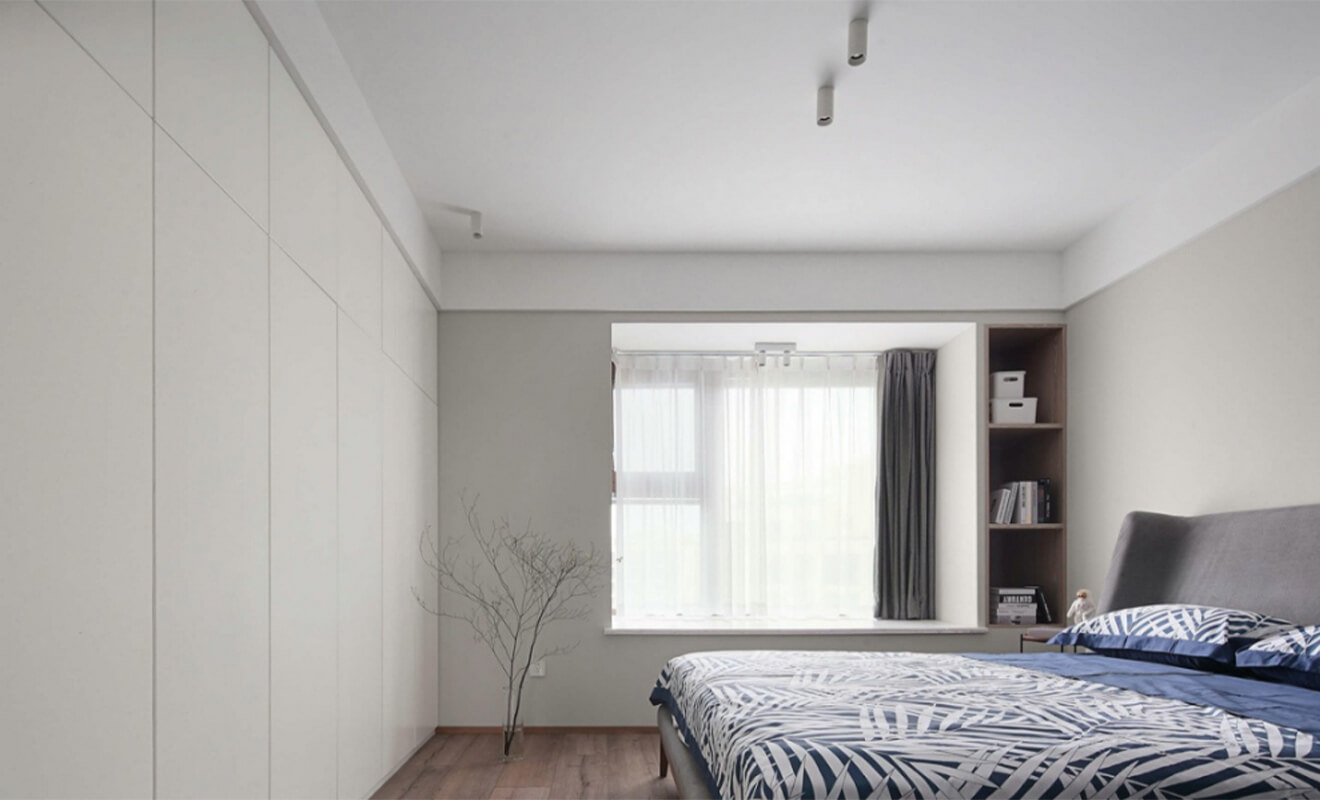 Easy maintenance: The floor-to-ceiling design eliminates the awkward gap at the top, preventing the accumulation of dust and eliminating hygiene blind spots. Cleaning becomes more convenient. Additionally, it prevents the possibility of cluttering the top surface, ensuring a consistently tidy and comfortable space.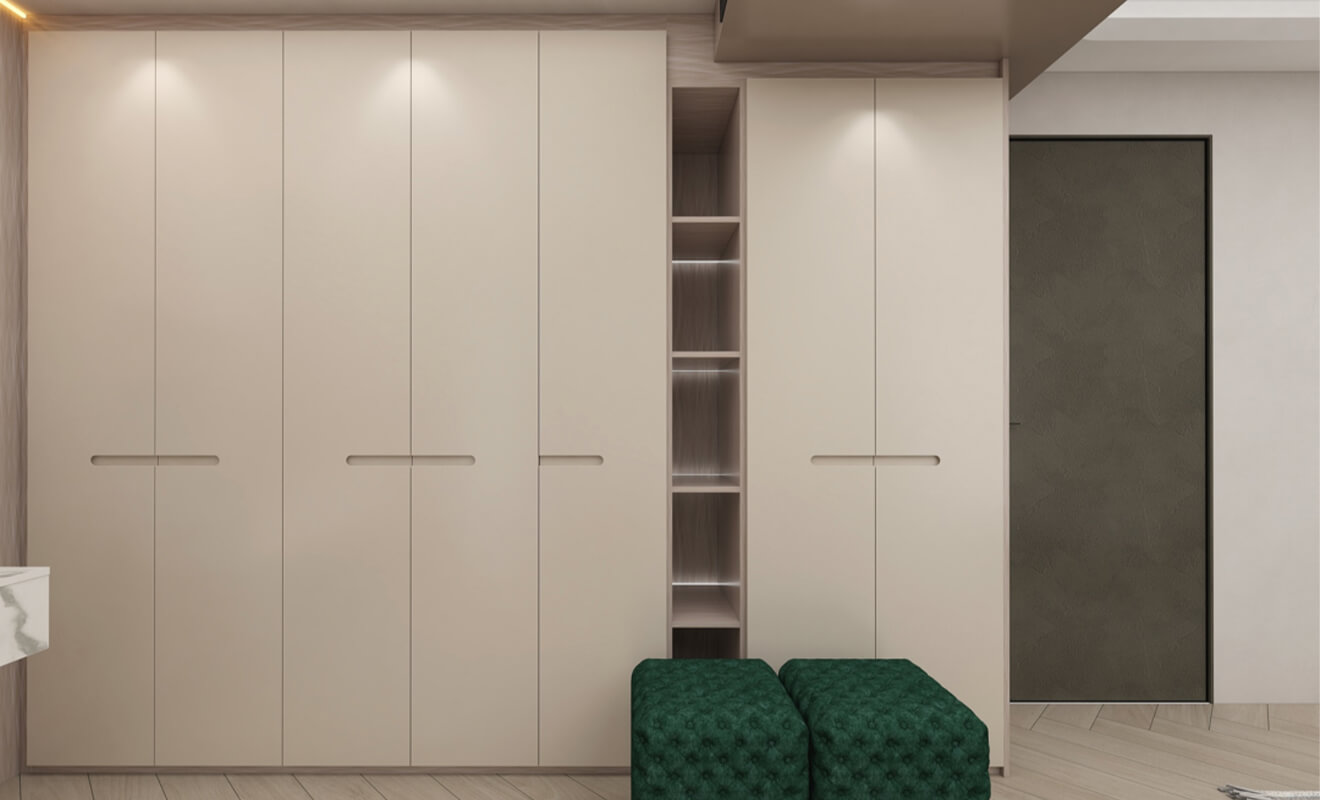 Prevention of collisions: Traditional cabinet doors often have exposed handles, which increase the risk of bumping into sharp edges and corners. Full-length cabinet doors, however, often feature handleless designs achieved through the use of rebounders, concealed handles, or slit designs, effectively avoiding the risk of collisions.
Application of full-length cabinet doors
Entryway cabinet: The entryway serves not only to protect the privacy of the interior but also as a storage area. Whether using an embedded or partitioned design, full-length cabinet doors are an ideal choice for entryway cabinets. They not only enhance storage capacity but also achieve an integrated and aesthetically pleasing effect.
For instance, this entryway cabinet, made of milky white density board, features clean and subtle divisions. The interior is customized to meet specific requirements, and the ambient lighting further enhances the high-end atmosphere.
TV cabinet: The living room is the central area of the home, often requiring storage for various items. Opting for full-length cabinet doors not only beautifies the space but also provides additional storage. Designating specific areas as open shelves ensures storage capacity while avoiding visual pressure.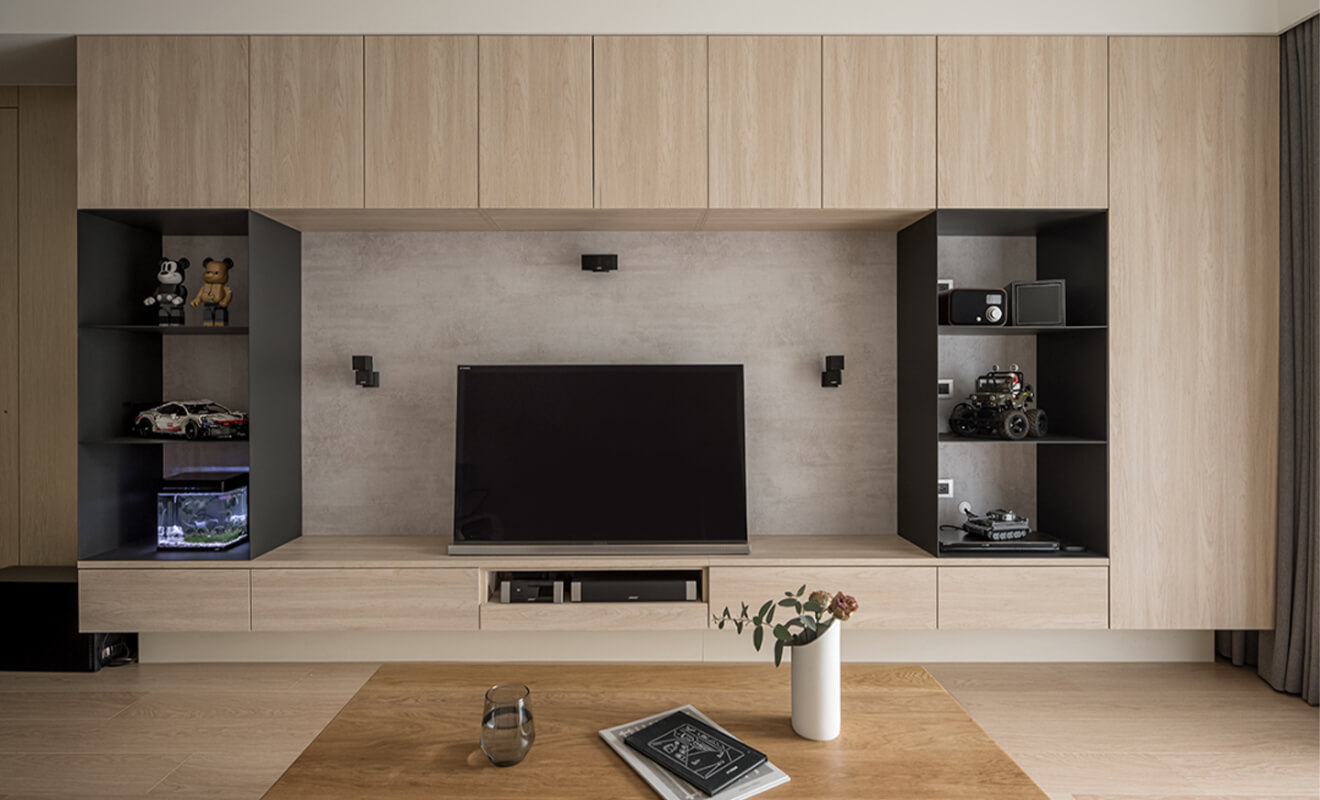 Wardrobe: The wardrobe is one of the most frequently used pieces of furniture in the bedroom. Full-length wardrobe doors possess a trendy appeal, offering stronger design aesthetics, visual appeal, and storage capacity. They perfectly align with the current trend of minimalism.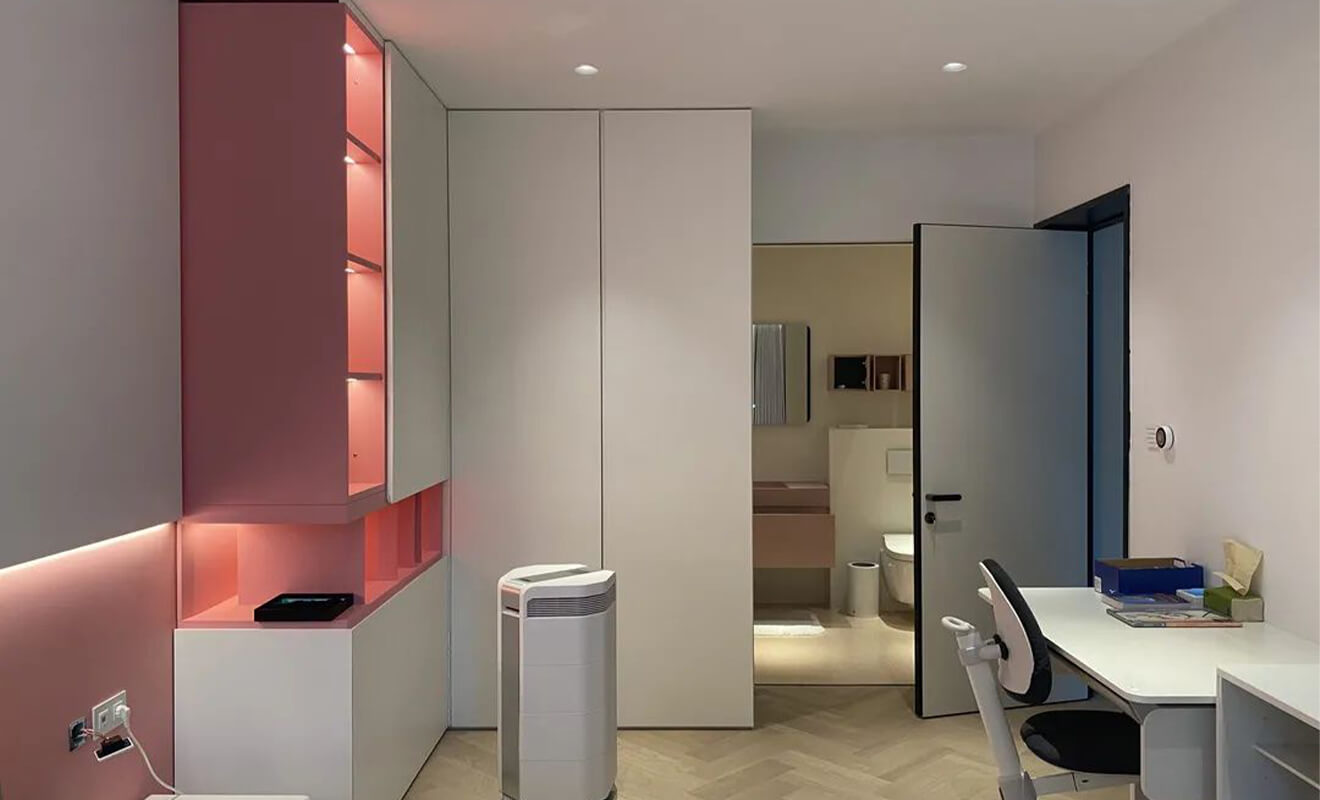 This set of wardrobes combines the tranquil hue of carnation pink with the serene white, while the L-shaped corner design caters to the increased storage needs. The scattered LED strips emit a bright tone, creating a warm and exquisite ambiance that is highly favored by young people.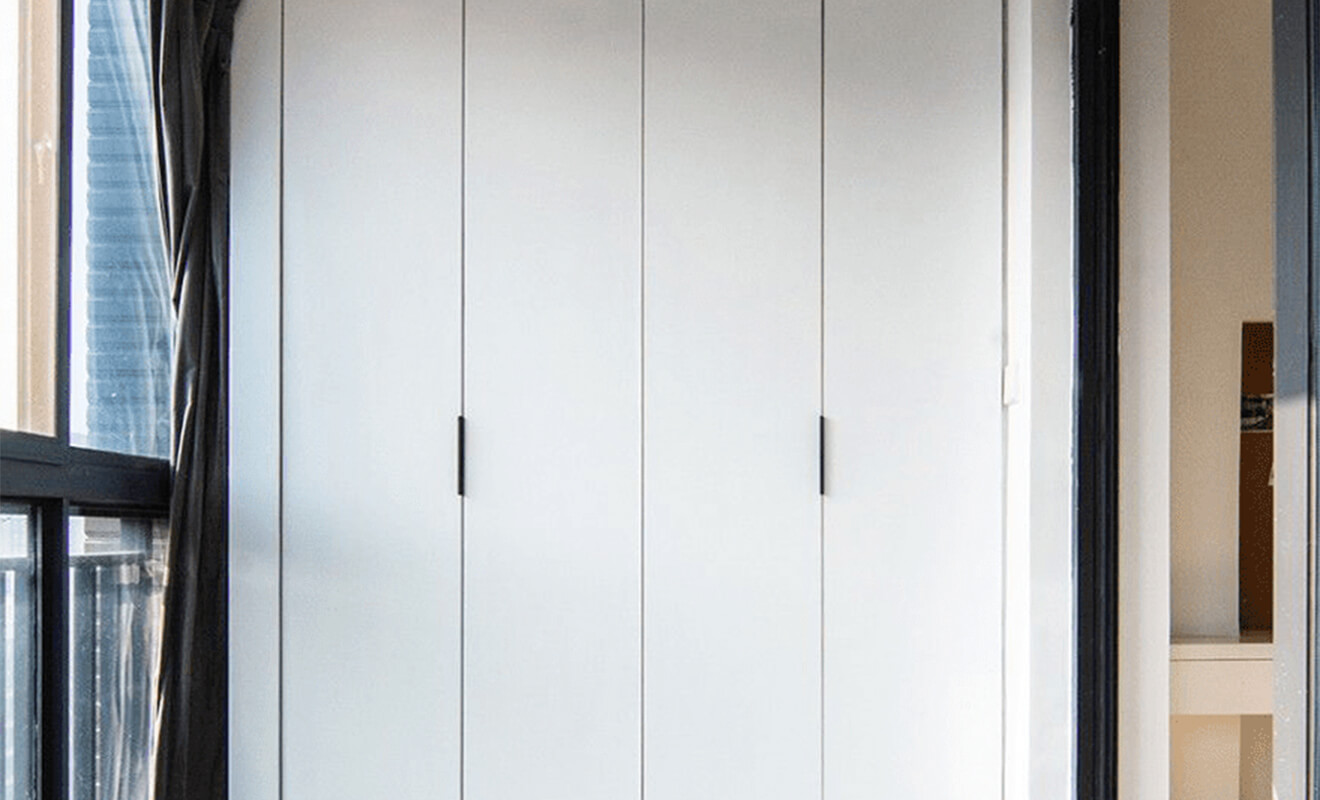 Balcony Cabinet: The primary purpose of a balcony cabinet is storage. With its top-opening design, it effectively alleviates storage pressure.
Materials for full-length cabinet doors
Particle Board: Particle board consists of particles that exhibit high stability. It demonstrates similar tensile strength in both vertical and horizontal directions, boasting excellent resistance against deformation. It is particularly suitable for creating floor-to-ceiling doors, typically achieving heights of 2.6m-3m.
MDF (Medium-density Fiberboard): MDF is made from wood fibers or other plant fibers, compressed at high temperatures. It features a fine and stable texture, with a smooth surface that facilitates easy processing. It can be used for various types of molded doors, lacquered doors, and is also suitable for floor-to-ceiling designs.