Is Installing a TV Cabinet Worth It?
Shall we install a TV cabinet? After all, every household's layout and space requirements are unique, and for some, relying on smartphones for watching television has become a habit, making them question the necessity of a TV cabinet. On the other hand, for families with significant storage needs, the organizational benefits offered by a TV cabinet are simply remarkable. If you still hesitate tp install a TV cabinet, you can read on to make up your mind.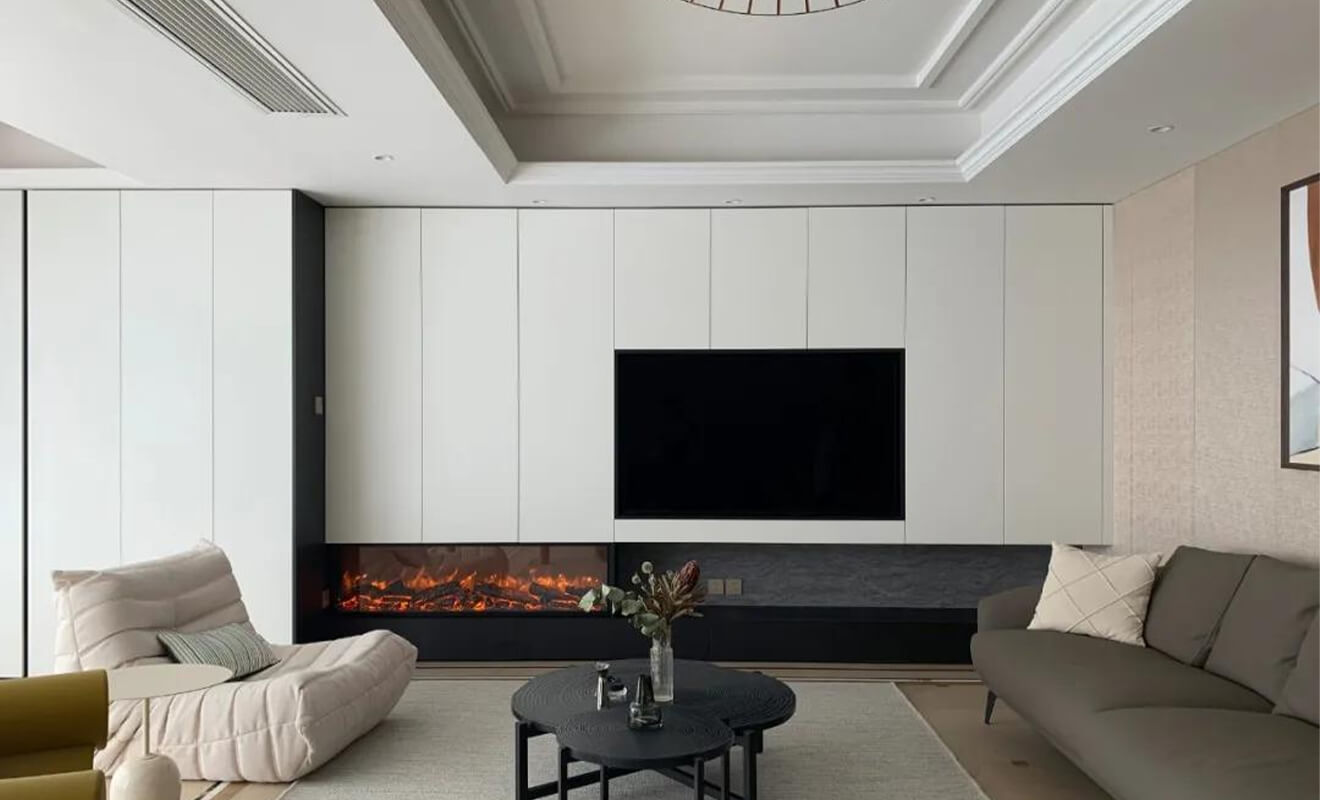 Advantages of a TV cabinet
Generally, a TV cabinet serves multiple purposes such as storage, decoration, and hiding cables. Especially for small living spaces, it can be designed according to the available space, promoting efficient use of the area.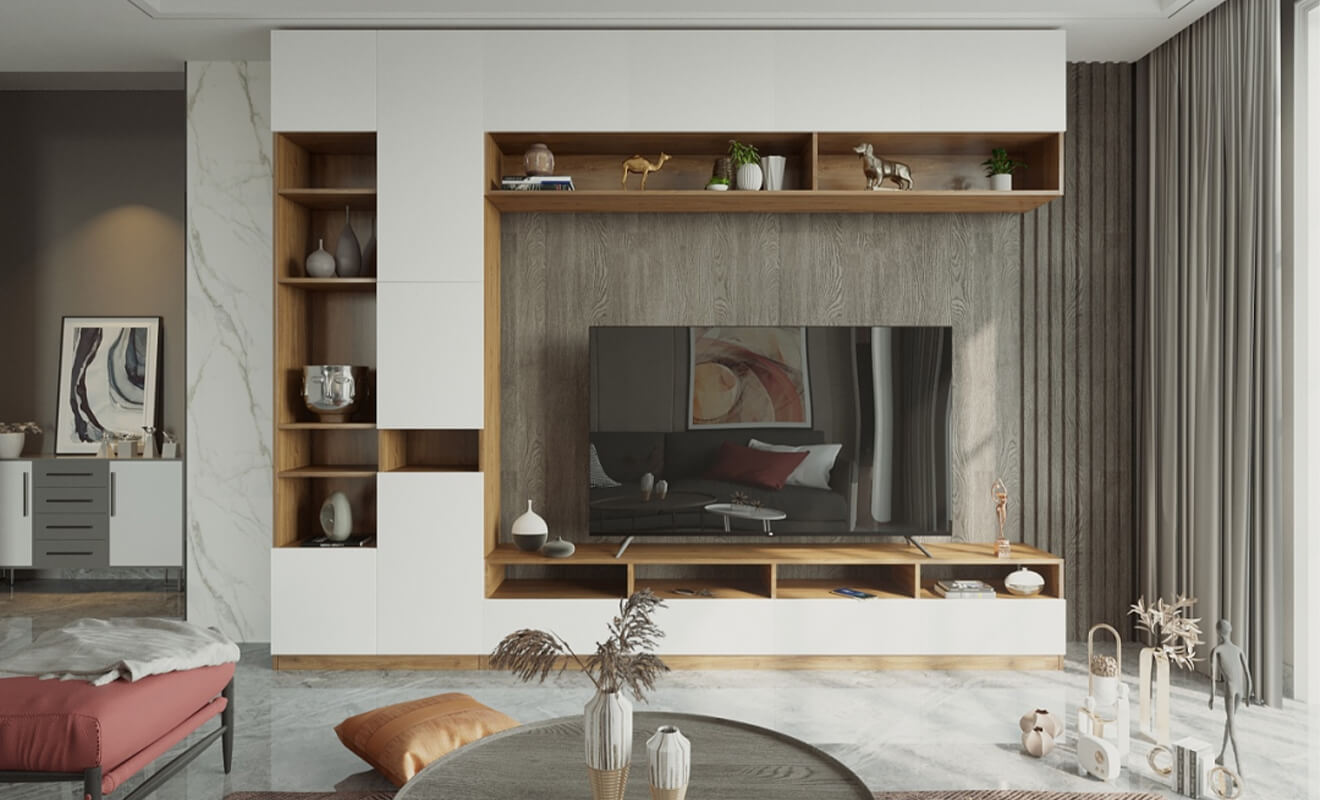 Unless you can achieve a completely empty living room effect, over time, belongings will accumulate, and the entire living room will appear more cluttered. Therefore, installing a TV cabinet is indeed necessary.
Types of TV cabinets
Floor-standing TV cabinet: This type of TV cabinet has a shape similar to a floor-standing cabinet. Its greatest advantage is that it fits tightly against the wall and the floor, leaving no dead corners. This type of cabinet doesn't take up much space in the living room and can serve as a decent decorative element. It is commonly seen in home interiors. Depending on the material used, floor-standing TV cabinets can be categorized into two types: wood and stone, each creating a different design style in the house.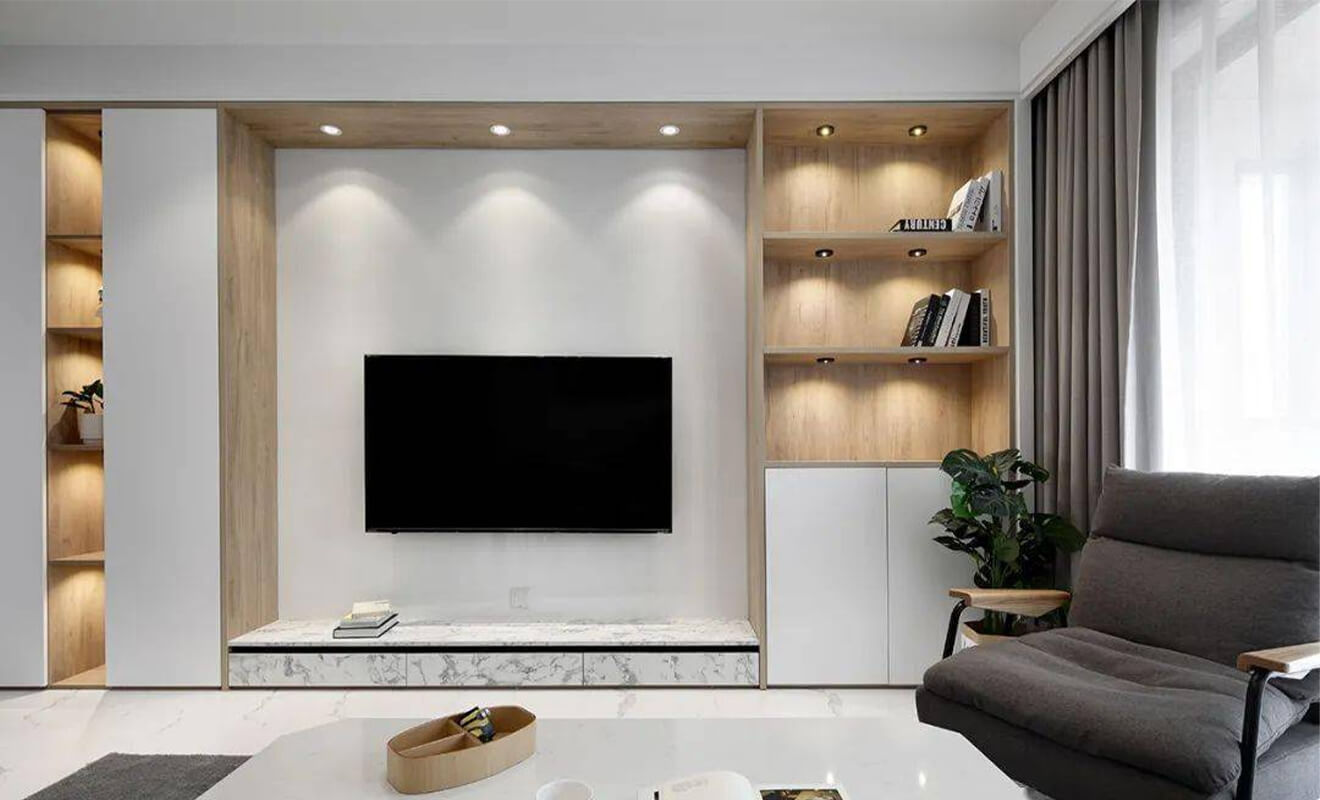 Wood: Wood TV cabinets are made of solid wood, showcasing the warm feeling unique to wood while providing storage capabilities. The cabinet can be designed in various shapes, making it more practical.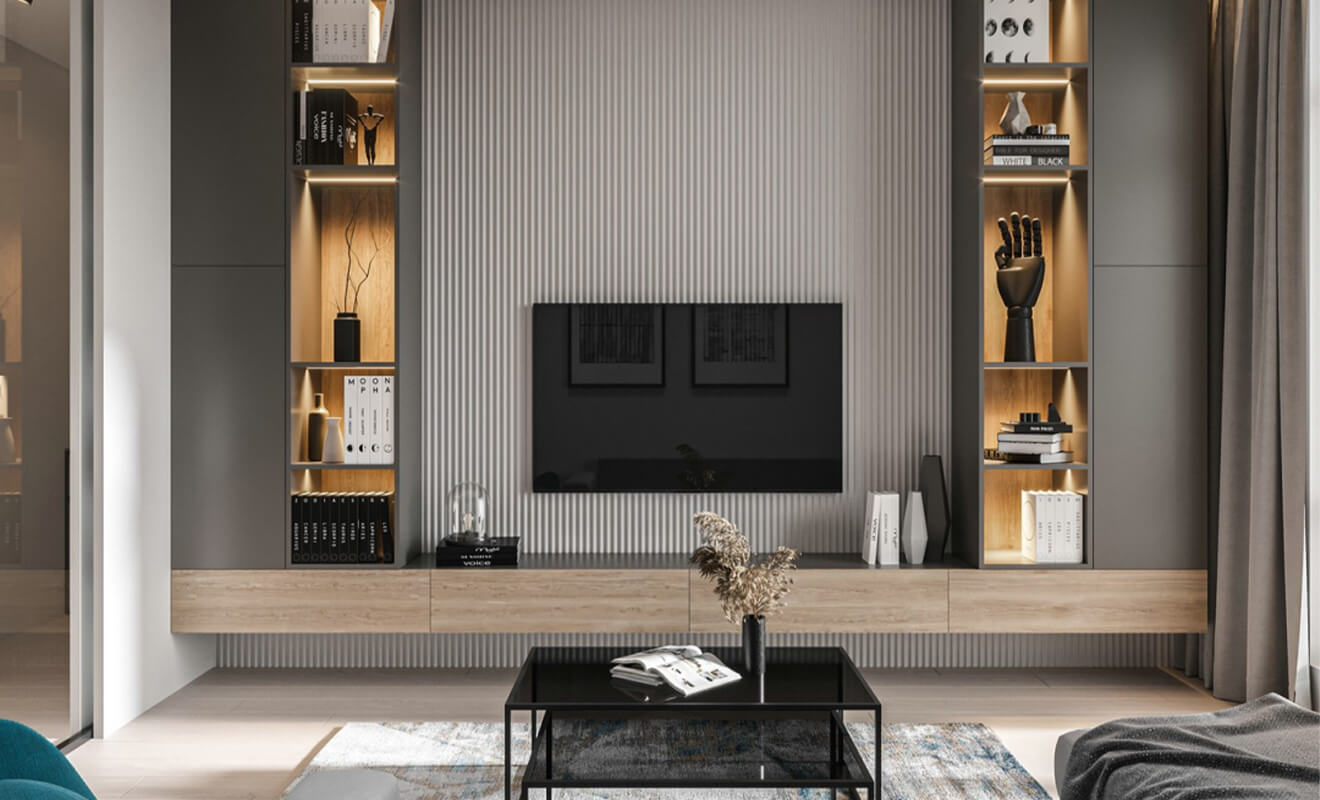 Stone: Stone TV cabinets are made of materials such as slate, quartz, or marble, creating a high-end decorative look with a sense of quality. However, their storage effectiveness is relatively lower compared to wood cabinets.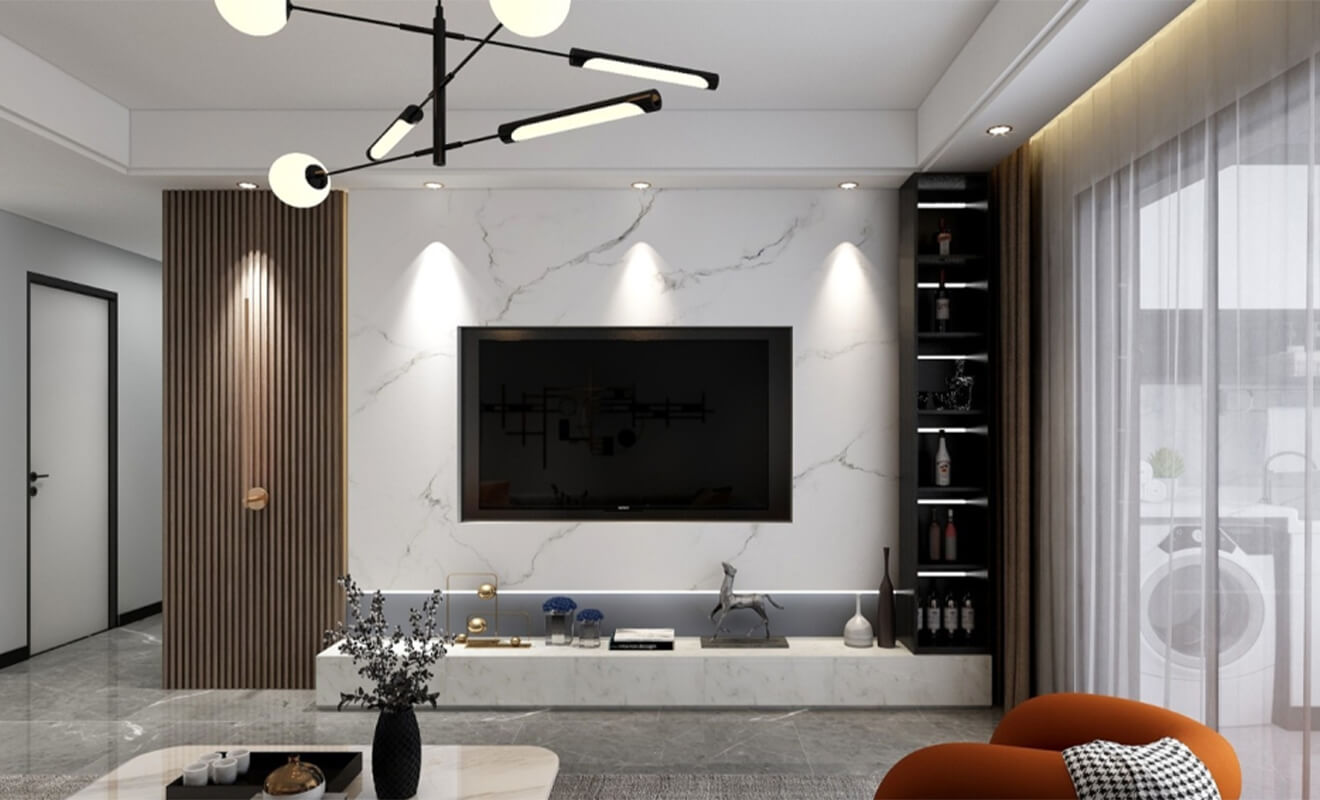 Wall-mounted TV cabinet: A wall-mounted TV cabinet is a custom-made option where the entire wall is transformed into a TV cabinet, creating a consistent style with the rest of the living room. The cabinet doors can be designed without handles, achieving a visually clean and minimalistic effect. By utilizing the entire wall as a TV cabinet, it maximizes the storage capacity. For small living spaces, it can become one of the primary storage areas, combining aesthetics and functionality.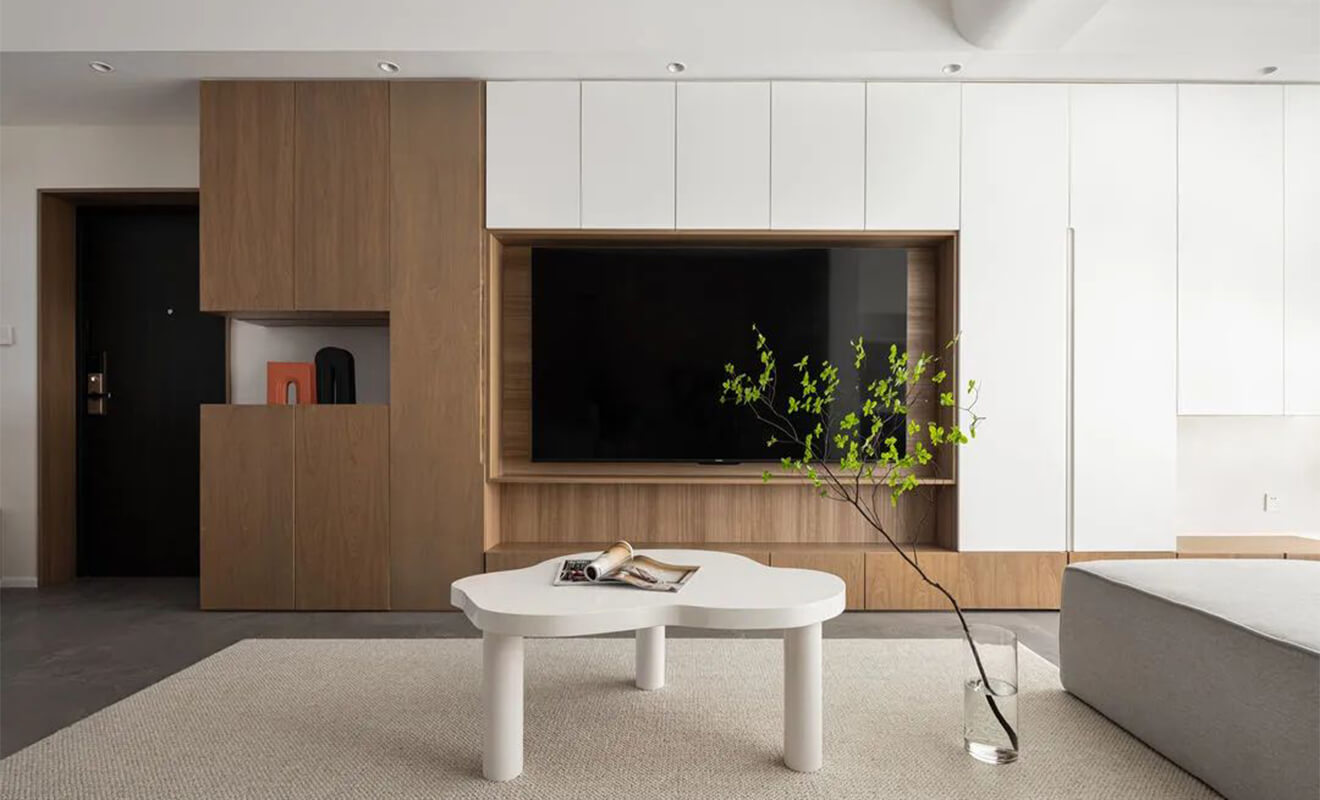 Floating TV cabinet: A floating TV cabinet emphasizes the "floating" aspect, showcasing a sense of sophistication and modernity in the living room. The suspended cabinet design ensures that no dead corners are formed on the floor, allowing for easy cleaning by robotic vacuum cleaners. Additionally, storage can be utilized beneath the cabinet. Matching the floating cabinet, the TV can also be mounted on the wall, enhancing the overall style of the background wall.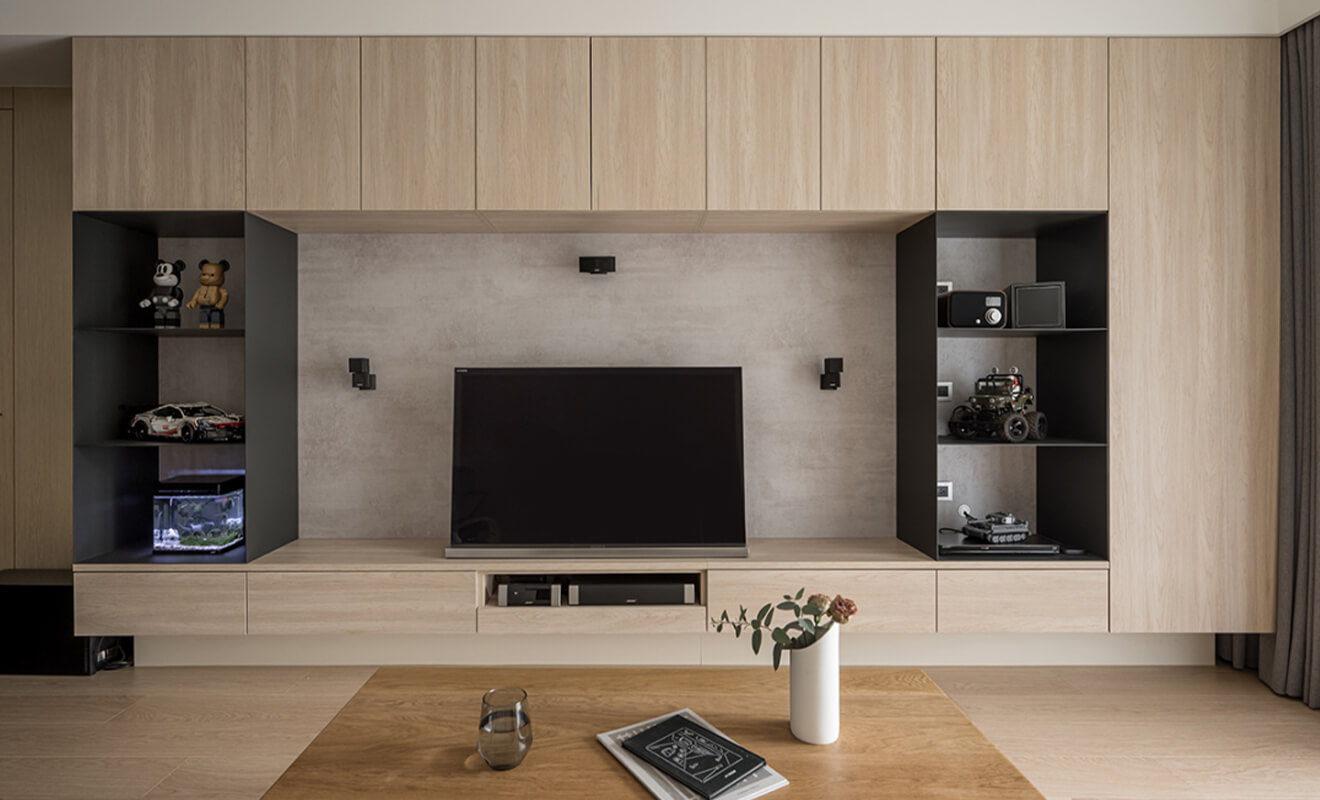 Modular TV cabinet: A modular TV cabinet is an upgraded version of the floor-standing cabinet. It can be combined with bookshelves, display cabinets, and floor-standing cabinets to create a multi-functional storage unit. It satisfies different needs such as watching movies, reading, and working, as if creating an extra room in the house. The design incorporates partitioning to effectively avoid clutter between the TV and other items.
Shelf-style TV cabinet: The shelf-style TV cabinet is somewhat similar to the modular TV cabinet but uses a shelf-style design. It offers both practicality and decoration, often incorporating the concept of dividing panels. If space is limited at home, choosing a shelf-style design can provide storage space while maintaining a minimalist decorative feel.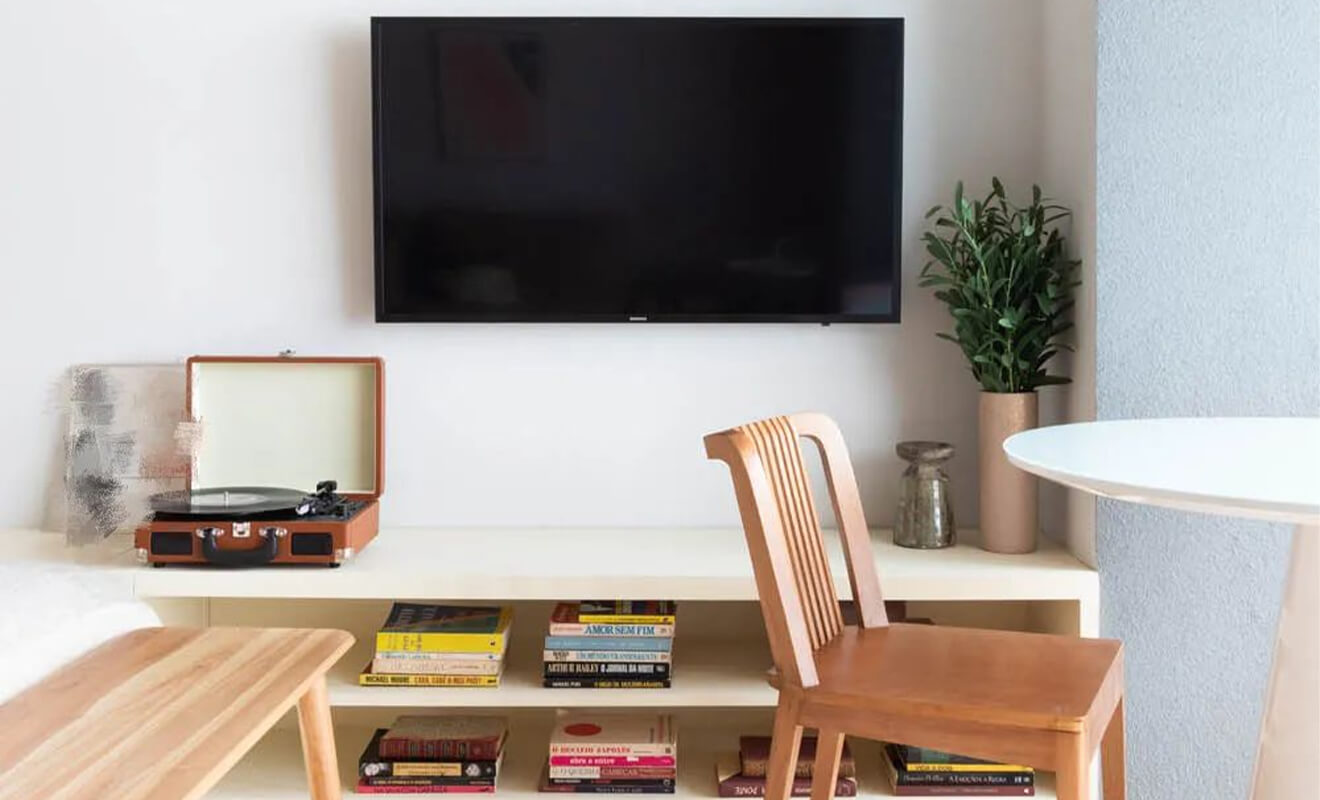 Built-in TV cabinet: The most distinctive feature of a built-in TV cabinet is its space-saving design. It utilizes the gaps between walls, embedding the TV cabinet within the wall itself. This ensures the integrity of the wall while providing ample storage space.