A Practical Guide to Stunning Kitchen Bar Design
Originally used in bars and entertainment venues, a kitchen bar refers to a row of tables near the bar cabinet, typically accompanied by high stools. This design gained popularity among young people. As the public increasingly values leisure and entertainment experiences in residential settings, kitchen bars have gradually integrated into everyday home interiors. They have become a functional area for leisure and entertainment, adding a touch of leisurely elegance and charm to the space.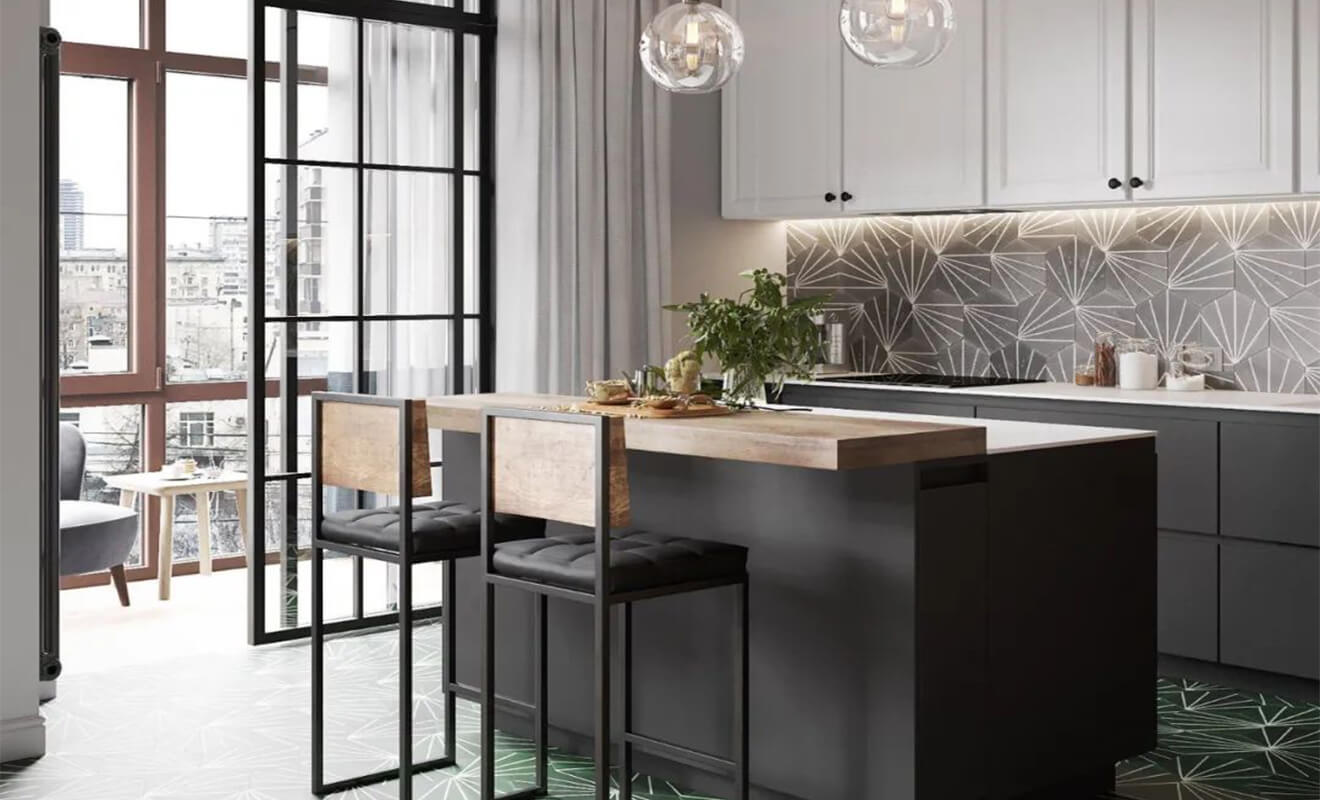 With a younger demographic engaging in home renovations, kitchen bars have become a common sight in modern designs. A visually striking kitchen bar can be the highlight of an entire home design.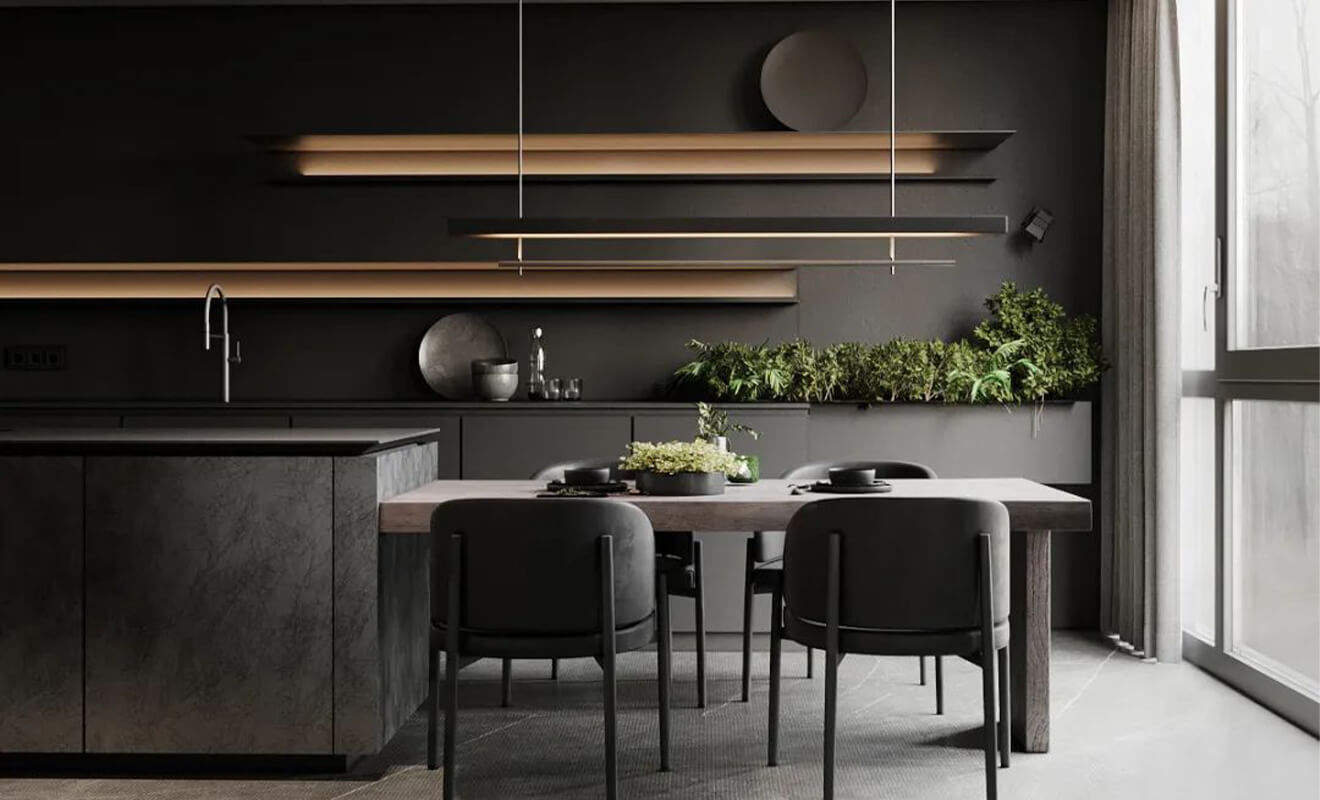 From a design perspective, kitchen bars often appear in living rooms, dining areas, and open kitchens. They serve as separators within the space while also functioning as small dining tables, areas for socializing and drinking, or even as compact workstations for reading and office tasks. Not only are they aesthetically pleasing, but they also offer practicality.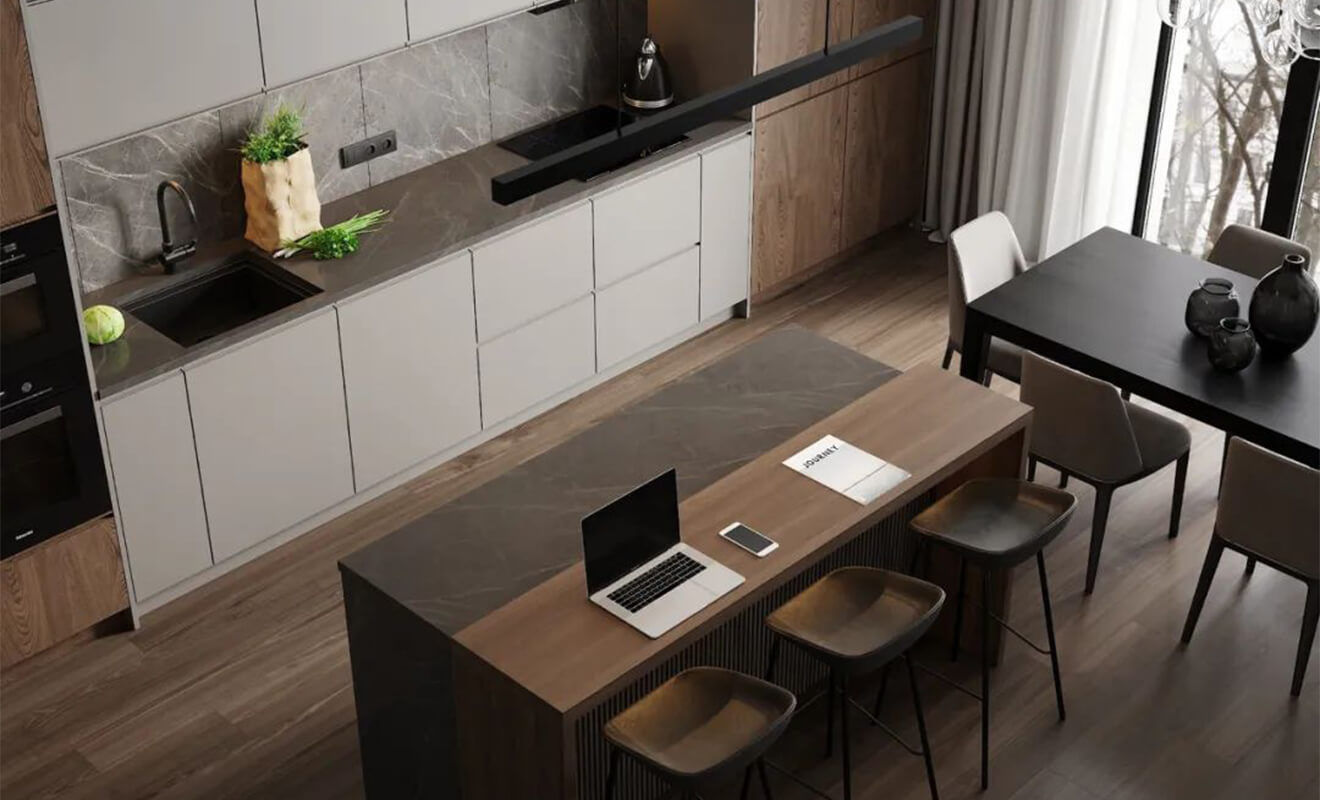 Integrating the kitchen and dining area, this design creates a seamless flow, eliminating the need for partitions and enhancing the openness and brightness of the space.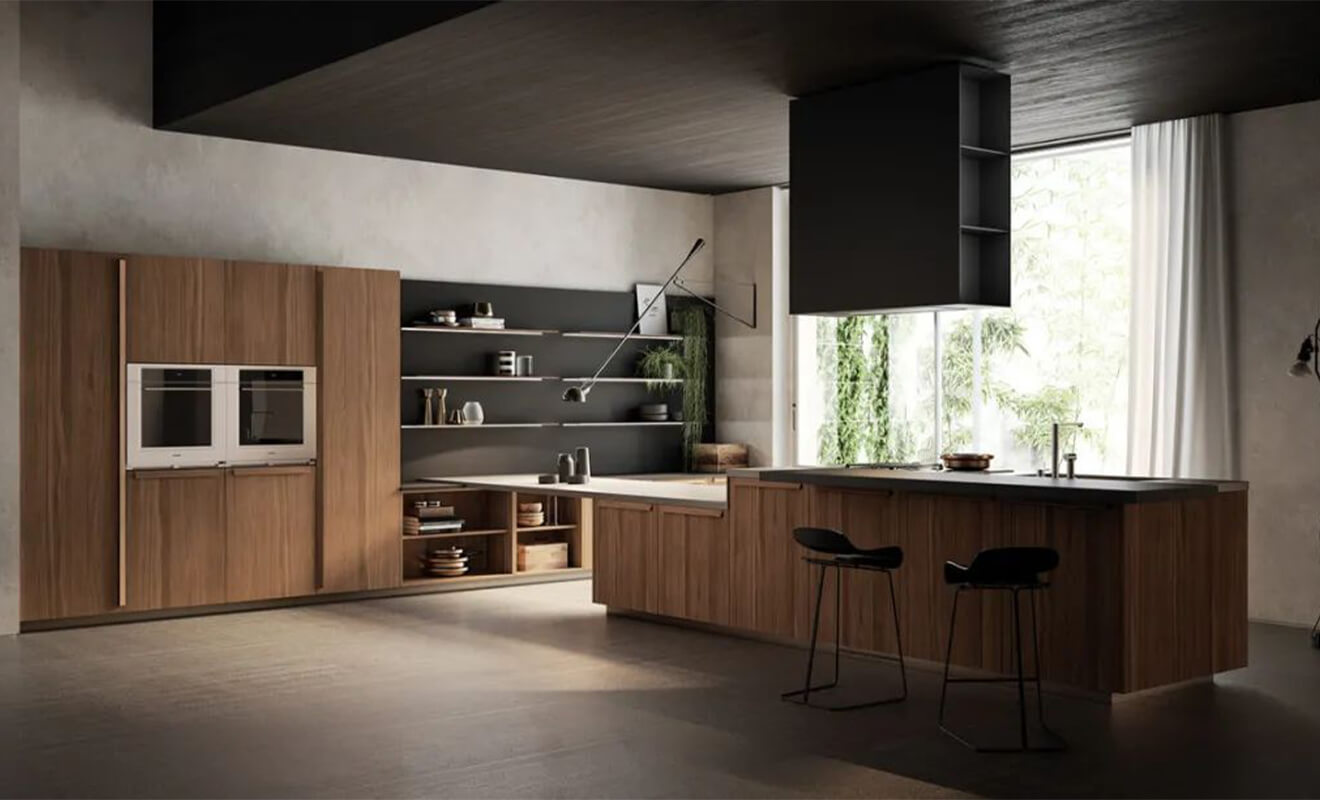 When designing an interior kitchen bar, it is essential to consider it as an integral part of the overall space, rather than just a piece of furniture. Good design seamlessly incorporates the kitchen bar into the space, and care must be taken when cleaning and maintaining it using appropriate cleaning and care products.
Kitchen Bar Dimensions
Due to its unique experience and the cozy atmosphere it creates, a kitchen bar can exude a sense of leisure and elegance. However, when designing the counter surface and the overall kitchen bar, the focus should not be solely on aesthetics and decoration. Designers should also prioritize the comfort of users and ensure that the kitchen bar meets the functional needs of residents, taking into account the overall size of the space and human proportions. Reasonable measurements for the height, width, and extended surface of the kitchen bar should be set to provide convenience and comfort to users.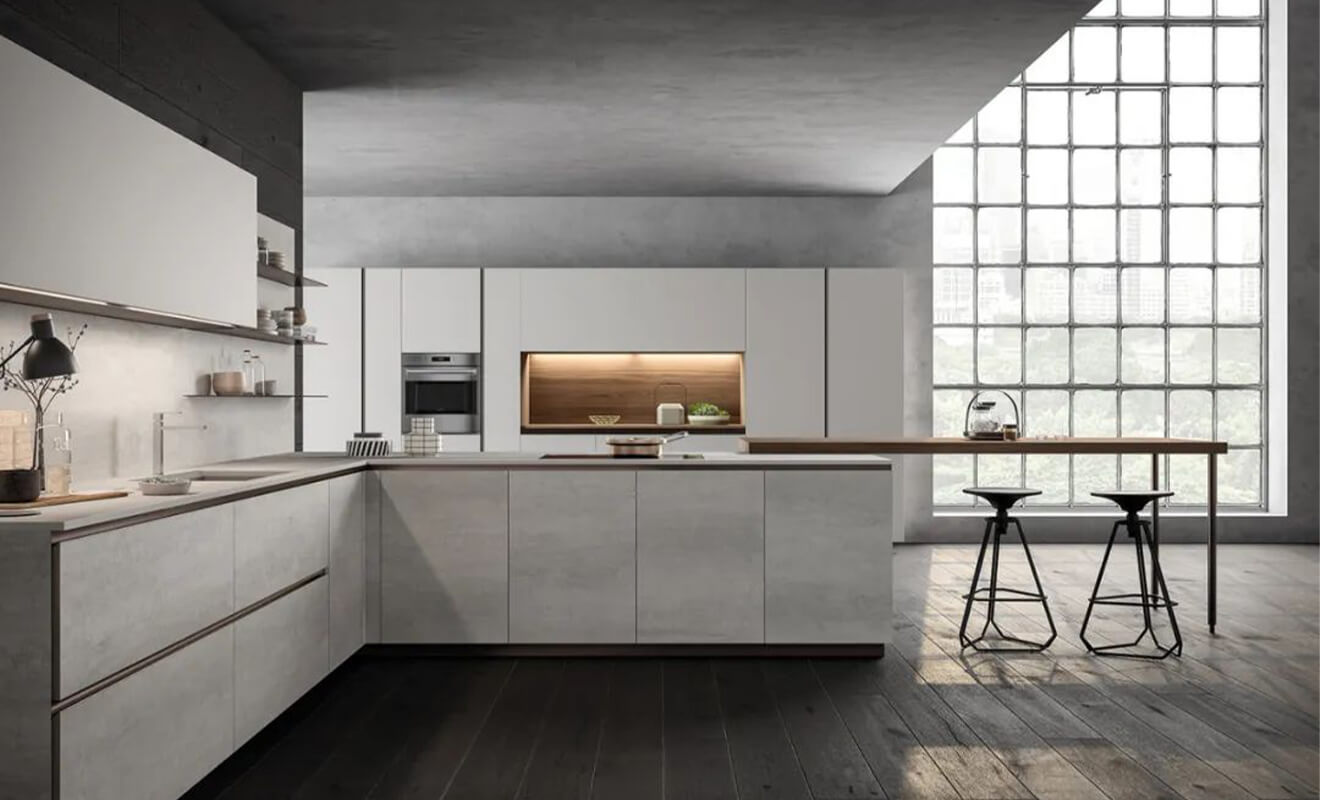 Kitchen Bar Height
Low Kitchen Bar: Low kitchen bars, with their compact and convenient appearance, are often designed for small-sized homes. Considering the limitations of residential spaces and the safety of elderly people and children, the height of a low kitchen bar should range from 900mm to 1000mm, with accompanying chair heights between 550mm and 700mm.
Standard Kitchen Bar: Standard kitchen bars are widely used as they cater to a broad audience. They can accommodate most people comfortably. The height of a standard kitchen bar can range from 1000mm to 1050mm, with corresponding chair heights of 700mm to 750mm being ideal. When designing, it is important to maintain a suitable distance between the kitchen bar and the accompanying stools, typically around 250mm to 350mm.
High Kitchen Bar: High kitchen bars, with their unique height advantage that provides an enhanced view for users, are commonly designed for dining areas in restaurants or kitchen areas in residential homes, positioned facing the food preparation area. The height of a high kitchen bar ranges from 1150mm to 1200mm, with accompanying chair heights of 830mm to 850mm.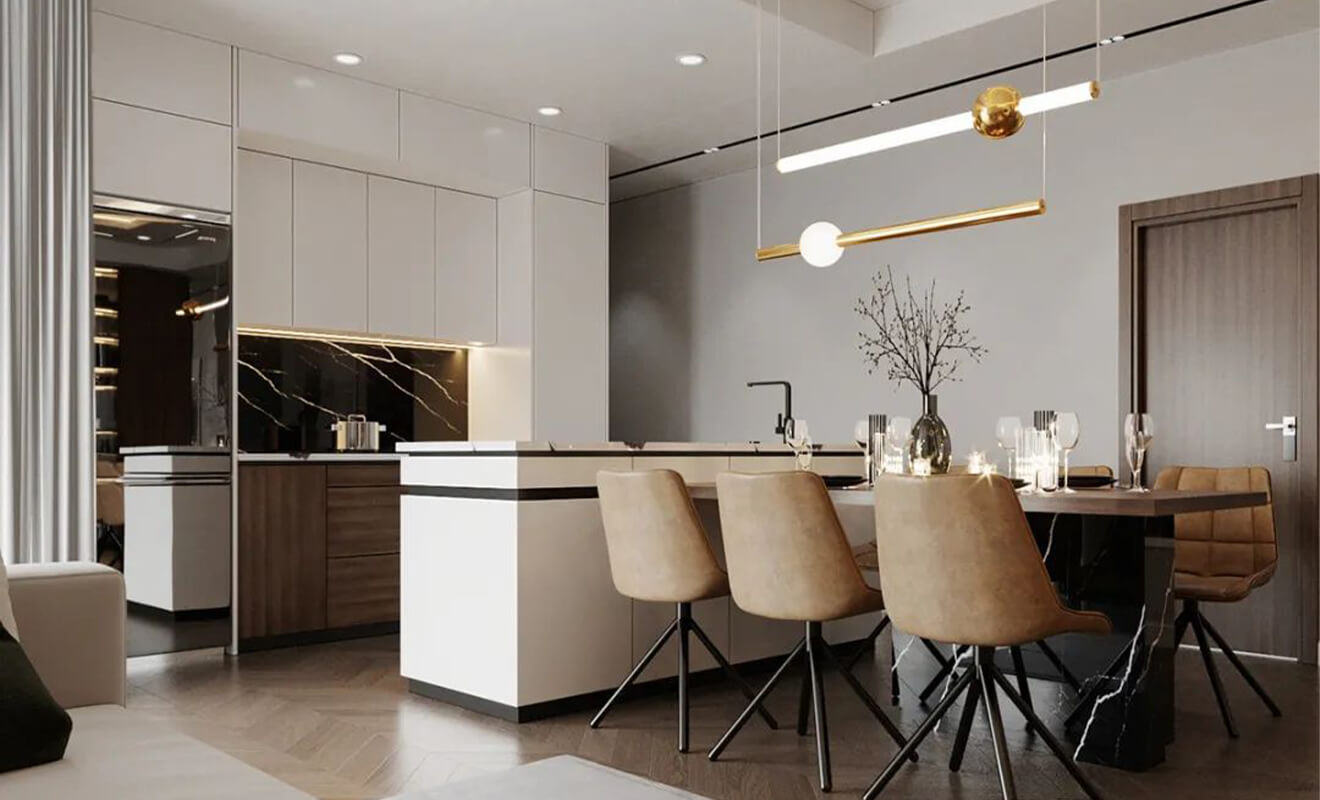 Kitchen Bar Width
The width of a standard kitchen bar typically ranges from 600mm to 700mm. If the width is sufficient for one person to have comfortable space, it can be set at around 400mm. If the home kitchen bar needs to accommodate two people sitting face to face, designers should allow for a wider dimension, preferably around 600mm to 800mm, to ensure suitability.
Extension of the Kitchen Bar
Designers are not restricted to traditional kitchen bar forms and can incorporate extended countertop surfaces that protrude outward by 300mm to 350mm. This extension can accommodate most bar chairs and stools. If the extended surface does not need to accommodate seating, it should provide ample legroom for residents below the kitchen bar. In such cases, the countertop can extend outward by 200mm to 300mm, offering a more comfortable experience for users.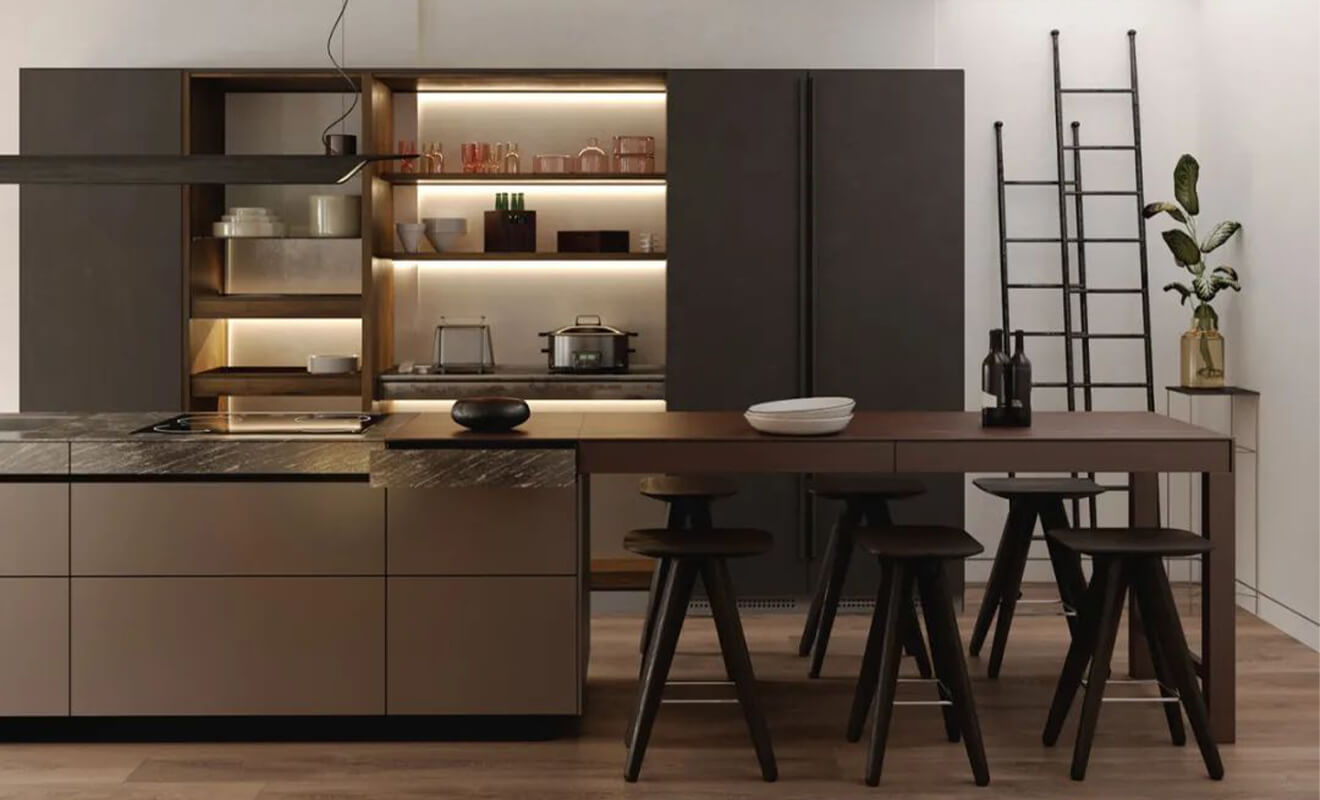 Kitchen Bar Design Ideas
The kitchen bar, due to its unique shape and functionality, has become a common feature in residential homes. However, the design of the kitchen bar can vary based on the different needs of homeowners and can be broadly categorized into integrated, island, extended, and partition styles.
Integrated Kitchen Bar
When designing a kitchen bar, the focus should not only be on its aesthetics but also on meeting the functional requirements and maximizing space utilization. In this case, designers can opt for an integrated kitchen bar, such as combining the kitchen's working surface with the kitchen bar in residential homes. This allows the kitchen bar to serve as a dining table while providing an additional workstation. Alternatively, the kitchen bar can be combined with a shoe cabinet and placed near the entrance area, creating a vacant space underneath the counter with multiple shelves to meet storage needs while saving space.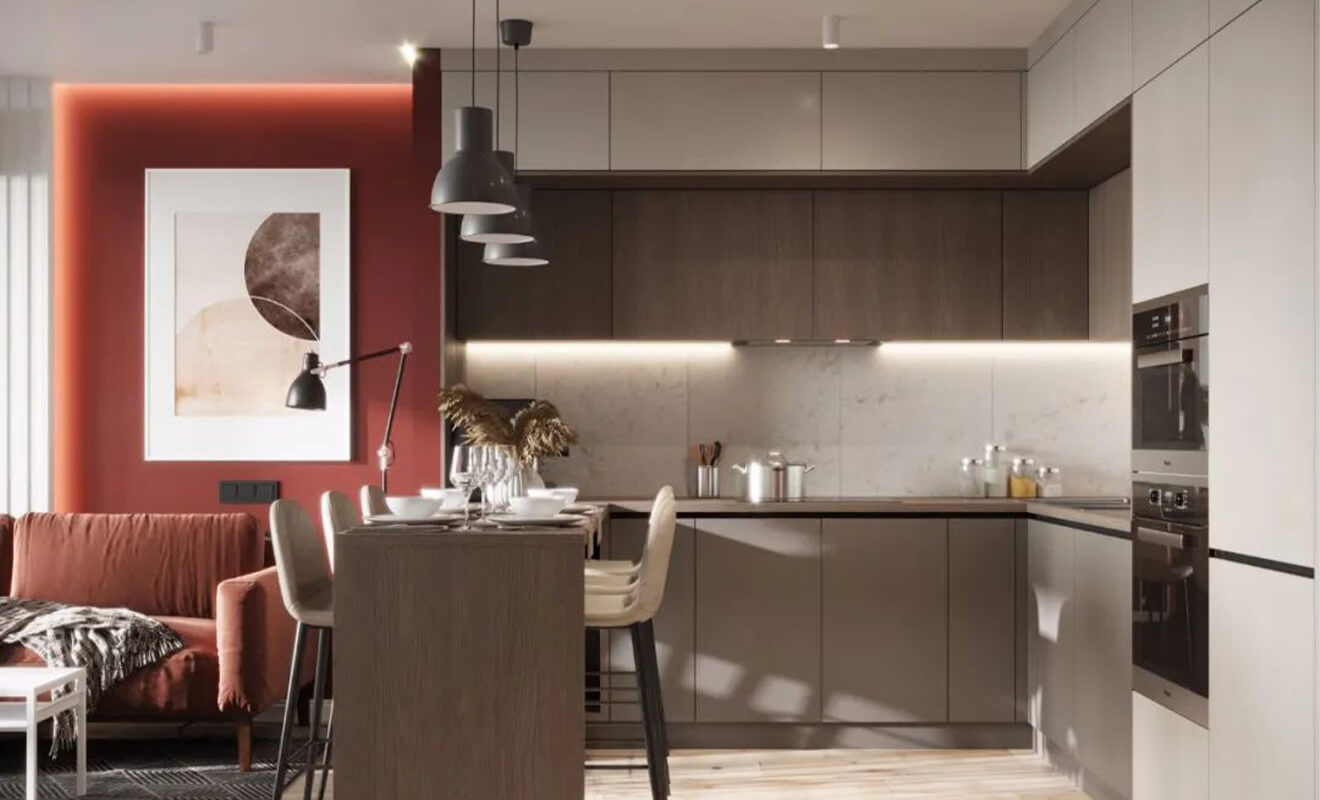 Island Kitchen Bar
The island kitchen bar is often a standard feature in large open-plan kitchens. When designing its placement, designers should consider the kitchen layout and incorporate the island counter as a central hub for family interaction. Besides serving as a dining table, it can also function as an auxiliary workspace, providing versatility. Some residences may integrate the kitchen bar with the load-bearing structure of the house, creating a visually appealing and structurally significant feature that compensates for any awkward wall defects.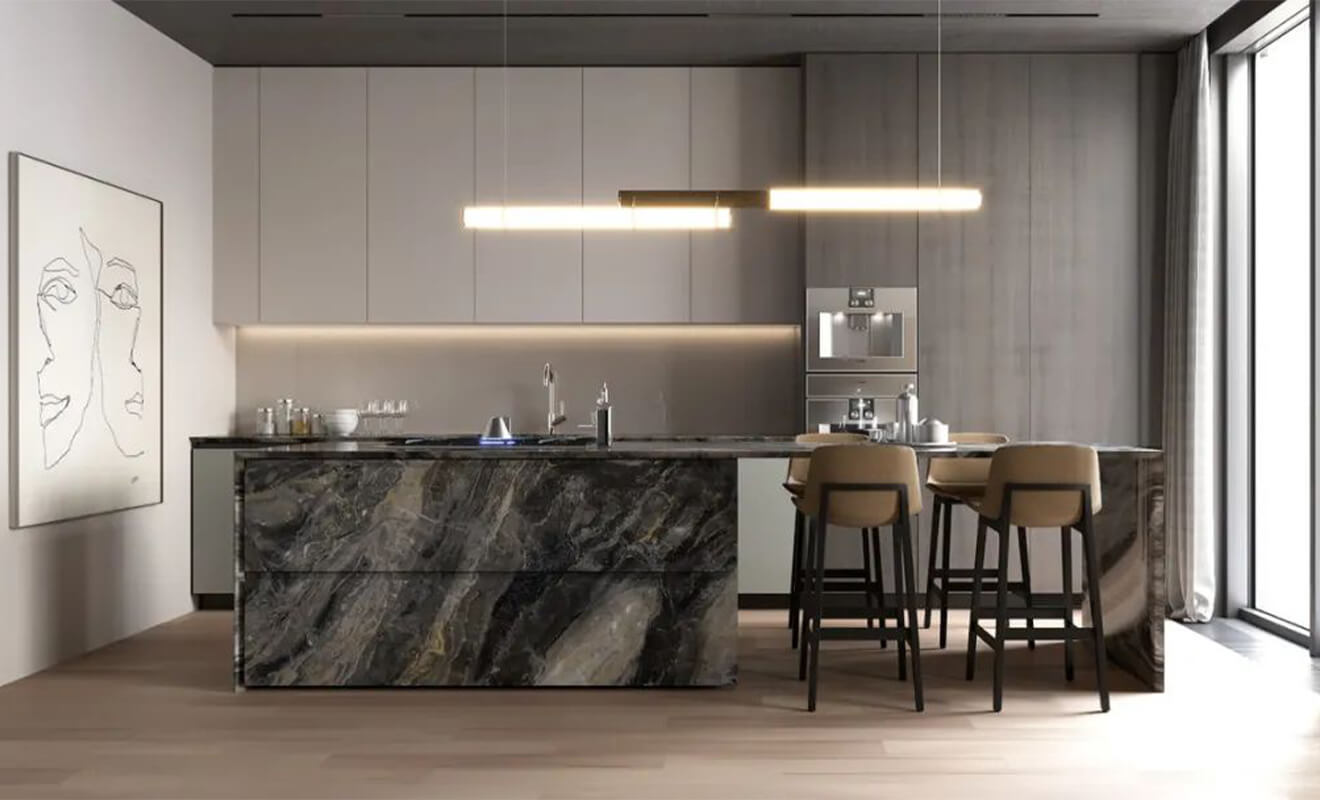 Extended Kitchen Bar
Compared to other kitchen bar styles, the extended kitchen bar offers more possibilities. If there is sufficient space around walls or cabinets, the countertop can be extended based on these existing elements. For example, the kitchen cabinets or dining table can be used as a foundation to extend the kitchen bar, forming an extended kitchen bar. Another variation is the suspended kitchen bar, which extends from the island counter, creating a suspended surface. This is also a form of extension.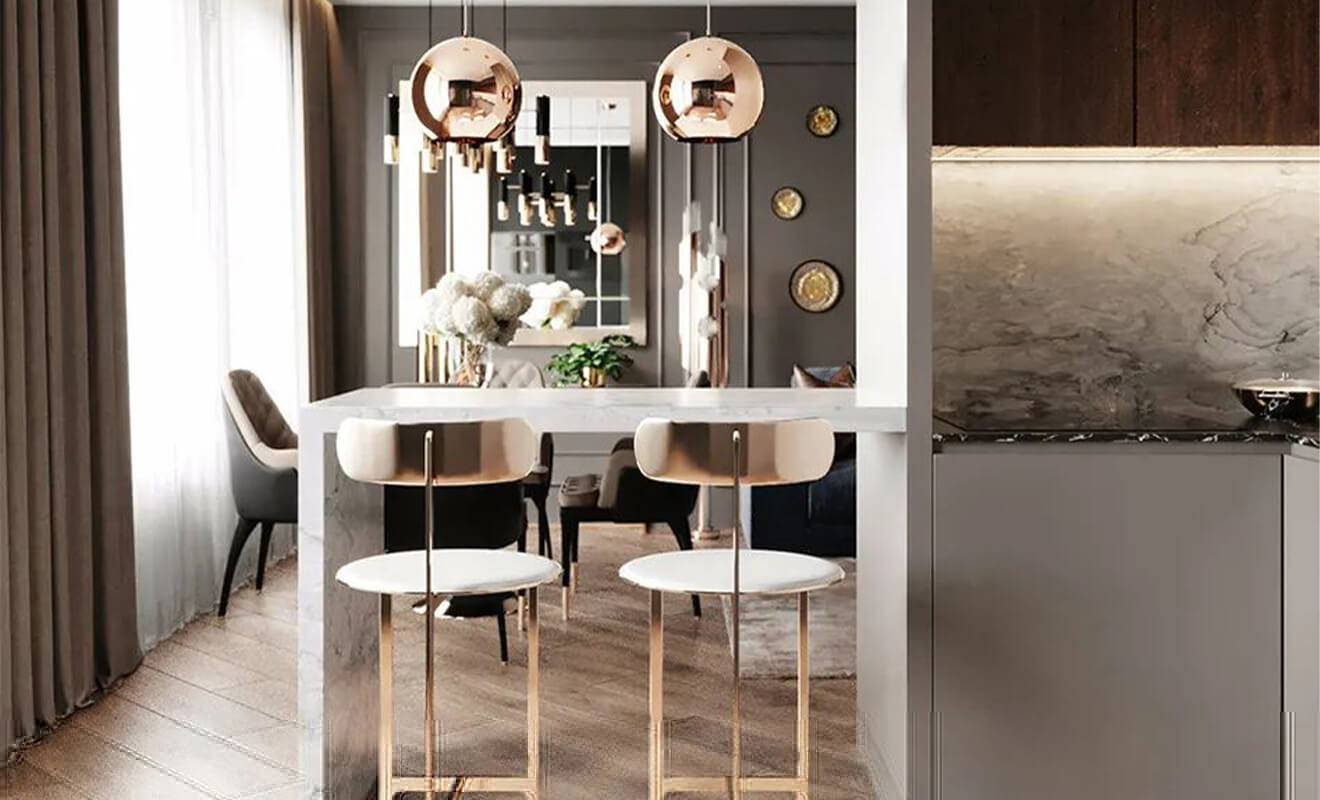 Partition Kitchen Bar
If the functional areas in a residential space are closely connected and cannot be clearly defined, a partitioned kitchen bar can be used. The main purpose of a partitioned kitchen bar is to divide and differentiate the functions of two separate spaces. Most designers place a partitioned kitchen bar in an open-plan kitchen to separate the kitchen from the dining and living areas, with the kitchen bar acting as a divider. This not only achieves the goal of dividing and defining spaces but also creates an open flow, providing convenience to residents. Additionally, this design adds interest to the overall layout of the house, creating a spacious, harmonious, and minimalist atmosphere.