8 Modern Kitchen Ideas with Stainless Steel Cabinets
Whether you are planning an indoor or outdoor kitchen, stainless steel kitchens tend to stand the test of time both in quality and aesthetics. They own great durability, hygiene, and functionality, and they can add either a modern or industrial touch to your space. Take a look at the stainless steel cabinet designs below to get inspired for your kitchen remodel.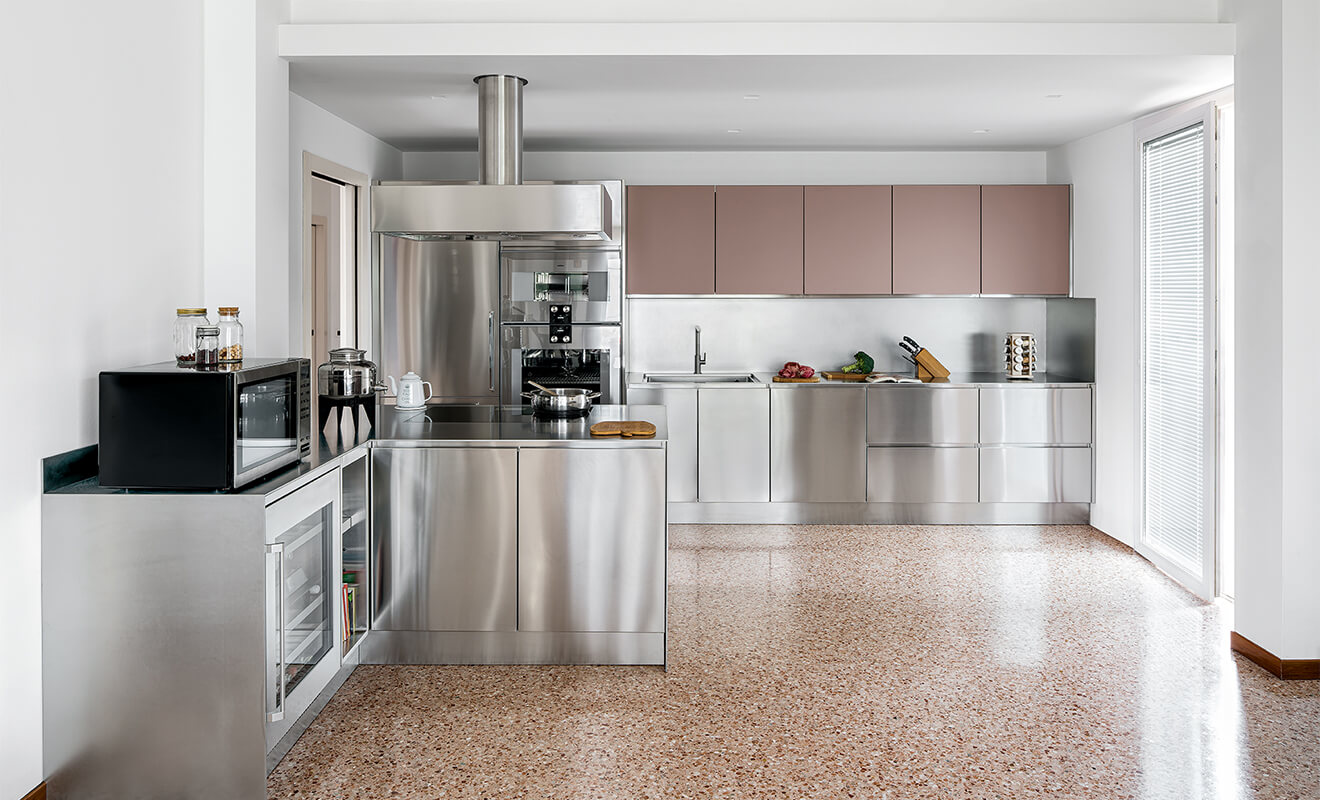 1.The gentle pink color creates a warm and inviting ambiance, creating a delightful contrast against the cool tones of the stainless steel base cabinets. This fusion of industrial elegance and modern charm creates a space that is both functional and visually captivating.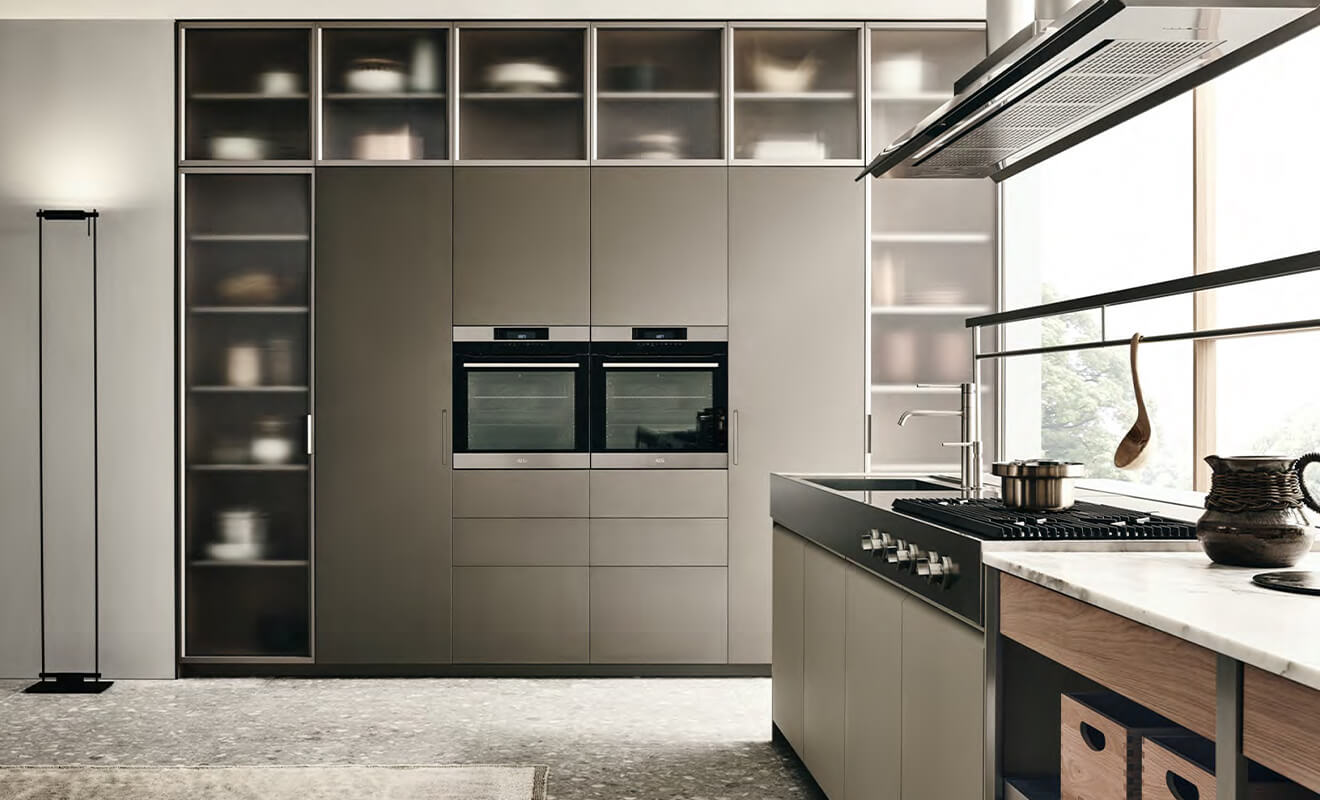 2.This open-concept kitchen features ceiling-high cabinets adorned with framed glass and stainless steel accents. This blend of modern textures, combined with the natural beauty of stone and wood, creates a strikingly sophisticated and tough kitchen style. The use of easy-to-clean materials make you worried less about daily kitchen tasks. The island, which combines cooking, dining, and storage functions, offers a wealth of functions and a well-thought-out layout, making it an ideal space for large gatherings and interactive experiences.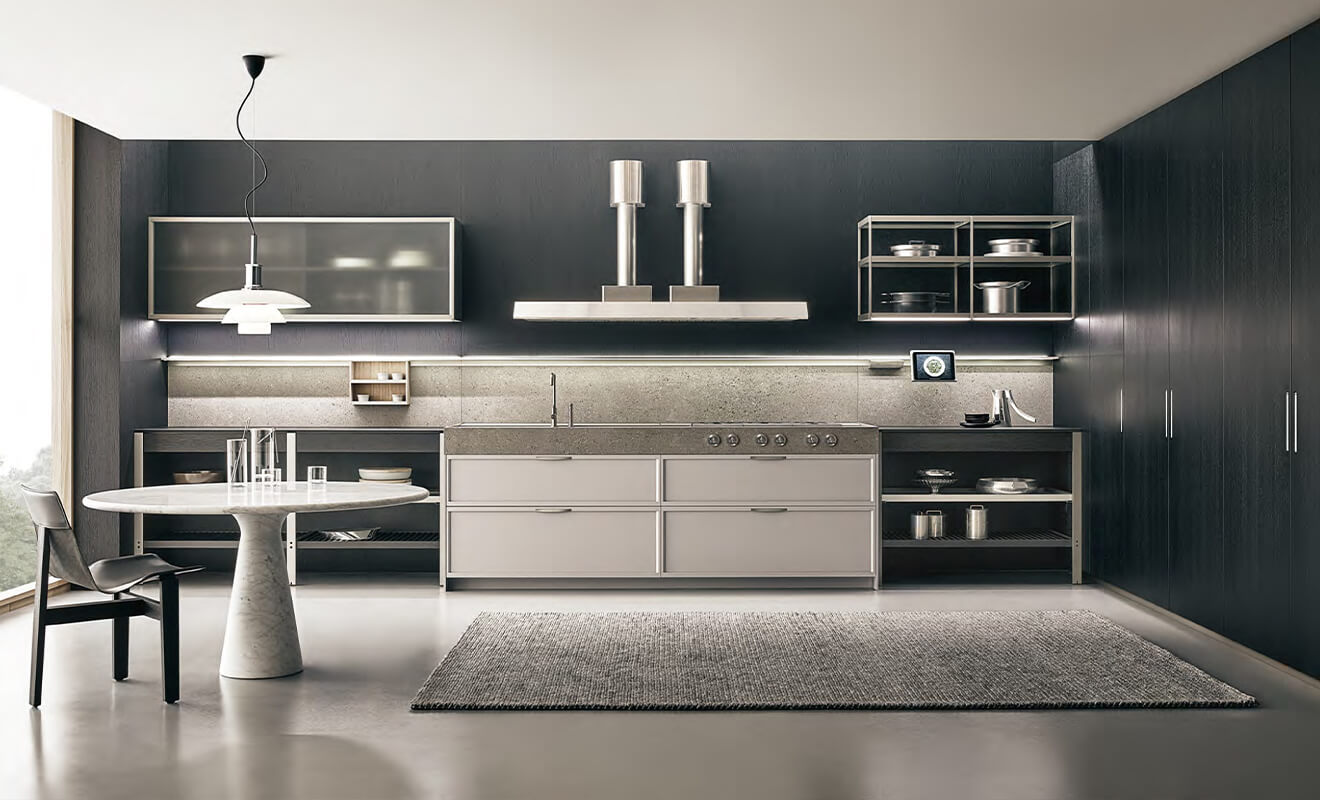 3.This kitchen cabinet set features a built-in tall cabinet that creates a small bar counter. The main cabinet block are simplified, using frames and shelves instead of traditional cabinets, giving the kitchen a more sophisticated industrial style with bold lines and accents. This design also ensures easy access to frequently used items. The storage cabinets are equipped with various organizers, maximizing the utilization of cabinet space.
4.The kitchen design combines sophistication and simplicity, creating a environment that is professional for cooking, inviting for dining with family and friends. The large storage cabinets feature a soothing solid-color finish complemented by glass doors, resulting in a striking visual contrast of textures. The metal framework serves both practical and decorative purposes, adding depth and character to the space. The large island offers a range of functionalities and a well-thought-out layout, with a convenient, space-saving expandable dining table design.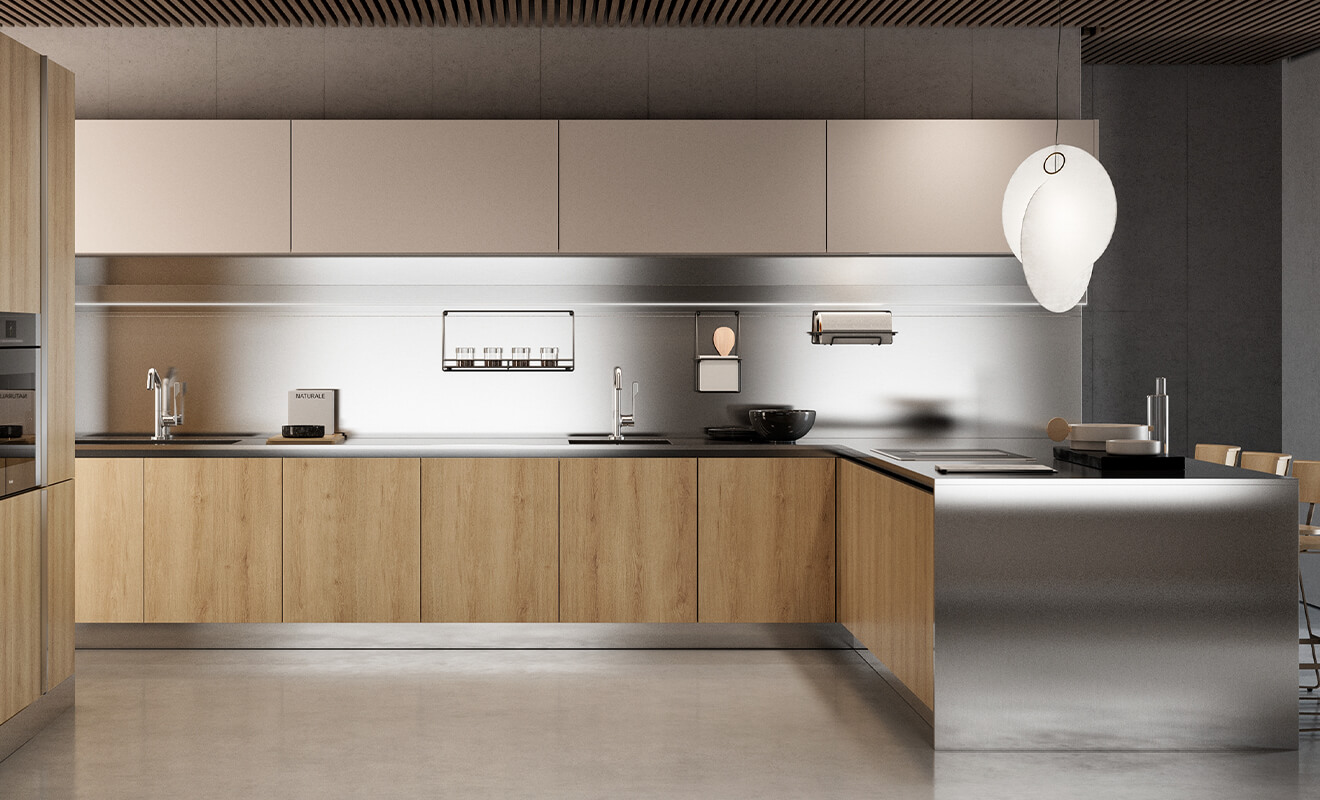 5.This kitchen embodies a perfect blend of stainless steel, matte lacquer and wooden finishes, creating a striking combination of toughness and warmth. The juxtaposition of robustness and softness, along with the contrasting textures of various materials, showcases a unique sense of luxury. Handle-free design creates a more streamlined modern look. The L-shaped layout perfectly integrates storage, meal preparation, and dining functions into one cohesive unit.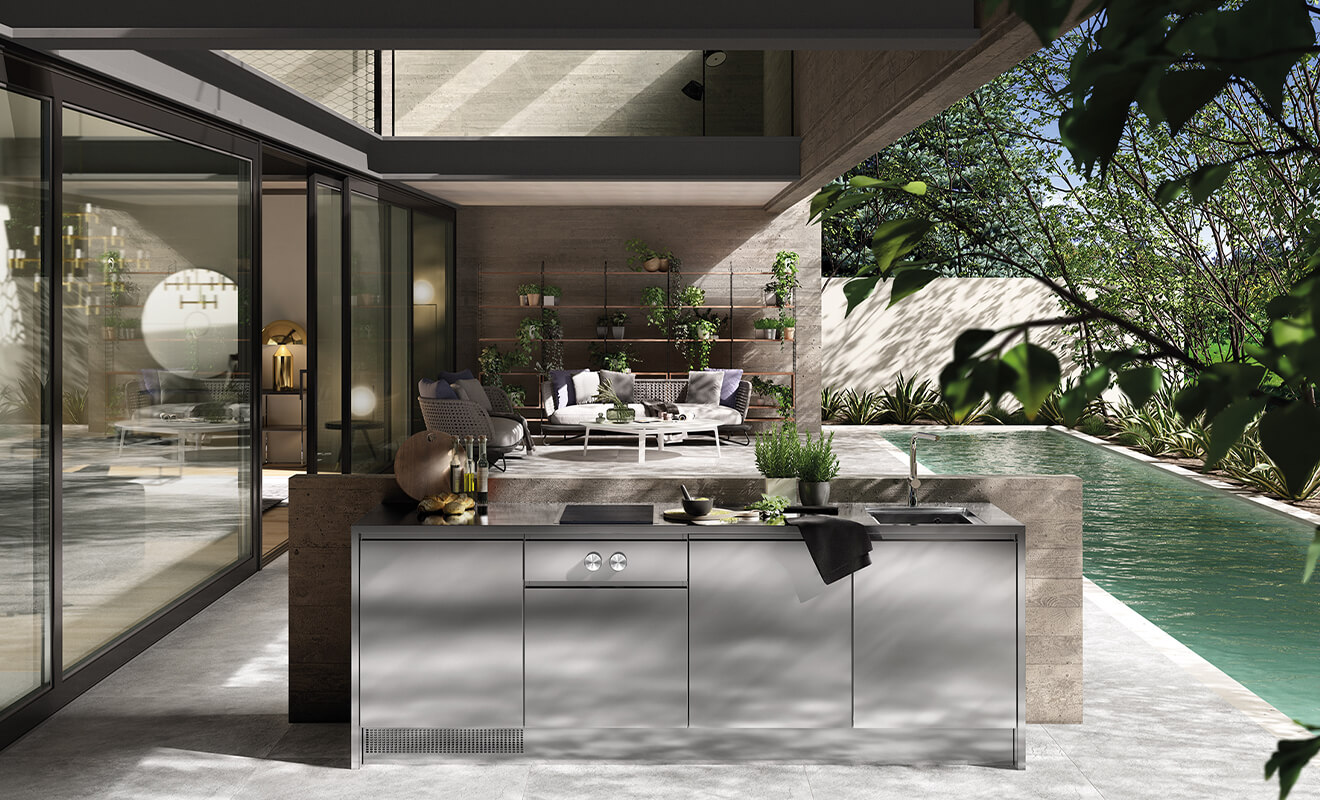 6.The cabinets have integrated handles on the top for a minimal look that is finished off with a stainless steel countertop and faucet. The organic natural scenery outdoor create a strong contrast with the clean, sharp lines of this minimal cabinets.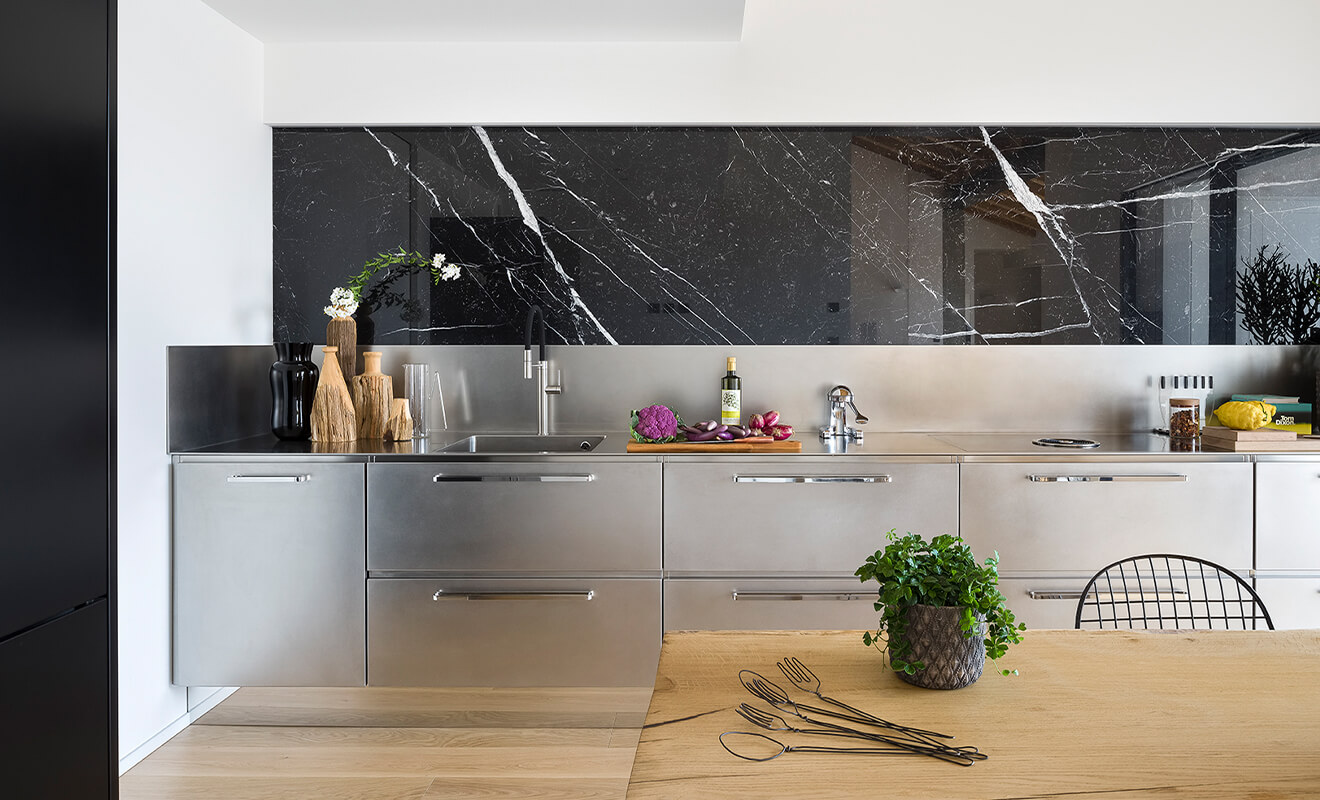 7.Many people love the way the stainless steel cabinet adds variety to the material palette of sintered stone, dark wood, and light hardwood flooring in this beautiful, modern kitchen. Ultra-thin stainless steel scratch-resistant cabinet, integrated sink, and a calm color scheme and material blend seamlessly, adding a sense of composure and quality to the home ambiance. Spacious drawer base cabinet offers ample storage for all your kitchen essentials, allowing for easier organization and convenient access to your cookware, utensils, and more.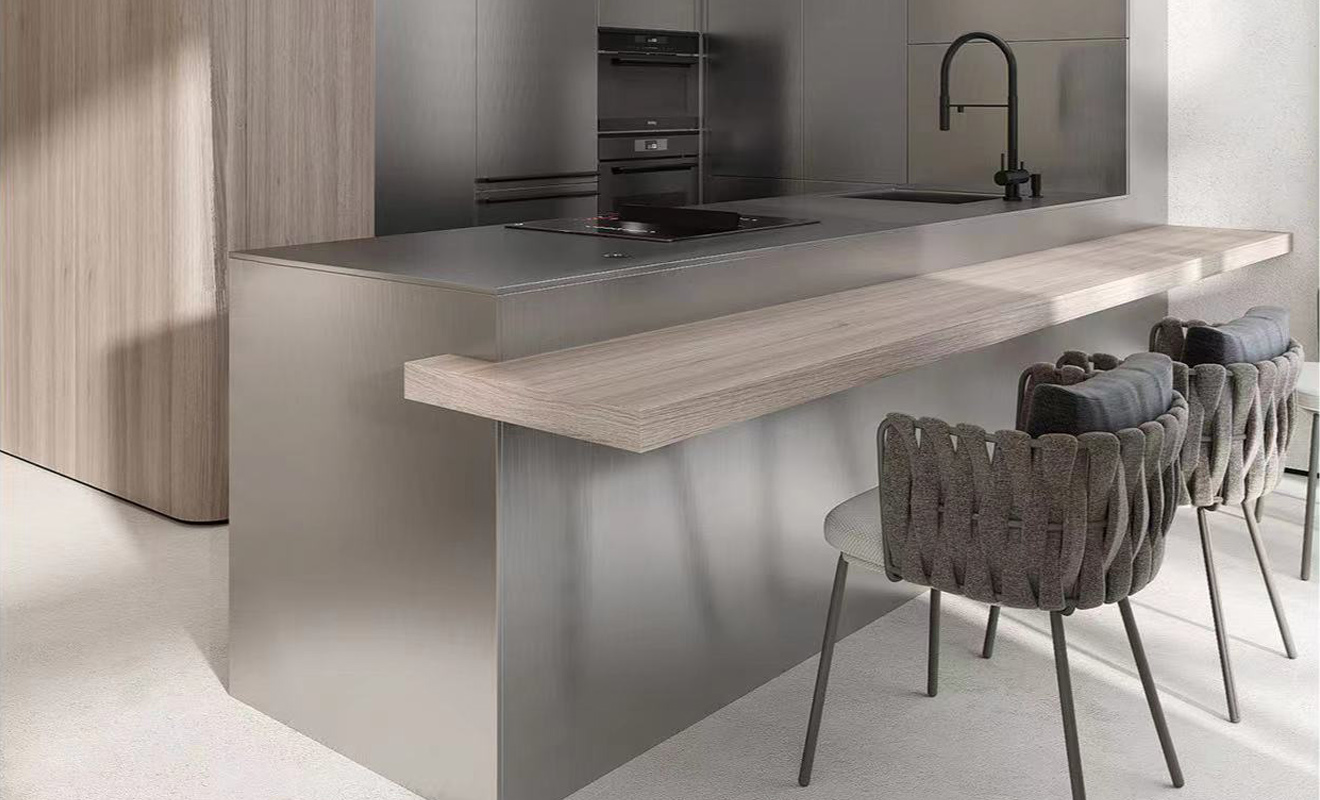 8.This cabinet set boasts a creative fusion of brushed stainless steel and natural wood, featuring handleless cabinet doors for an modern aesthetic that packs a powerful visual punch. Stain and wear resistant cabinet material is easy to clean and maintain, making you feel like cooking in a real pro kitchen. The wood panel at the side of the stainless steel island doubles as a dinning bartop – perfect for gatherings and engaging in delightful conversations with friends and family.