4 Basic Considerations for Customized Bathroom Cabinets
The bathroom cabinet, equipped with a washbasin, storage cabinet, and mirror, is undoubtedly one of the most frequently used furniture pieces in a bathroom. It not only serves the purpose of beautifying and decorating the bathroom but also fulfills essential functions such as washing, storage, resistance to moisture, and easy cleaning. Customized bathroom cabinets offer a variety of materials, and every detail reflects the owner's taste, making it a new trend in the market.
1.Bathroom Cabinet Color
The color of the bathroom cabinet should be chosen based on the home decor style and personal preference. Different color schemes can create distinct visual effects. For instance, a light-colored bathroom cabinet can be paired with various styles of bathrooms, giving a sense of cleanliness and elegance. On the other hand, dark-colored cabinets are more resistant to dirt, scratches, and wear, making them less noticeable.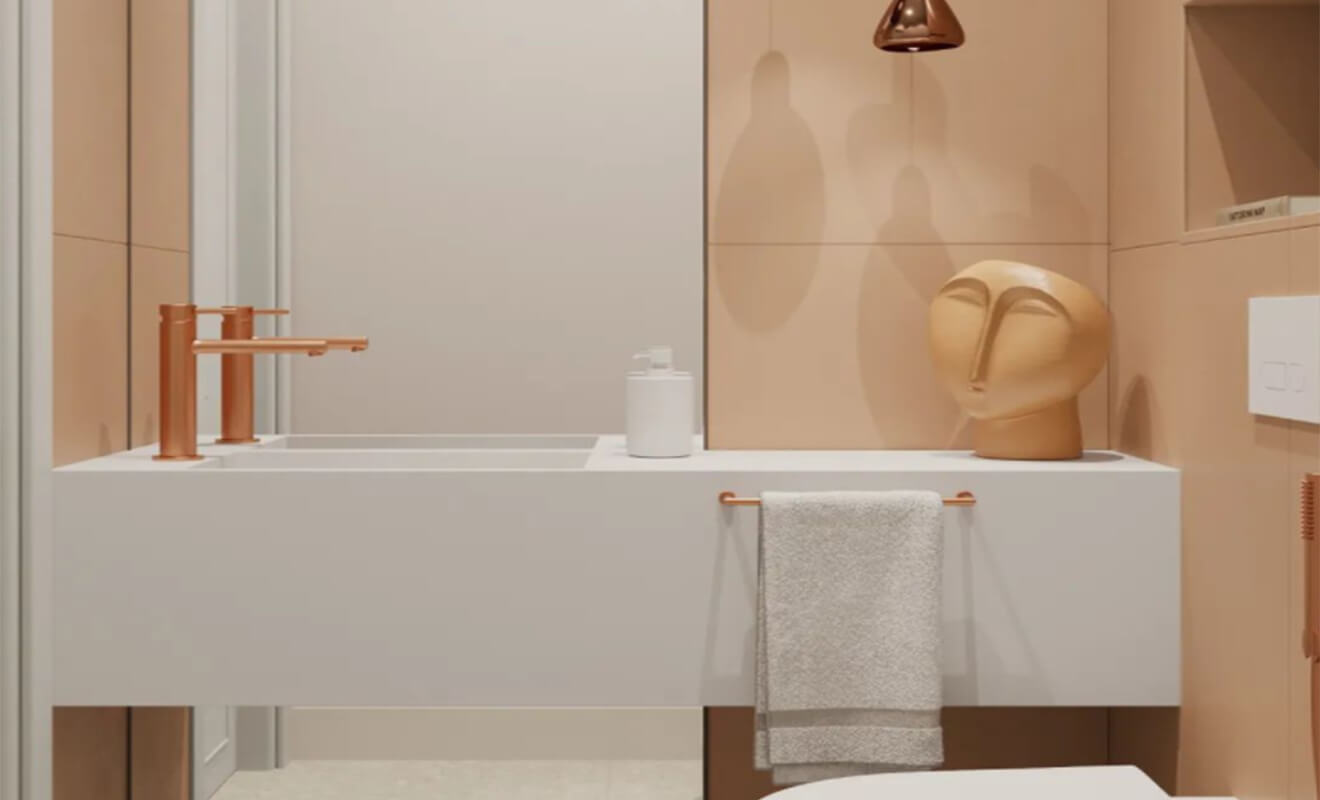 White Bathroom Cabinet: When unsure of the color choice, white is always a safe option. It can be matched with various styles and is the most common choice. It creates a serene and pure visual effect, making even small spaces appear spacious and bright.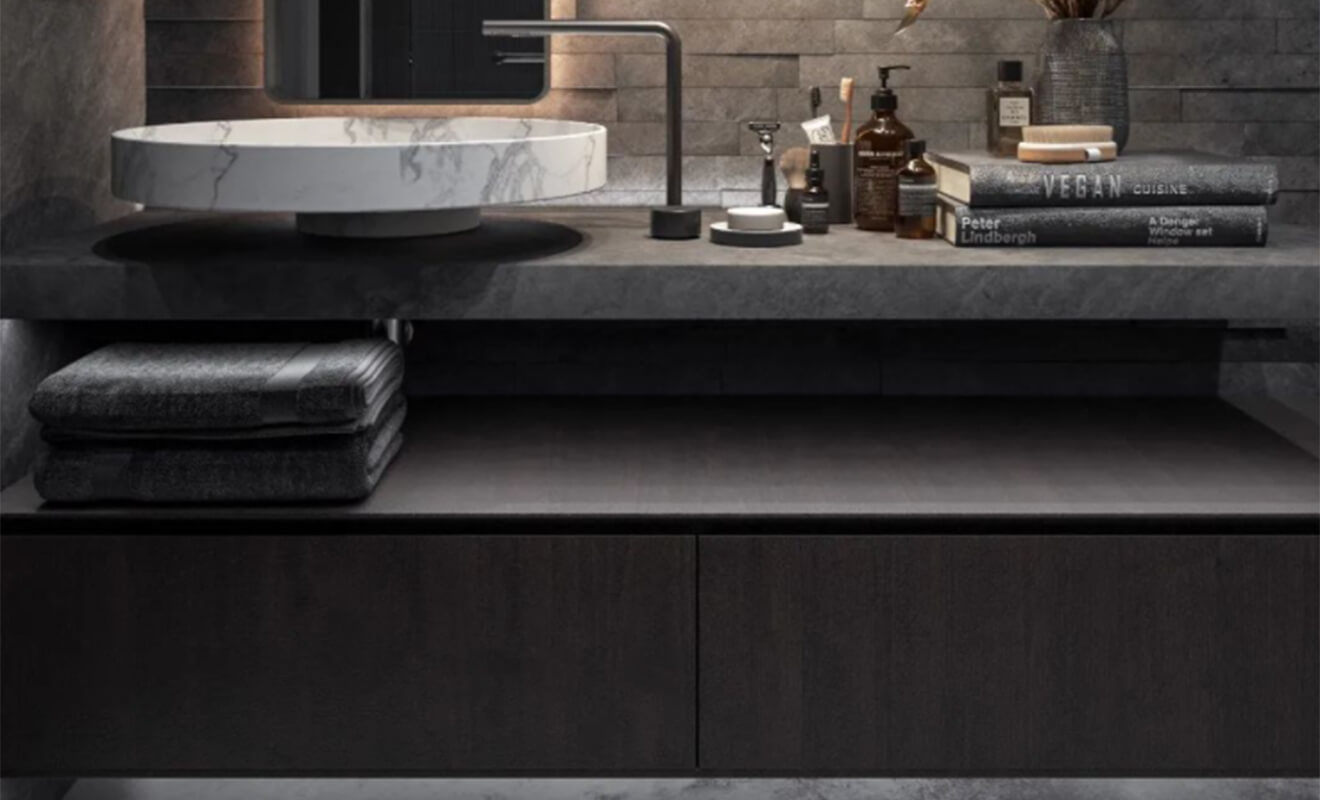 Black Bathroom Cabinet: Black bathroom cabinets complement white walls, creating a unique black-and-white combination. Black, when paired well with other colors, exudes a sense of youthful luxury, silently showcasing the lifestyle of modern urban living.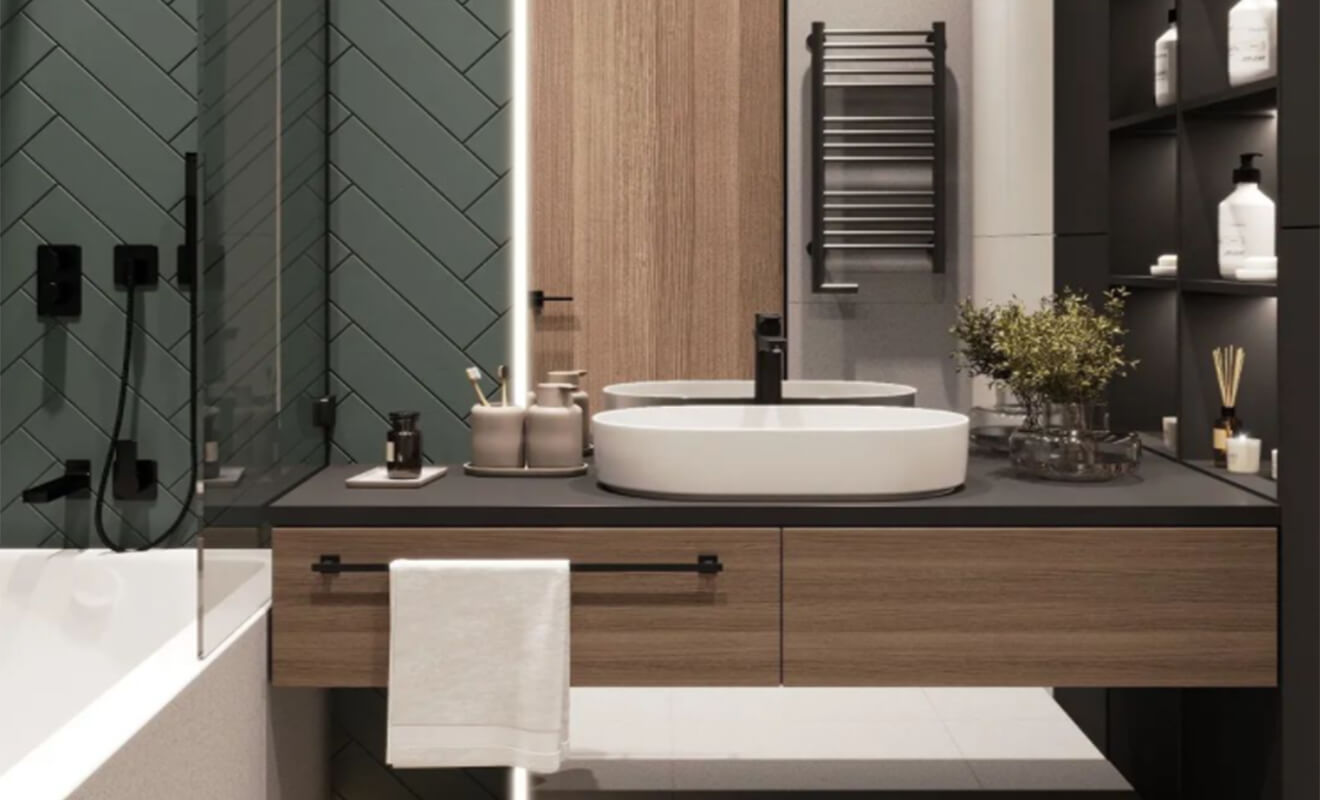 Wood tones: Common options include natural wood and teak colors. Natural wood tones are more suitable for minimalist-style bathrooms, providing a delicate touch. When paired with green plants, even small bathrooms can emanate a fresh and natural ambiance. Teak colors can satisfy the requirements of Chinese, American, and European styles, offering a sense of luxury. High-quality solid wood materials with natural textures, clean colors, and comfortable textures, coupled with golden handles, add elegance to the bathroom environment, becoming a classic element of bathroom cabinets.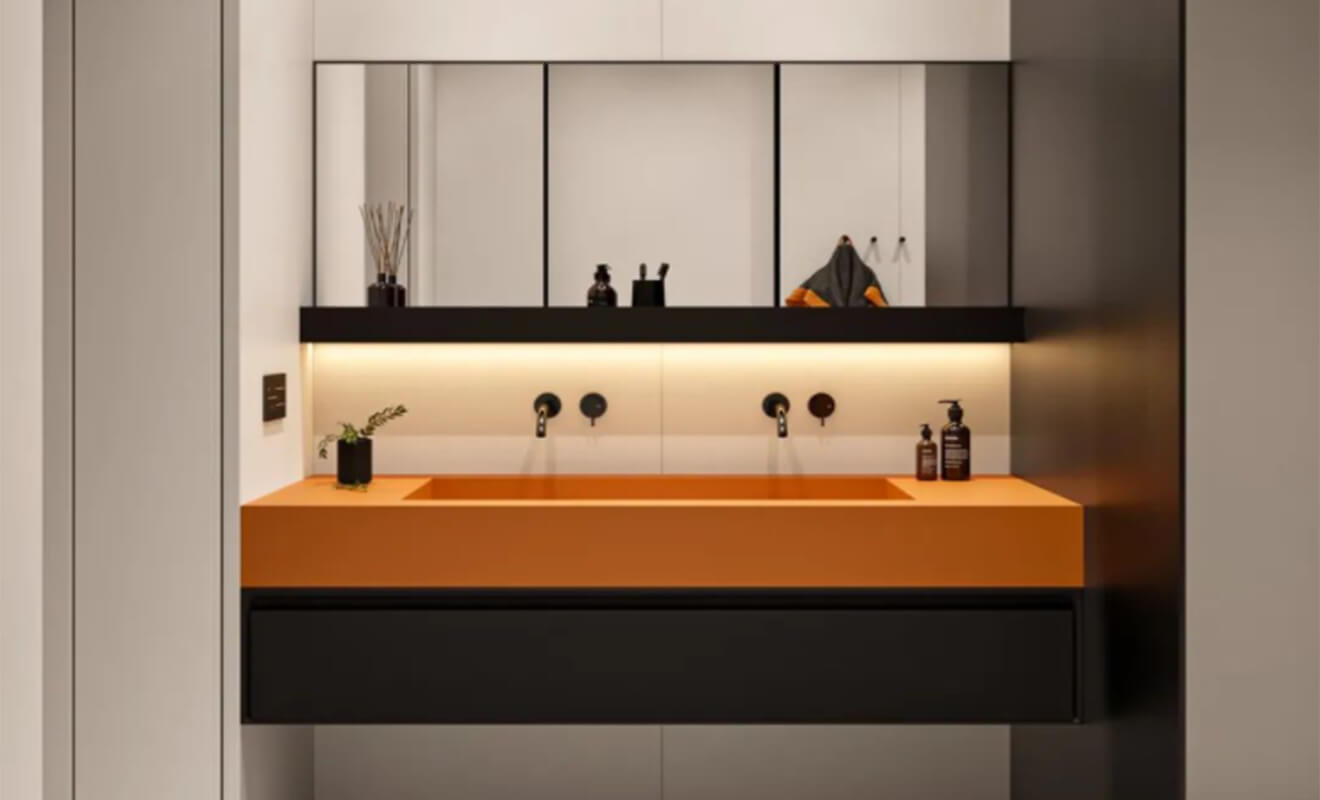 Colorful series: Colorful bathroom cabinets align with the fast-paced lifestyle of modern people, adding warmth and vitality to the bathroom space.
2.Moisture Resistance
To keep the bathroom cabinet clean and fresh, attention must be paid to moisture resistance. This includes moisture-resistant materials and design features to avoid water damage. Especially for small bathrooms where it's not possible to separate wet and dry areas, it's important to focus on the moisture resistance of the cabinet's panels when selecting a bathroom cabinet. High-quality panels specially treated for moisture resistance can reduce the troubles caused by dampness.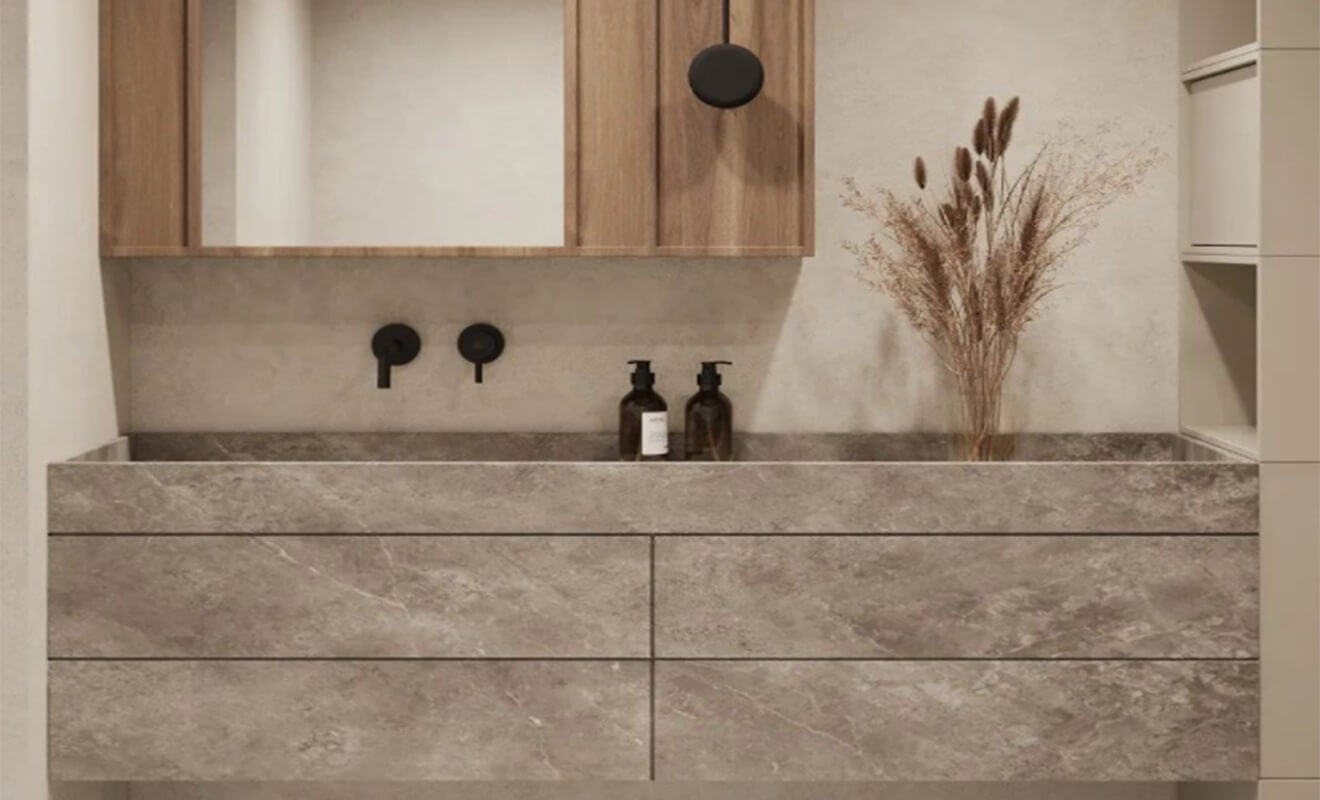 Splash-proof design: Water accumulation on the countertop is a major cause of bathroom humidity. To prevent water from flowing into the cabinet, "splash-proof strips" can be installed around the countertop. These strips redirect the water deposited on the sink back into the basin, effectively blocking the water flow and preventing the cabinet from getting damp and moldy.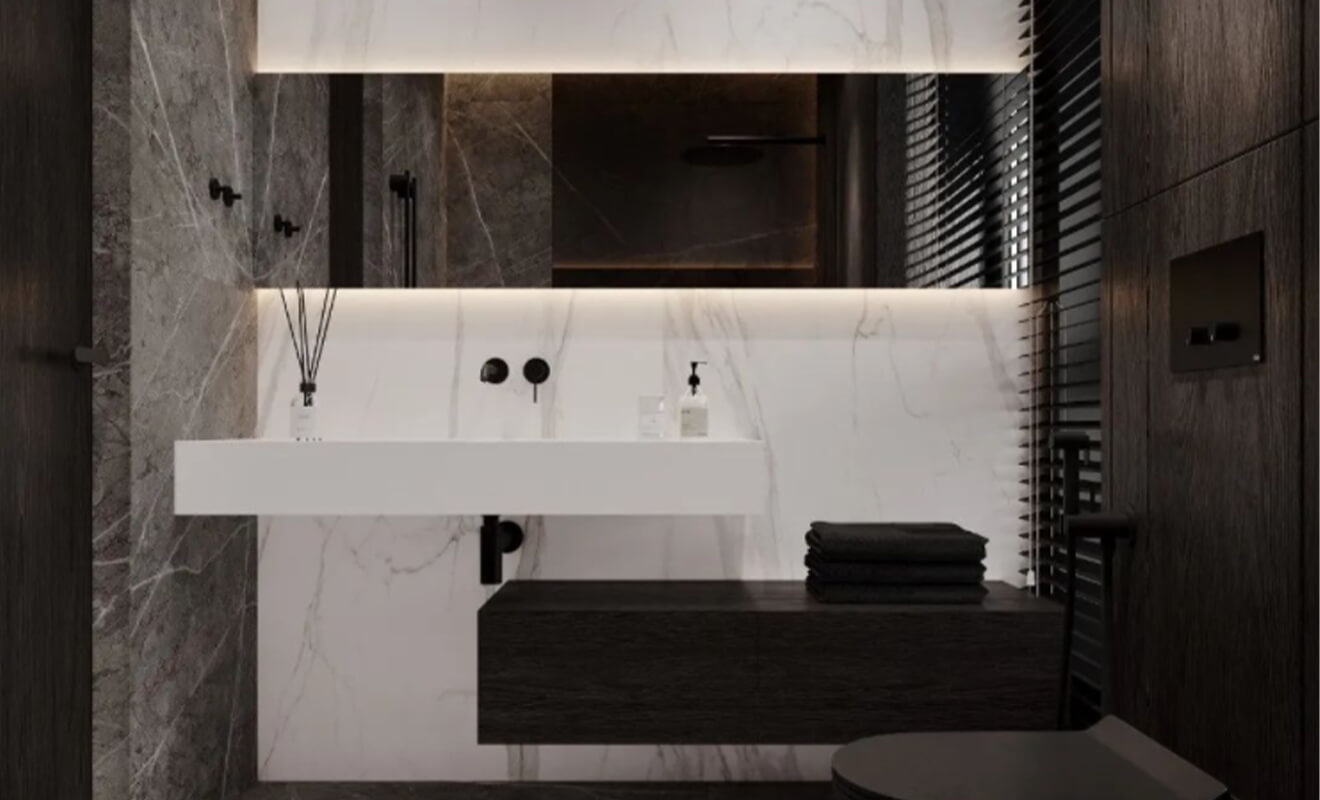 Bottom moisture resistance: Bottom moisture resistance prevents the invasion of ground moisture. The suspended design of wall-mounted bathroom cabinets avoids direct contact between the cabinet and the floor, reducing the possibility of moisture infiltrating the cabinet. This design extends the lifespan of the bathroom cabinet to a certain extent.
3.Bathroom Cabinet Style
For small bathroom areas, it is best to choose a wall-mounted bathroom cabinet to maximize the utilization of the upper space. The bottom suspended design avoids creating inaccessible corners, making cleaning effortless and reducing household chores. It also offers versatility in terms of matching with other bathroom fixtures.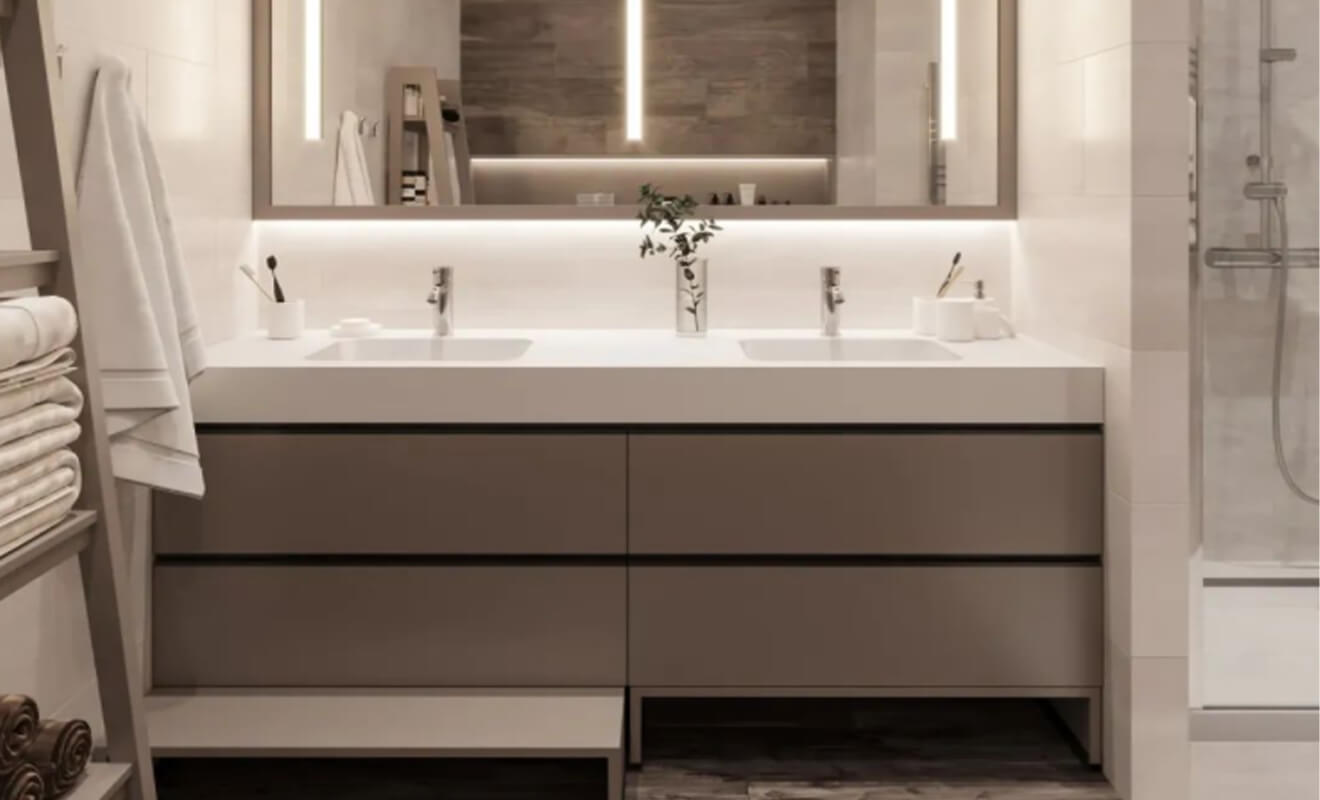 Sink: Common options include above-counter, under-mount, and integrated sinks. It is recommended to choose an integrated sink for the bathroom cabinet as it combines aesthetics and avoids the hassle of dirt accumulation. Above-counter sinks have a stronger visual appeal, but they tend to splash water onto the cabinet surface, and the area where the sink and countertop meet is prone to dirt accumulation, making cleaning a challenge. If cleanliness is a high priority, it is better to avoid installing above-counter sinks. Moreover, above-counter sinks are generally shallow, making it easy for water to splash onto the countertop and even the cabinet body, resulting in pooling water and inconvenience in cleaning. For bathroom cabinets, under-mount sinks are recommended as they have a more exquisite appearance and offer better practicality. When water accumulates around the countertop, a simple swipe can accurately direct it into the sink, effectively maintaining a clean and tidy countertop.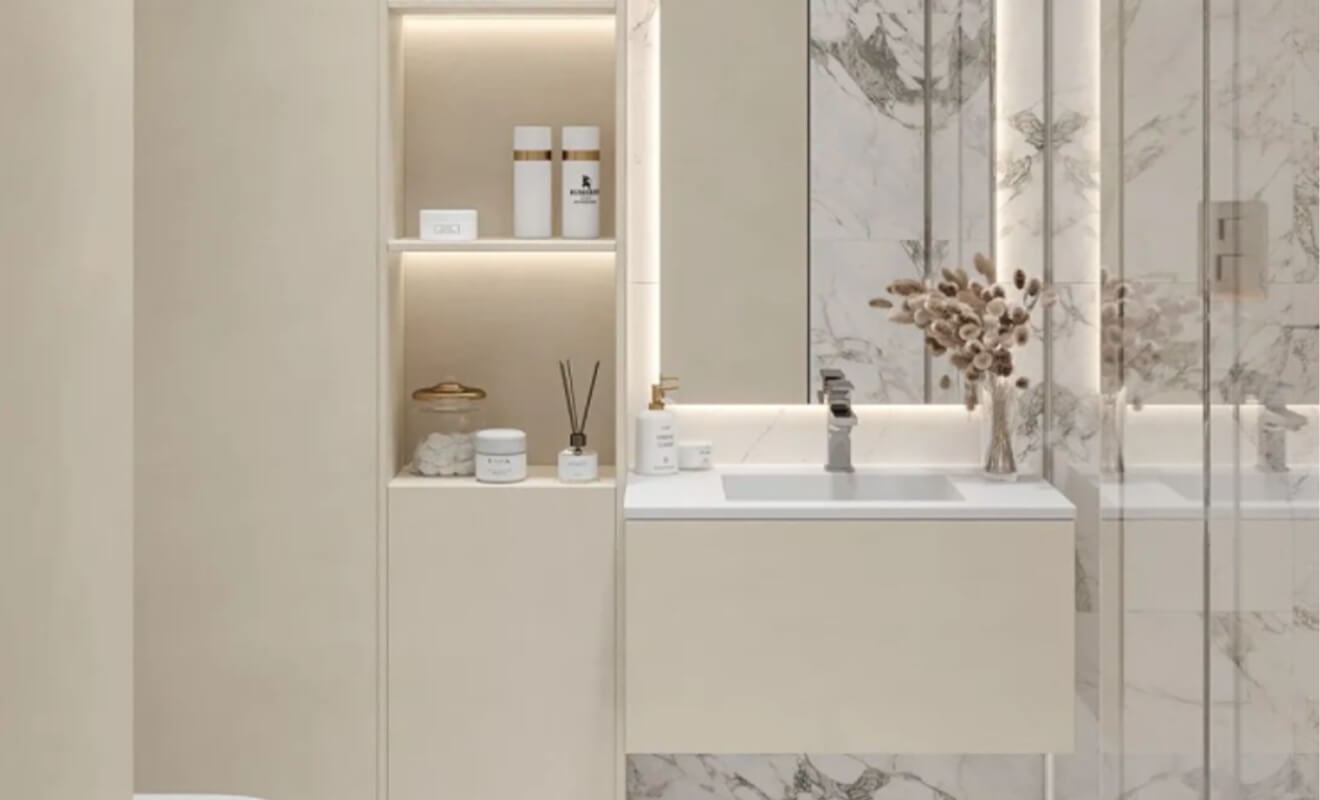 Power outlets and mirror lights: Electric toothbrushes, hair dryers, and other electronic devices commonly used in bathrooms require power outlets. It is advisable to install two power outlets near the bathroom cabinet. Mirror lights can be installed above the bathroom mirror to facilitate daily grooming.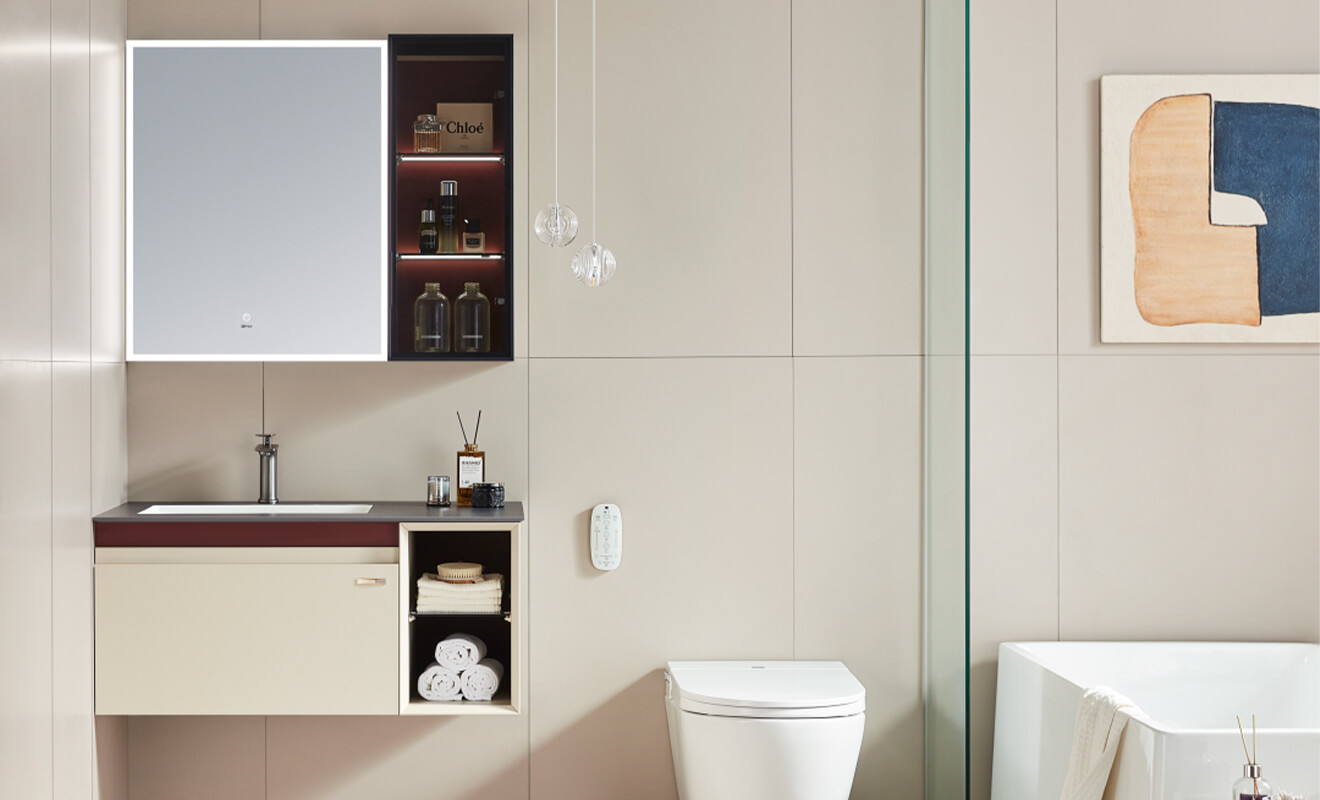 Storage: Mirror cabinets can hide and store most of the bathroom supplies. Small frequently used items can be placed in open shelves or compartments. Open shelves can be set under the cabinet to hold items like basin towels.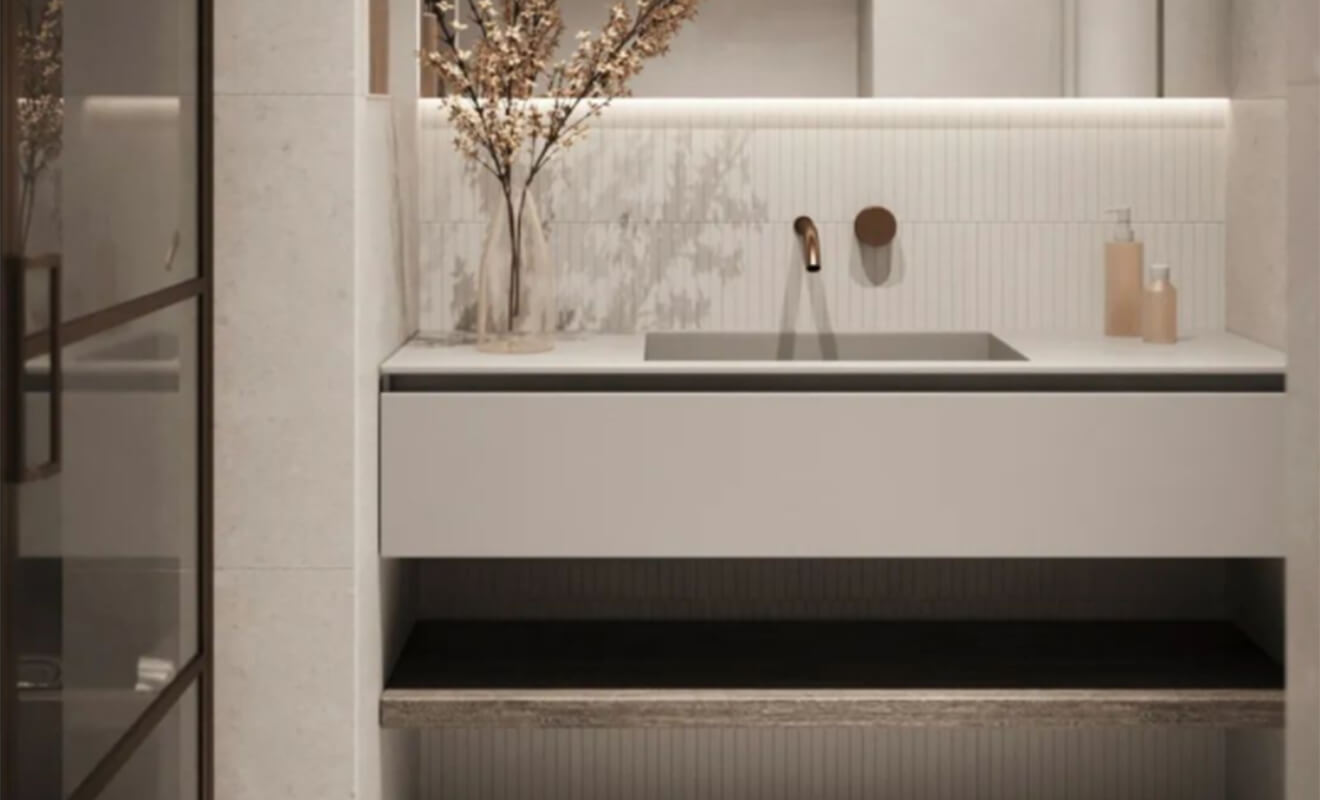 4.Bathroom Cabinet Material
When it comes to home furnishings made from panels, paying attention to their environmental friendliness is crucial. Different materials used for bathroom cabinets vary in their environmental performance. Therefore, environmental friendliness should be the top consideration when making a purchase.