11 Alluring Small Kitchen Cabinet Ideas
Used for food prep, storage, serving meals and friendly gatherings, the kitchen is one of the most busy areas of the home. It also can be one of the most beautiful areas after cleverly designed, from style to detail, even if the space is limited. Take design cues from the following kitchen designs that double as aesthetic pieces in their respective homes.
I-shaped White Kitchen

You can't go wrong with a white kitchen. It looks neat and classic and offers a light, spacious feel as it well blends with the background with less visual burden. White also does good to these cabinets that reach up to the ceiling, since all-white tall units can make the space feels even grander than it really is. The color is also easy to mix and match with other hardware and furnishings.
Natural Wood and White Combo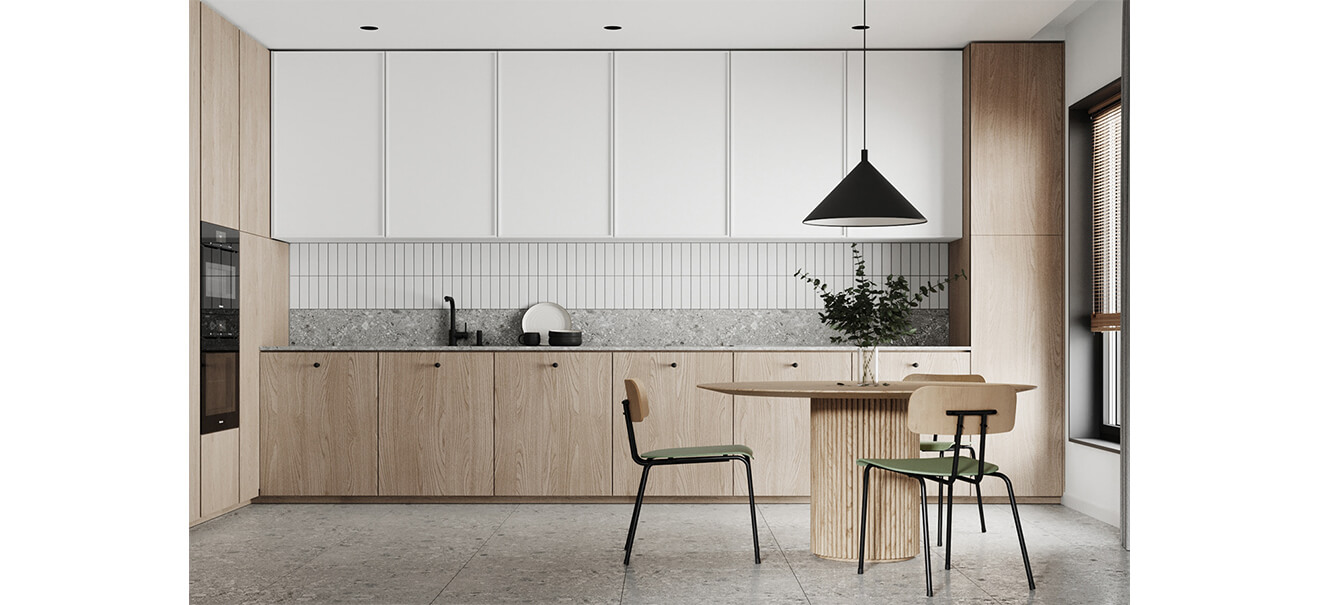 Natural wood grain is a real hit. It makes small space warm and inviting. The combination of the white and natural wood cabinets brightens up this kitchen. Everything is tucked behind closed storage for a calm, clutter-free atmosphere.
Open and Closed Storage Combo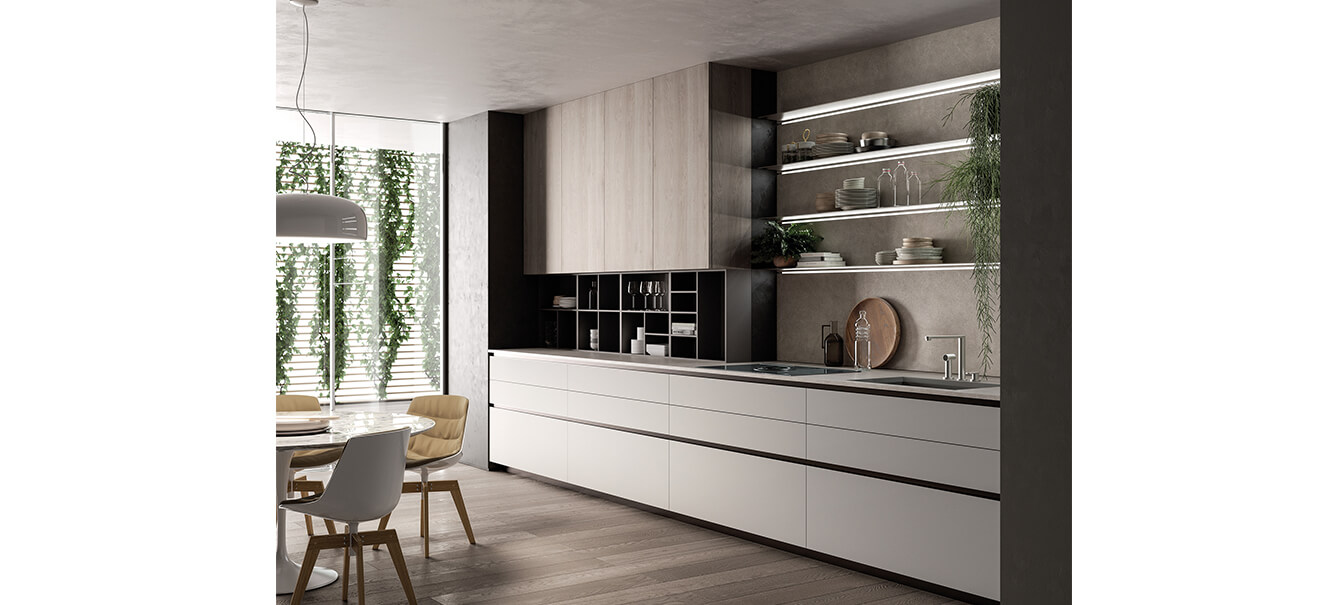 It's the ideal unit for all small kitchen utensils and ingredients. Drawer base cabinets keep things hidden and maintain more organized, while ditching part of upper cabinets in favor of open shelving for easier access, which also makes the kitchen feel airer and spacious.
Pastel Green Small Kitchen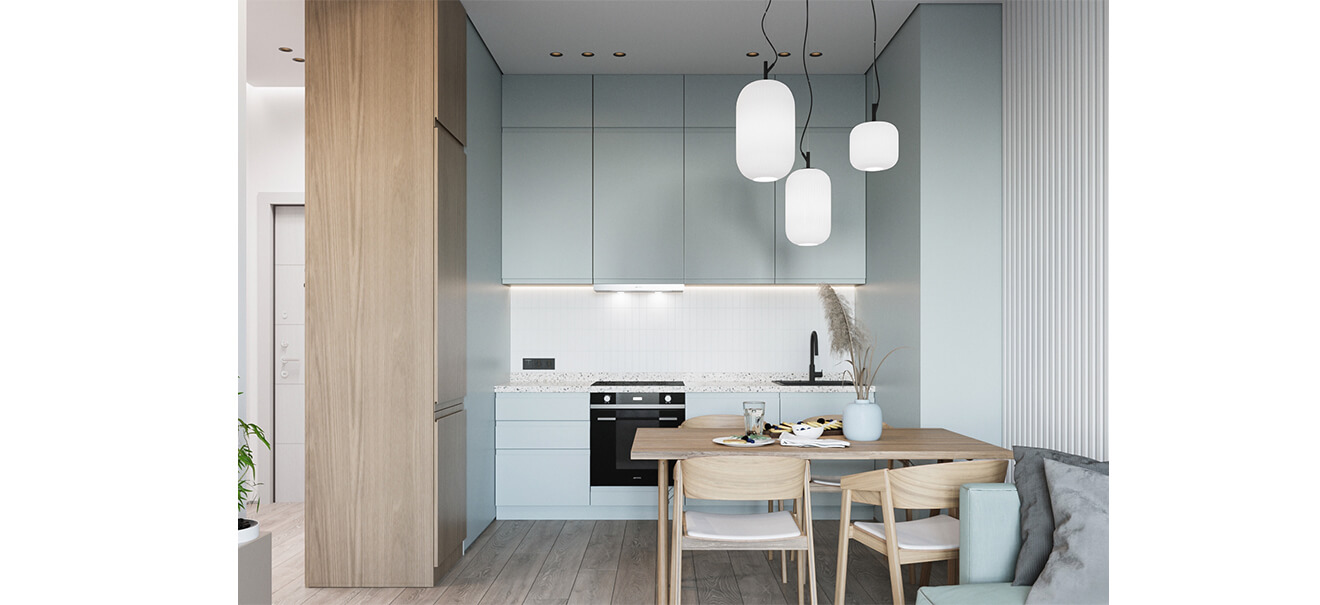 If you think white is too boring for you, maybe you can opt for this cabinet unit. It looks fresh and bright overall and goes well with the surroundings, like the dinning table, the lighting pendants, and the hardwood floor. Small compact kitchen shows the minimalist. Besides, a tall wooden cabinet added plays a role in extra storage and partition in open area.
Black Compact U-shaped Kitchen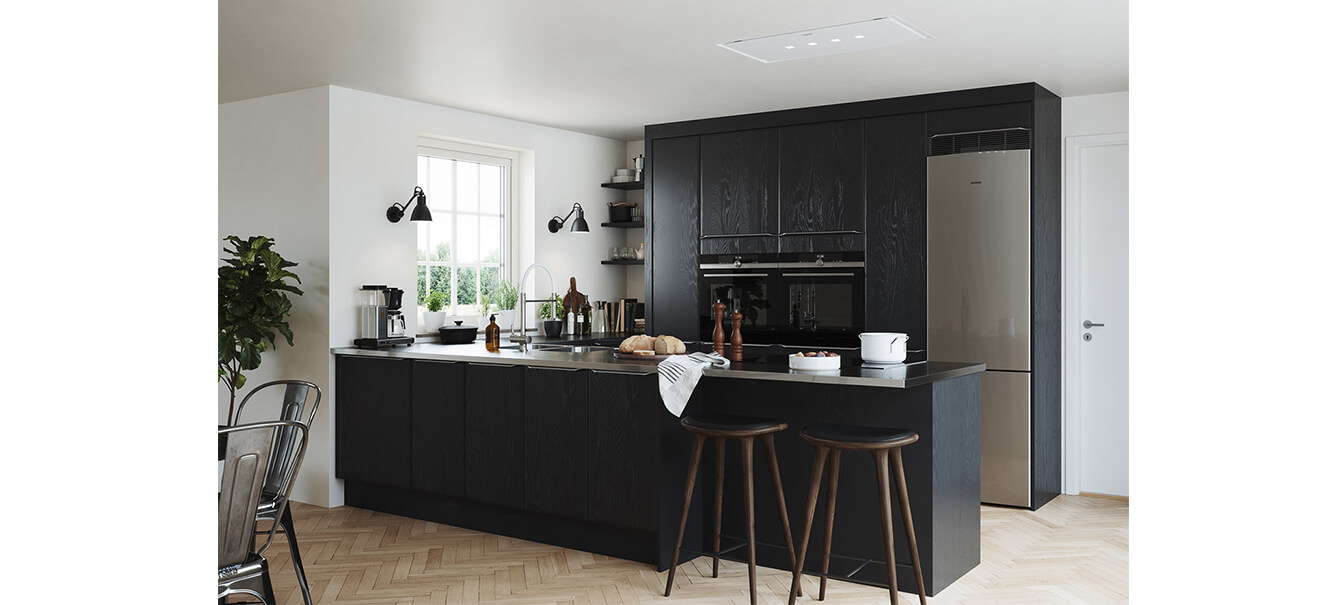 Small kitchen can also be impressive. This cabinet set gives instant visual impact by strong contrast with the space. Black veneer finishes and wooden stools create a rustic foundation, while stainless steel countertop, pulls and the built-in refrigerator add some edgy, sleek feel. The U-shaped layout is considered to be the most efficient layout for any size of kitchen.That is, from prep to diner just by turning around.
U-Shaped Two-toned Kitchen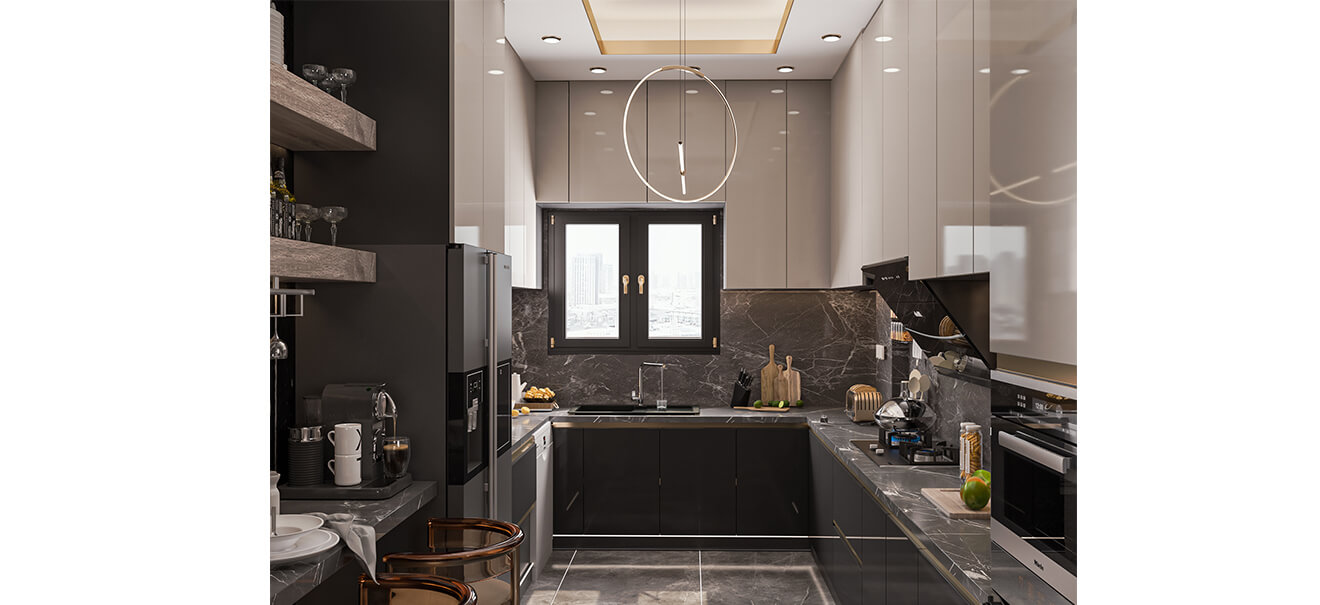 Two-toned cabinets are an easy way to bring depth, intrigue, and subtle variation into your kitchen—like this one, light tone uppers and dark tone lower cabinets together makes a simple yet distinguished contrast, so do the various surfaces. The design maximizes the space to the peak of its capacity, so there's no need to worry about storage.
Built-in Small Kitchen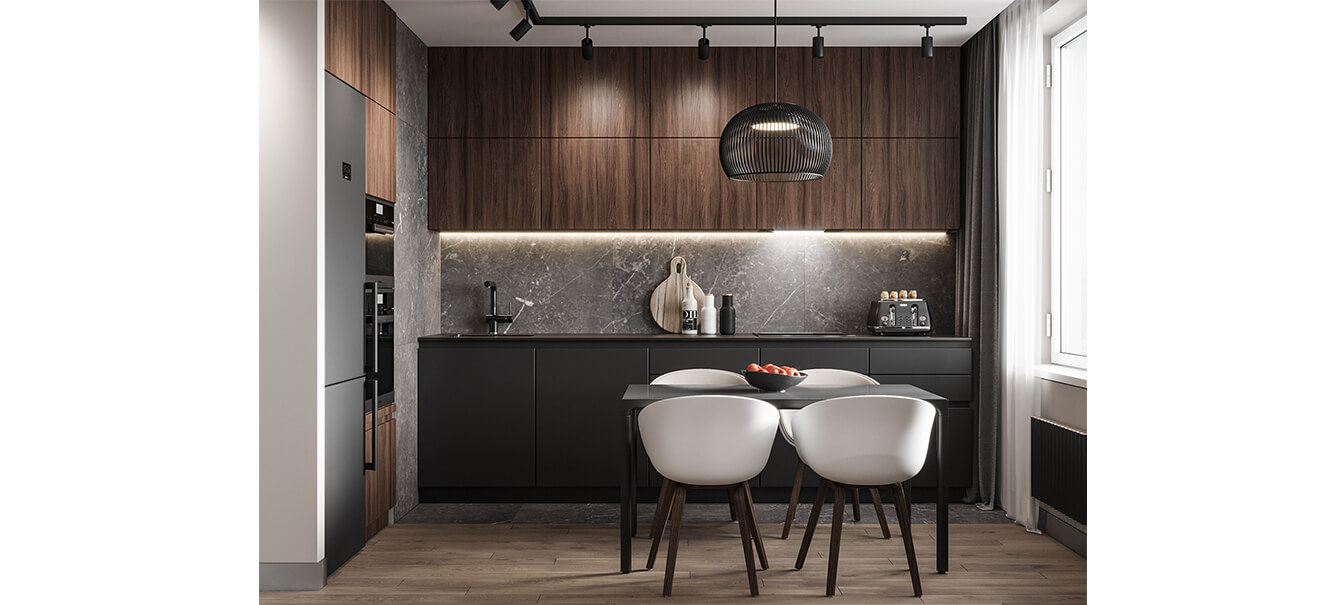 If possible, a built-in kitchen would be a much better option for small kitchen space. Matte black and dark wood is a striking combo to create an charming and intimate atmosphere.
L-shaped Modern Kitchen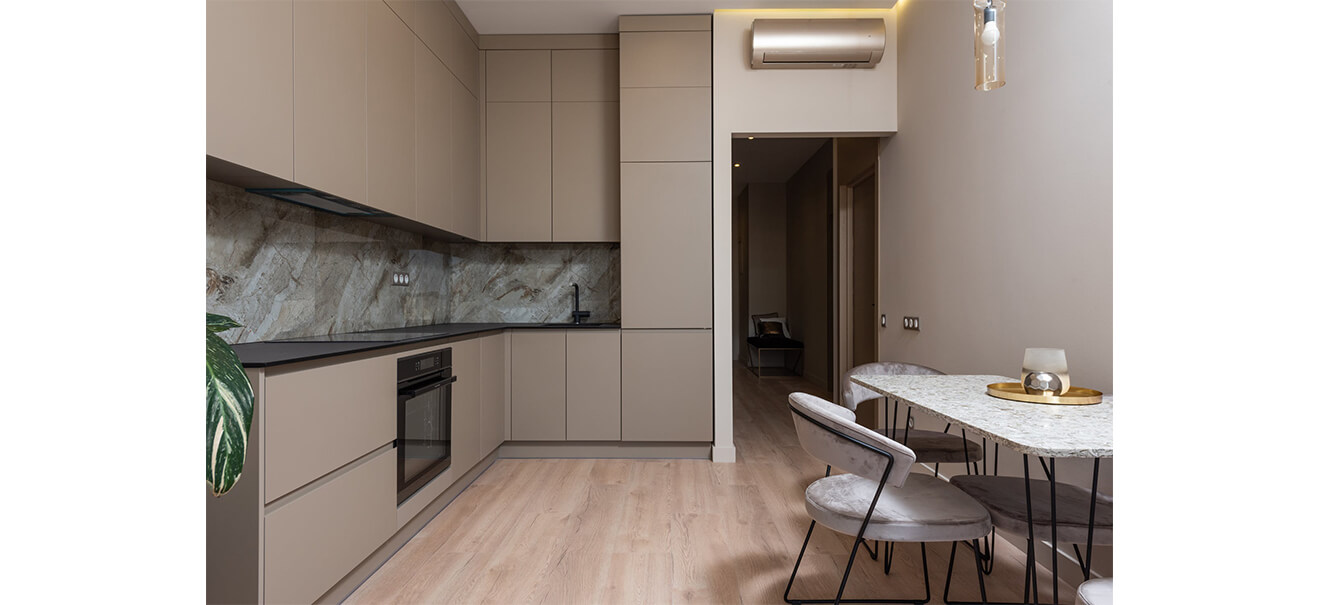 The L-shaped small kitchen fits perfectly in this apartment. Designers use similar shades for cabinets so that the cabinets can well blend with the space. While breaking this up with distinguished finishes for countertop and backsplash, which is a simple way to give the small kitchen unexpected visual effects.
Custom Yellow Shaker Style Kitchen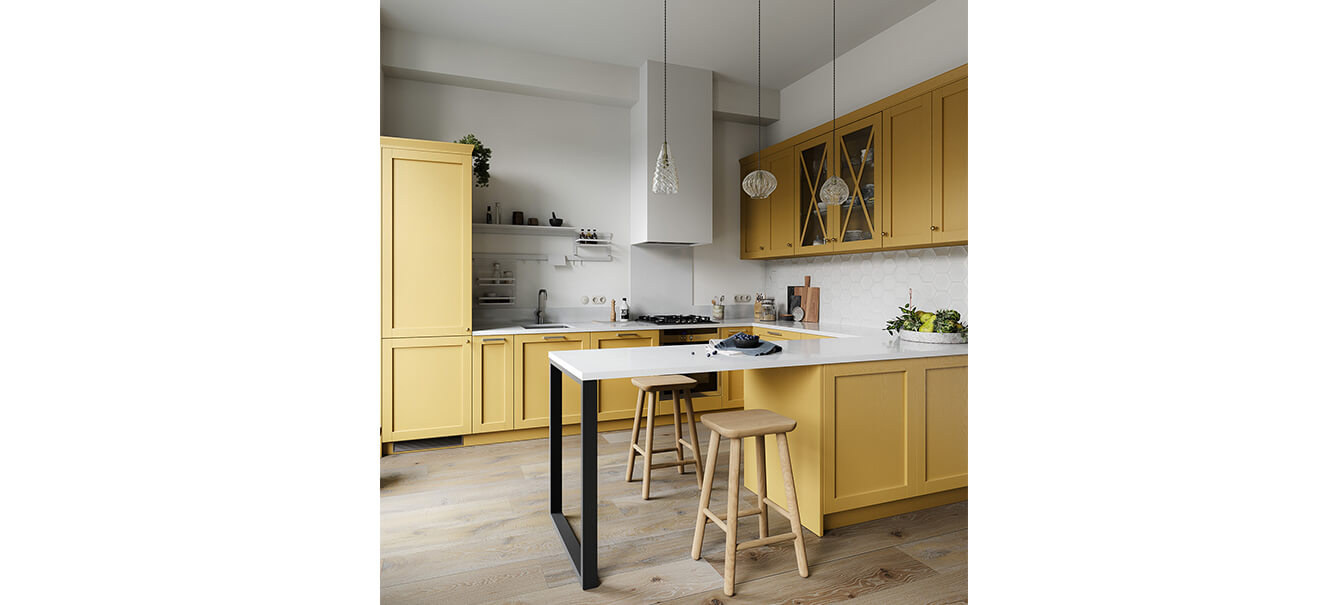 Getting tired of dark and neutral colors? Try this upbeat and inspiring yellow. It bridges the transition between the warmth of the wood floor and crisp white in this small space. Shaker style shows the classic, and the extended countertop offers benefits of a U-shaped kitchen.
Pink Small Kitchen with Island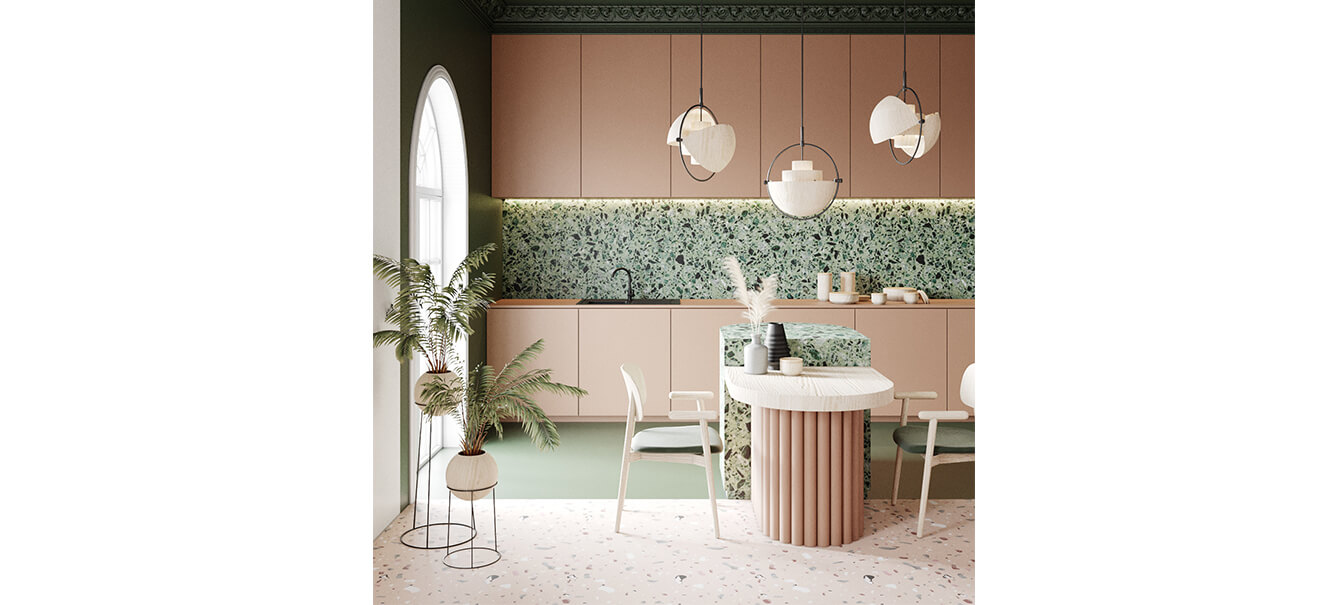 Create a playful and joyful atmosphere with the lighting pendants, plants and eye-catching backdrops, while a streamlined, modern kitchen cabinetry is designed to give a sense of balance and freshness. Meanwhile, it is also a powerful proof that even a small kitchen can own its island and diner table.
Compact L-shaped Kitchen with Island Design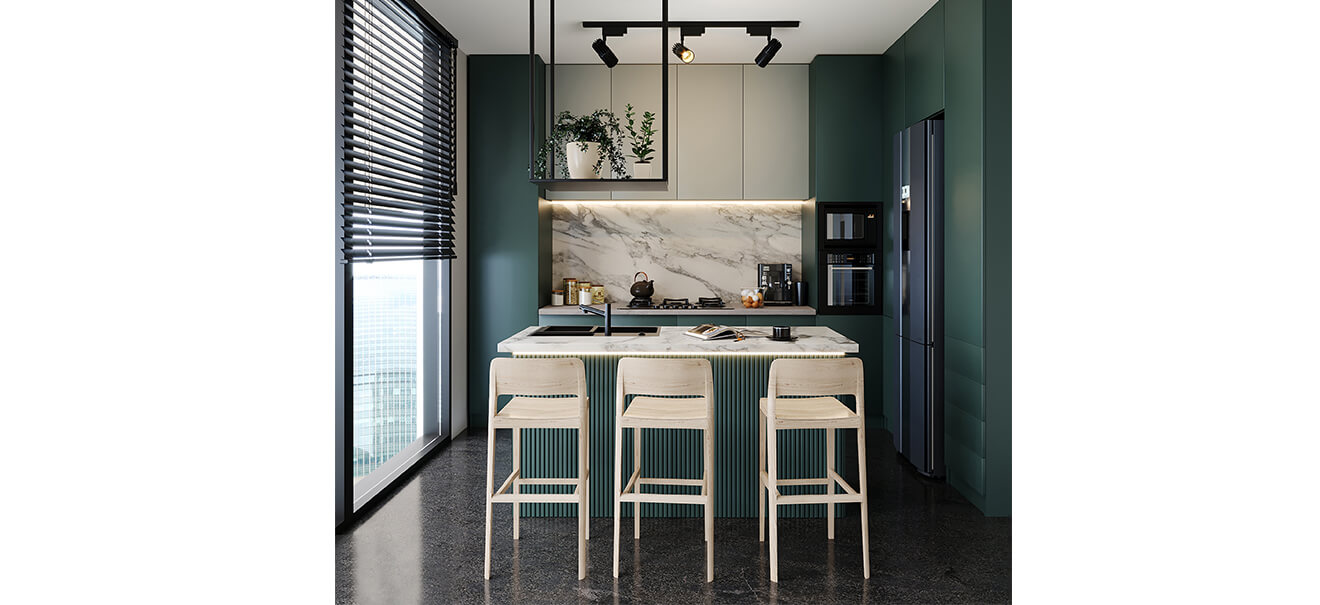 If you want to have a versatile island in your small kitchen, take note on this design. This compact L-shaped kitchen meets daily storage and work needs by making the most of vertical space and adding an island. Dark Green and white feel funky but still connected with nature. Matte-lacquered finish and textured stone is a very good team in this minimal yet stylish space. Grille surface and lighting stripe are also very decorative.
Allure, a professional cabinet manufacturer that brings aesthetic lifestyle to you. We strive to bringing thoughtful, high-end cabinetry to our customers to enhance their quality of life.
Learn more about cabinet knowledge:
Cabinet design knowledge you must know
4 Popular Interior Cabinet Design Styles