Why Do We Need Built-In Wardrobes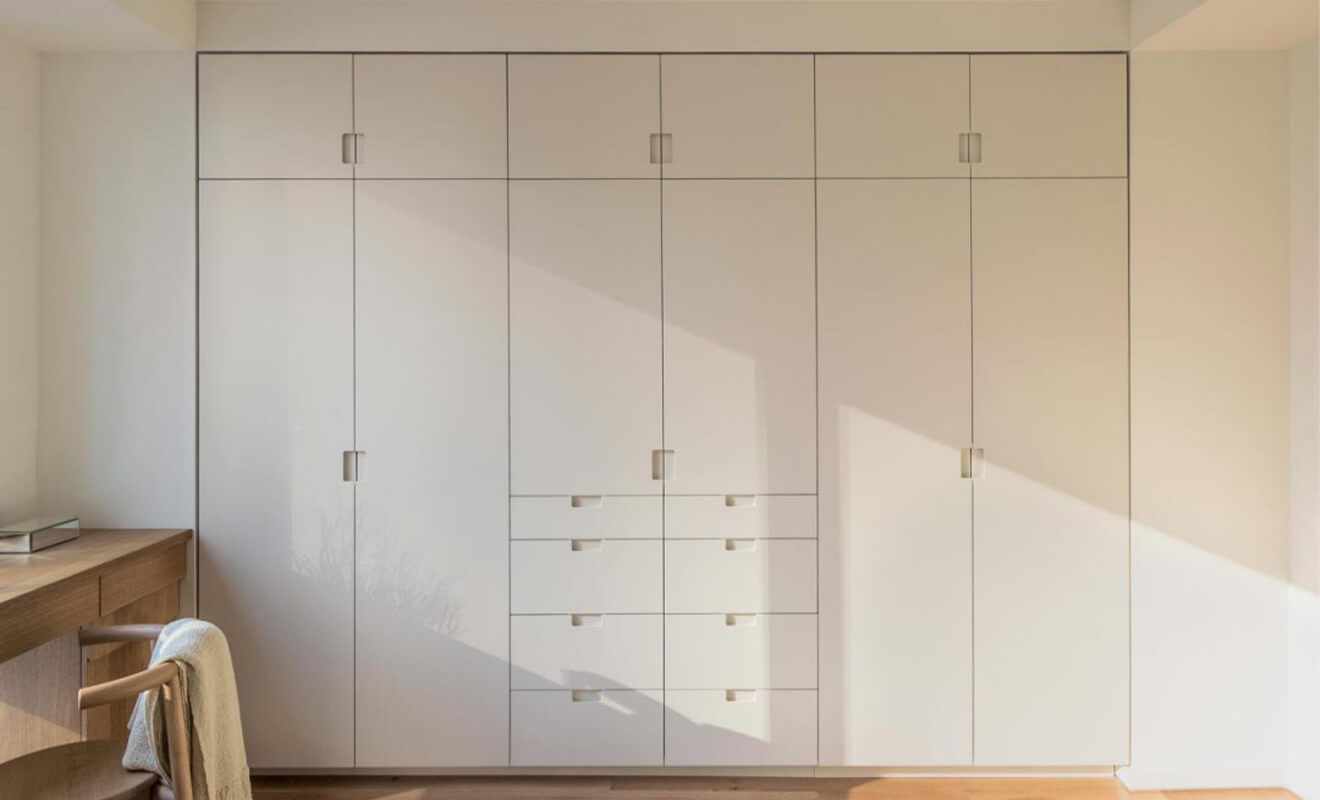 The built-in wardrobe is gradually replacing traditional wardrobes with the rise of minimalist style. In comparison to traditional wardrobes, the built-in design is more space-saving and efficient in space utilization, seamlessly blending with the wall instead of appearing obtrusive. It can be customized according to the homeowner's layout and meet personalized needs, making it an essential piece of furniture in modern home decoration. Let's briefly introduce the design of built-in wardrobes.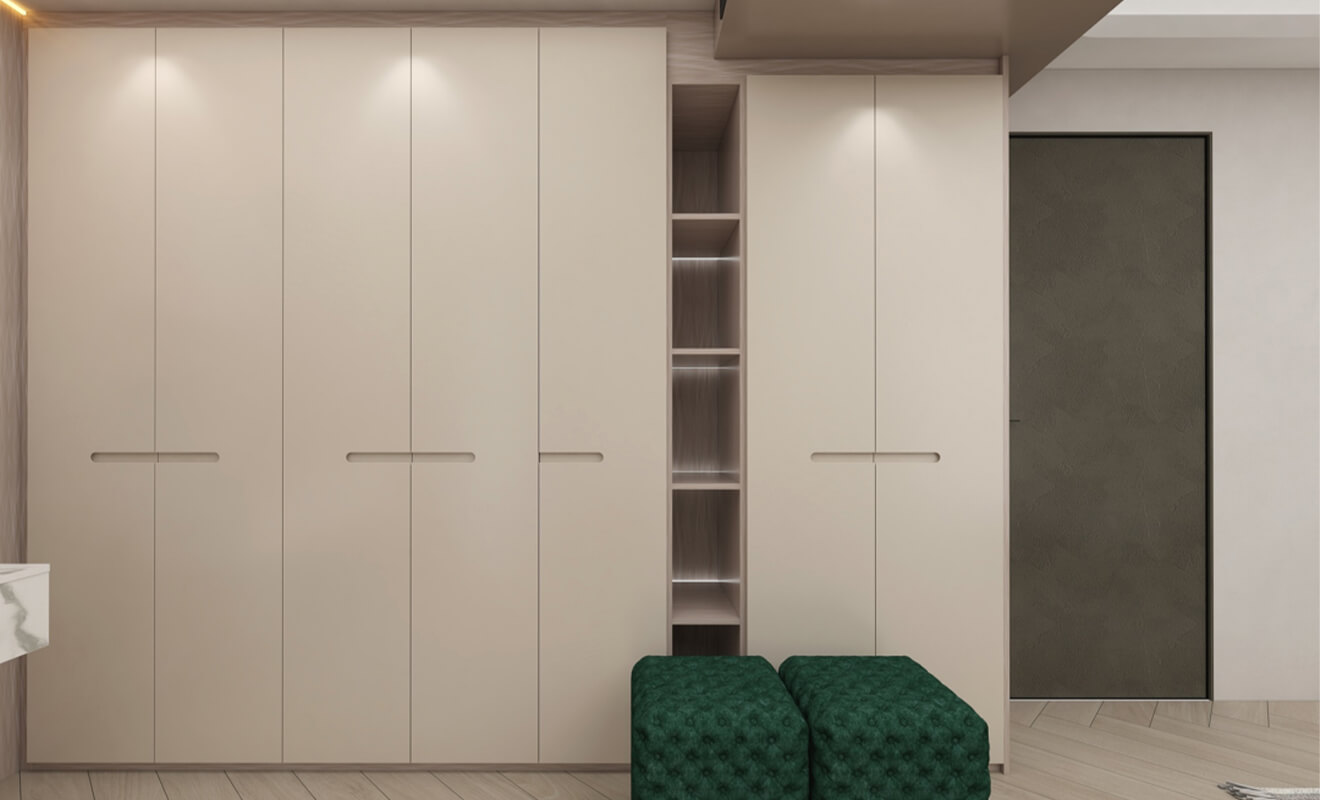 1.Advantages of Built-in Wardrobes
Aesthetic Design: Built-in wardrobes often feature clean lines and sophisticated color schemes. The design focuses on fashion and trends while emphasizing creativity and individuality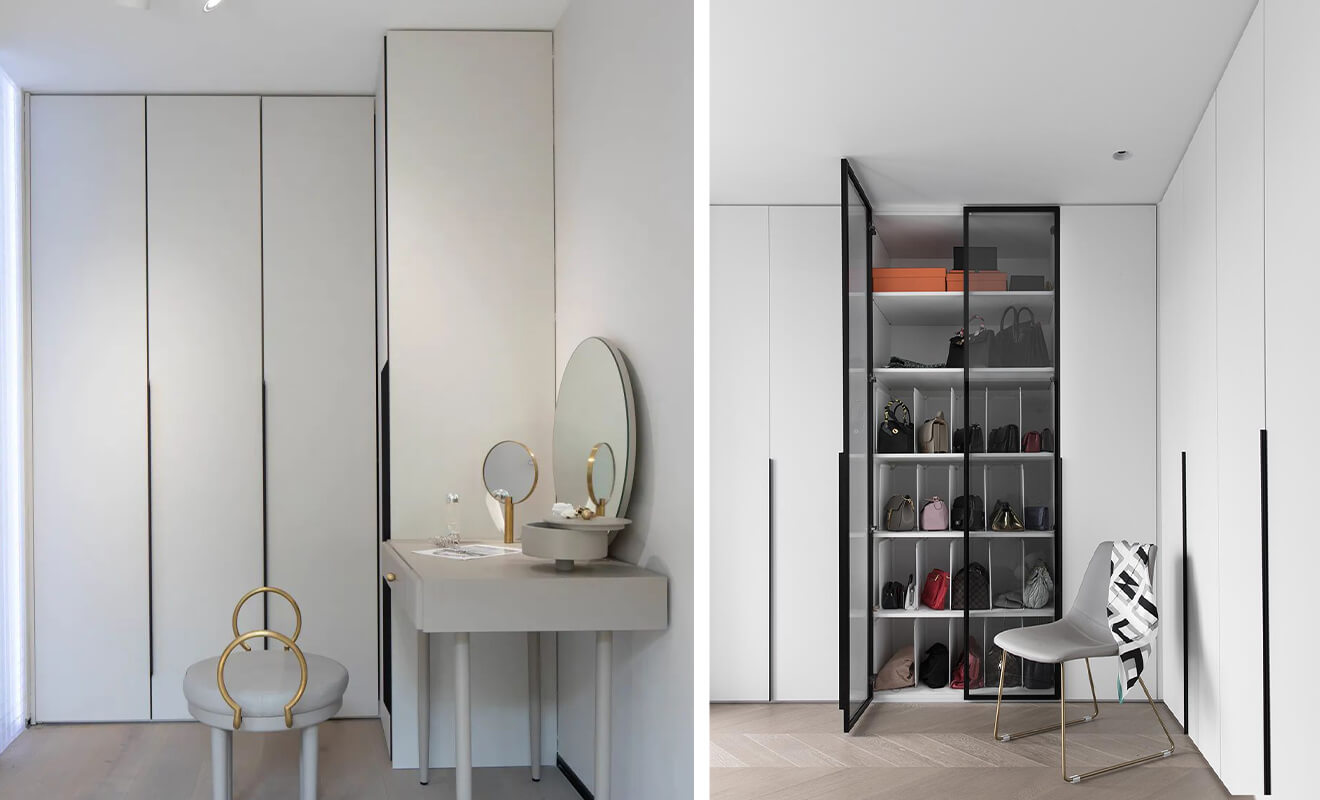 Increased Storage Space: The popularity of built-in wardrobes stems not only from their trendy design but also from their ability to expand storage space. By embedding the cabinets directly into the wall based on its width and height, they provide more storage compared to traditional wardrobes.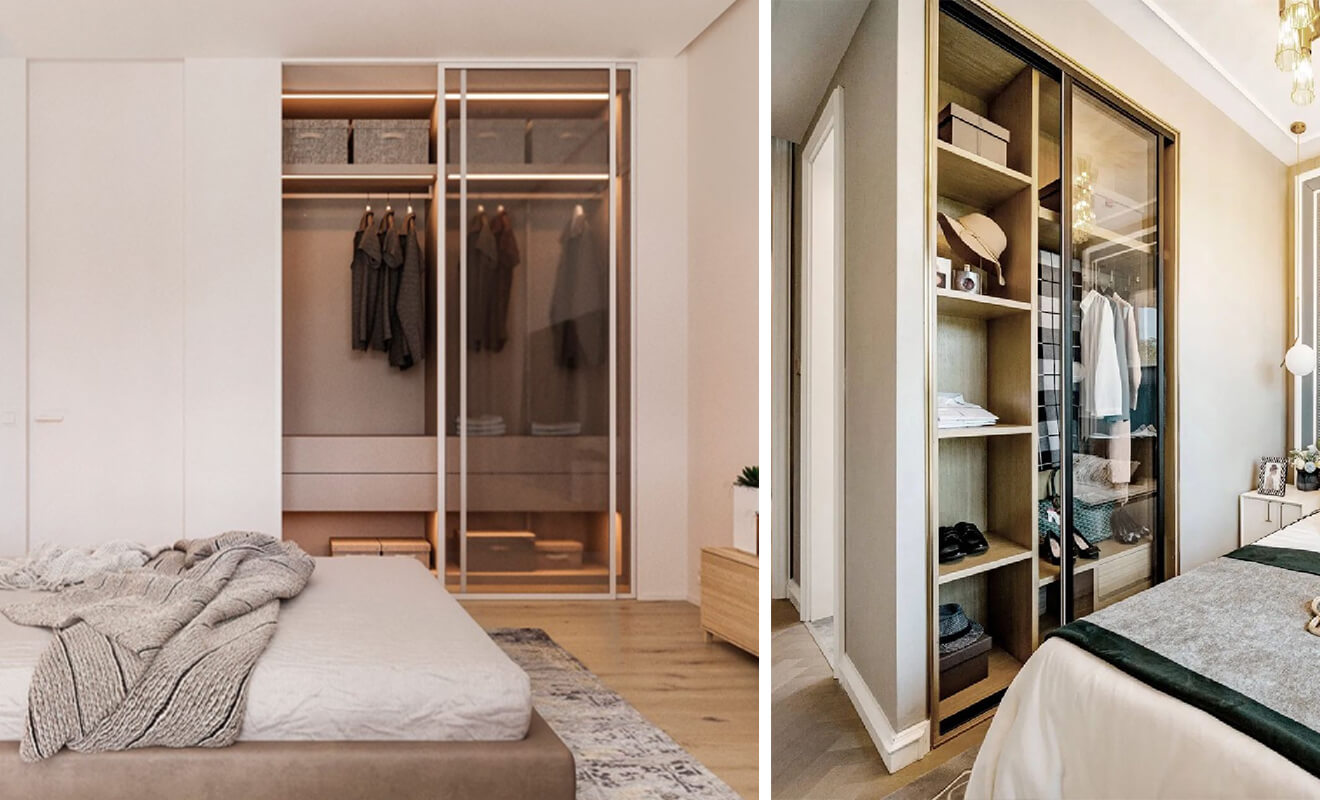 Flexibility in Configuration: Built-in wardrobes offer great flexibility in interior structure. The cabinets can be customized according to specific needs, incorporating features such as pants racks, drawers, dividers, and dressing mirrors. They can also be divided into compartments of different sizes, accommodating different design preferences based on usage habits.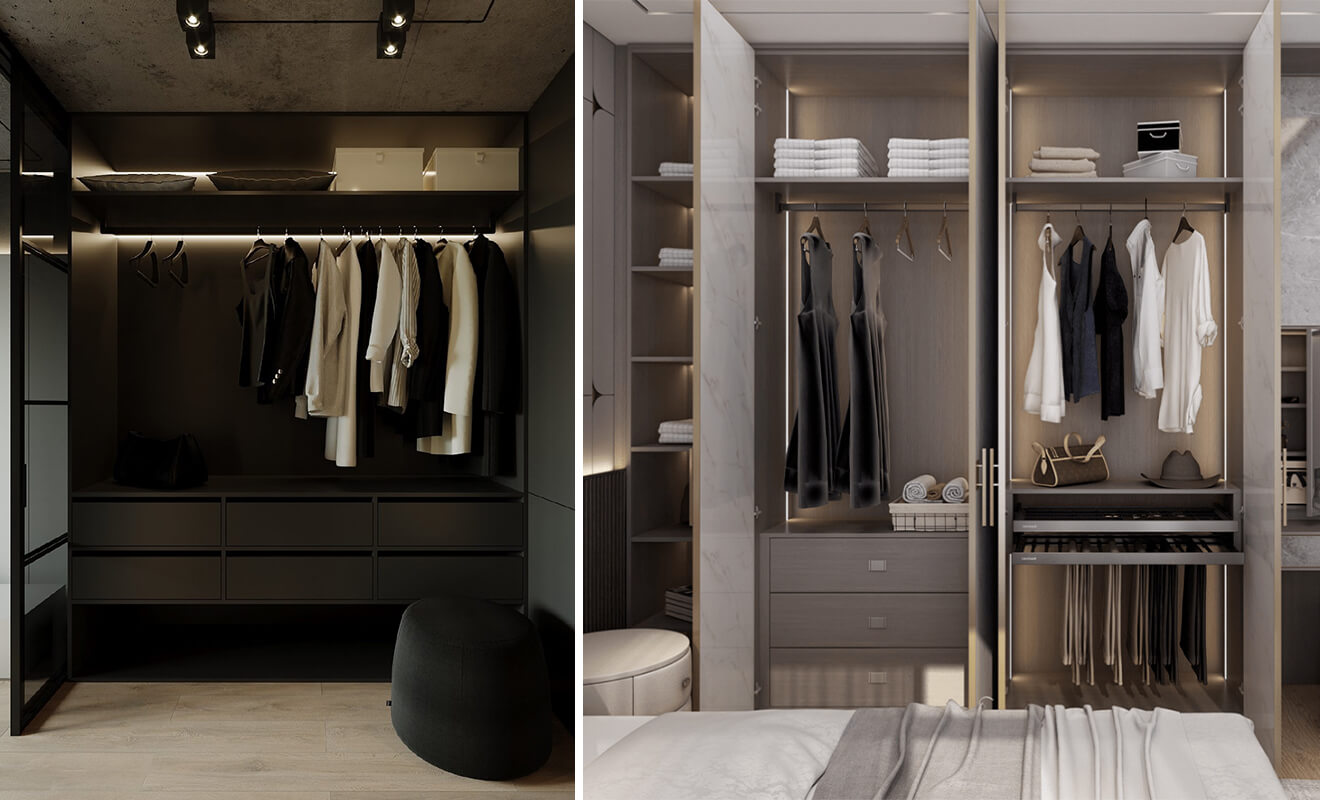 Unified Visual Effect: The appearance of built-in wardrobes can be tailored to match the interior decor style or color scheme, creating harmony between the wardrobe and the house and achieving visual unity.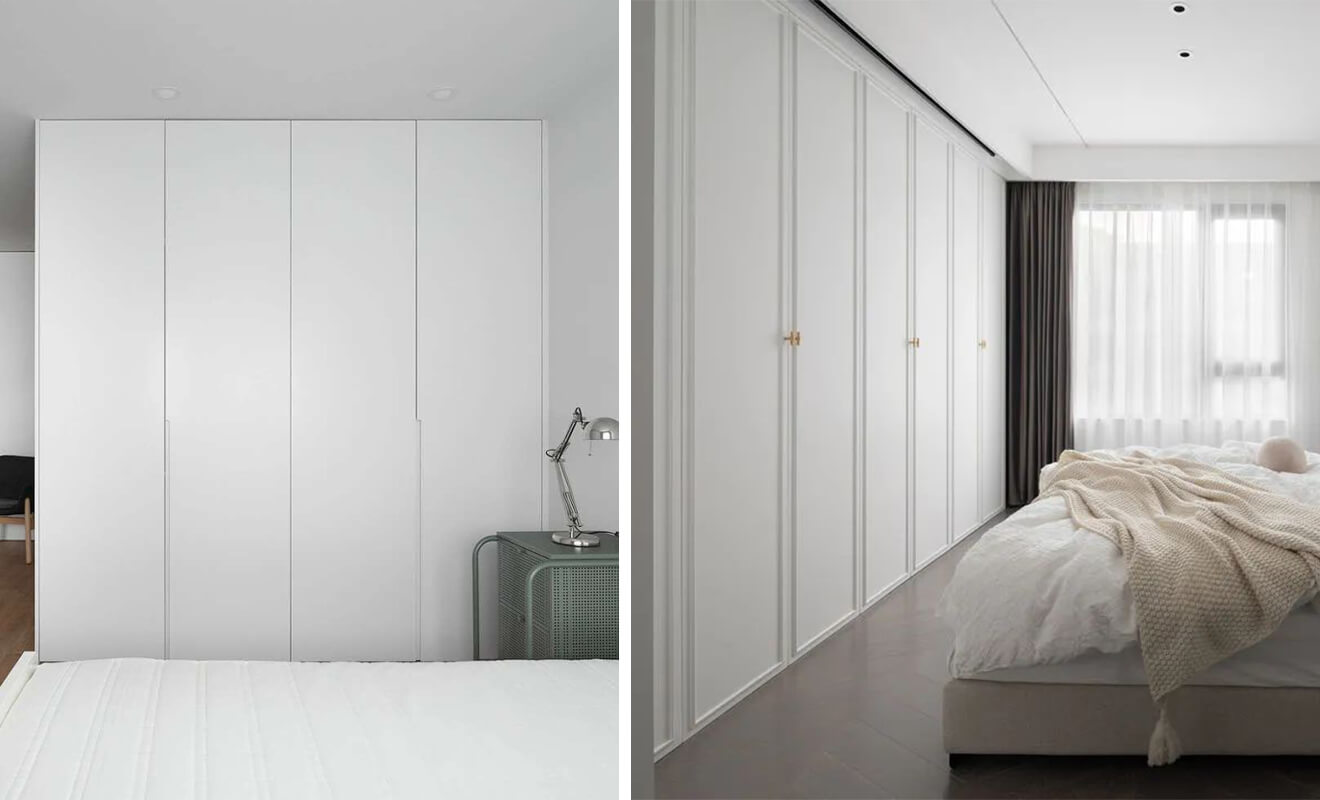 2.Layout of Built-in Wardrobes
Since the dimensions of built-in wardrobes are fixed, it is important to reserve adequate space and determine the placement during the design phase. Depending on the layout of the house, the cabinets can be designed on one side, near the head or foot of the bed, or in corner areas for better utilization.
Cabinet on One Side of the Bed: Most people choose to design the cabinets on one side of the wall. This placement creates a more spacious and transparent effect in the bedroom, making cleaning and maintenance easier. It is generally positioned near the entrance, occupying minimal space and aligning with our visual perspective, avoiding a sense of oppression.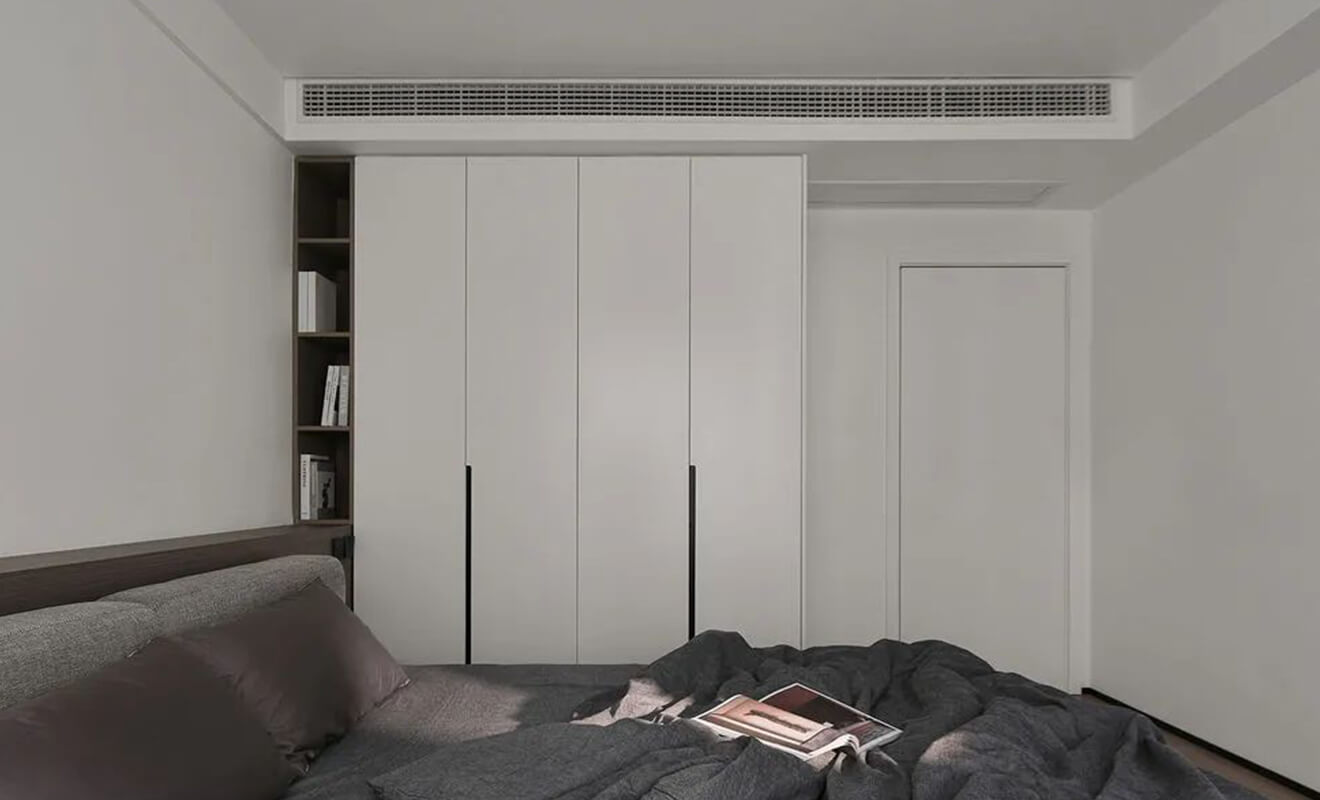 Cabinet at the Head of the Bed: Placing the built-in wardrobe at the head of the bed, usually in a linear design, creates a symmetrical effect with the bed as the center. This design can serve as a versatile alternative to bedside tables, particularly useful in smaller bedrooms where space-saving is crucial.
Cabinet at the Foot of the Bed: Designing the built-in wardrobe at the foot of the bed allows for more activity space on both sides, with one side closer to windows, enabling better ventilation and natural light. Alternatively, it can be combined with a dressing table, desk, sofa, or other furniture to create a practical corner based on specific needs.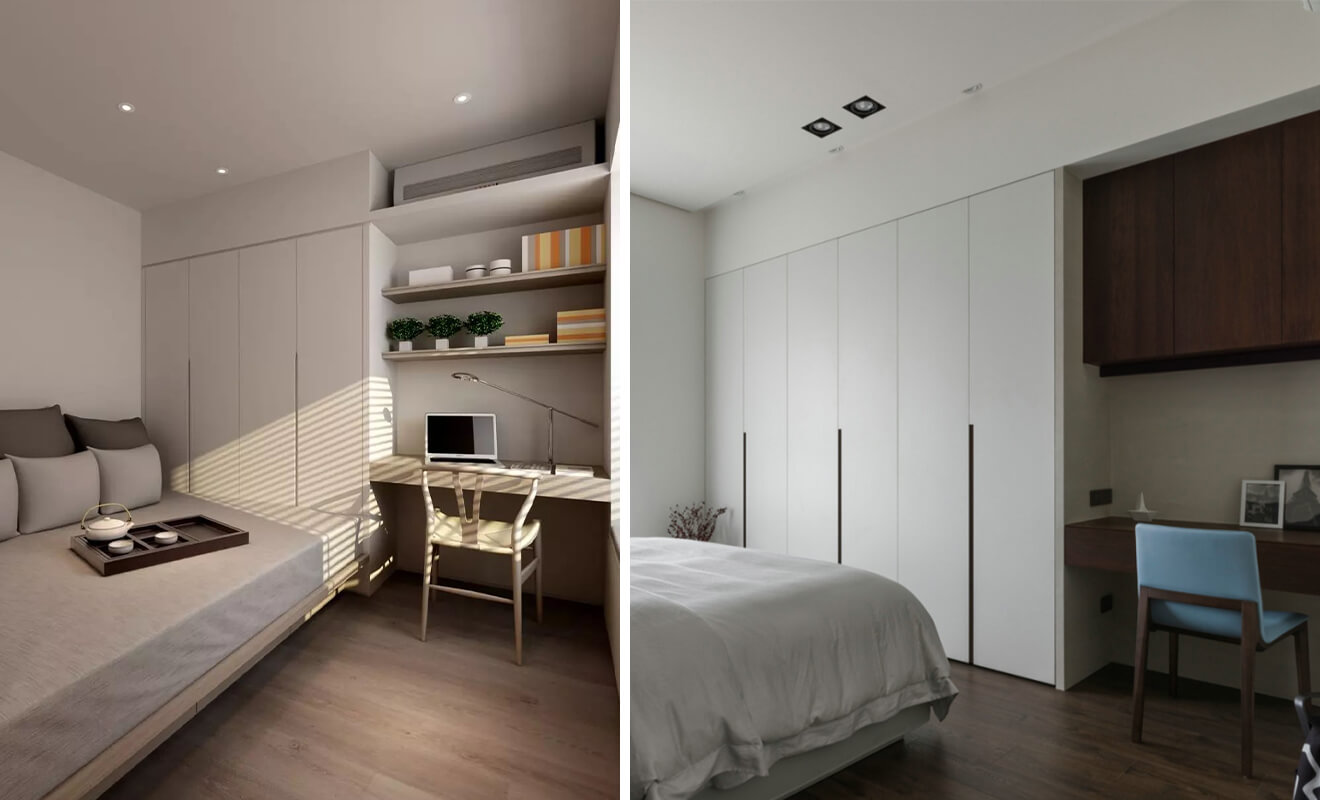 Cabinet in Corner Areas: Placing the built-in wardrobe in corner areas allows for optimal utilization of both sides of the wall, maximizing overall space efficiency. This design is particularly beneficial for smaller homes as it increases storage space while maintaining aesthetics.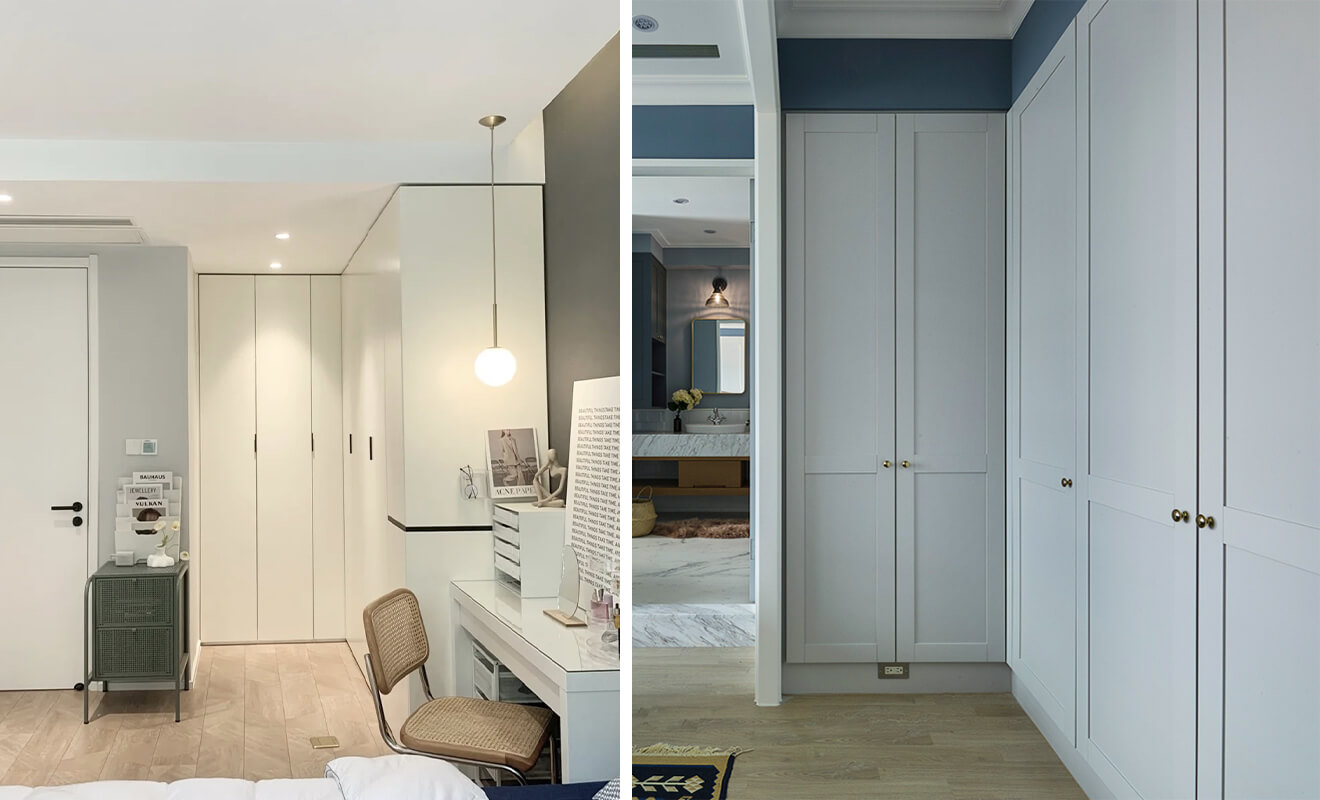 3.Key Considerations for Built-in Wardrobe Design
Spacious Top Area: The top area should be designed to be spacious, accommodating larger items that are lightweight and moisture-resistant. It can be used to store blankets, pillows, small suitcases, and similar items.
Minimize Long Hanging Space: Long hanging areas tend to occupy significant space, so it is advisable to shorten their length and allocate a smaller area to avoid wastage of space.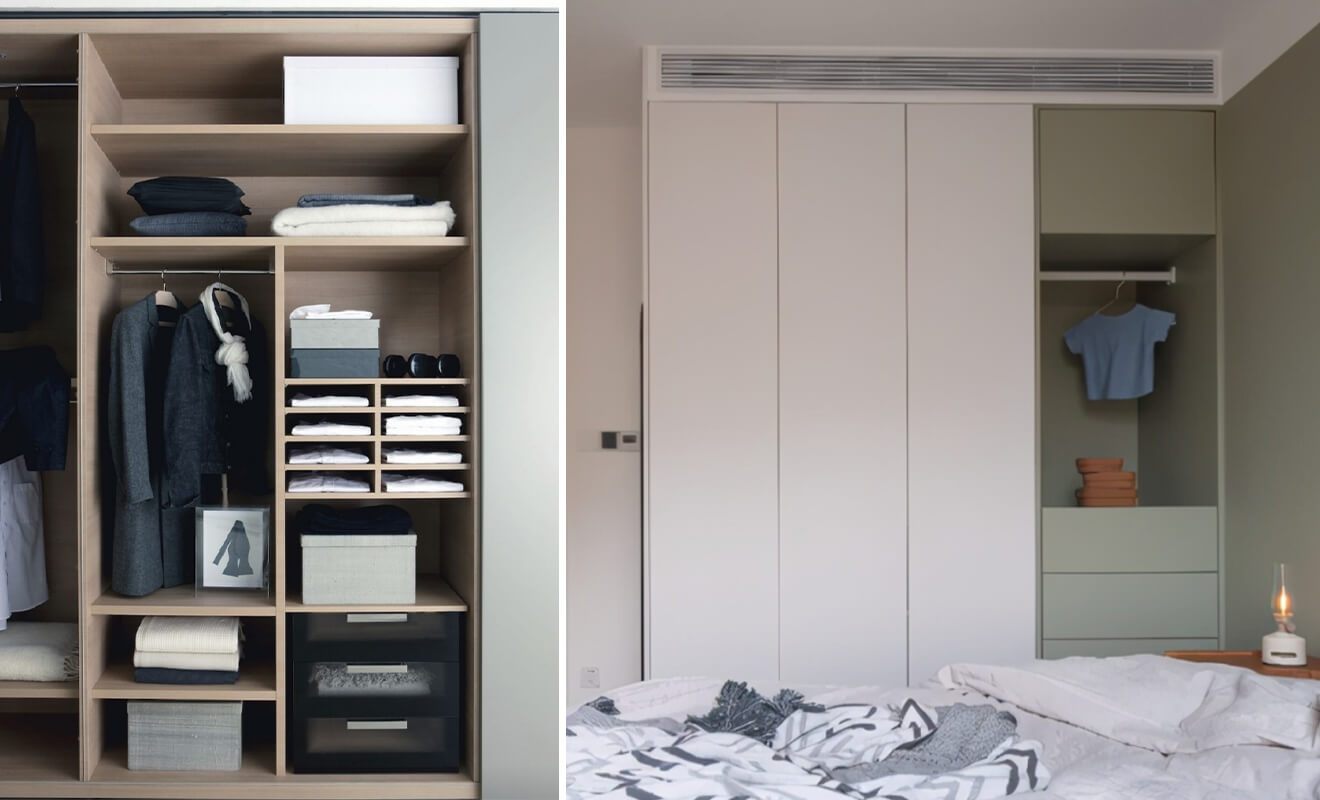 Incorporate Storage Boxes or Pull-out Baskets: In addition to clear organization, adding storage tools such as boxes or baskets allows for effective categorization of clothing and maximizes space utilization.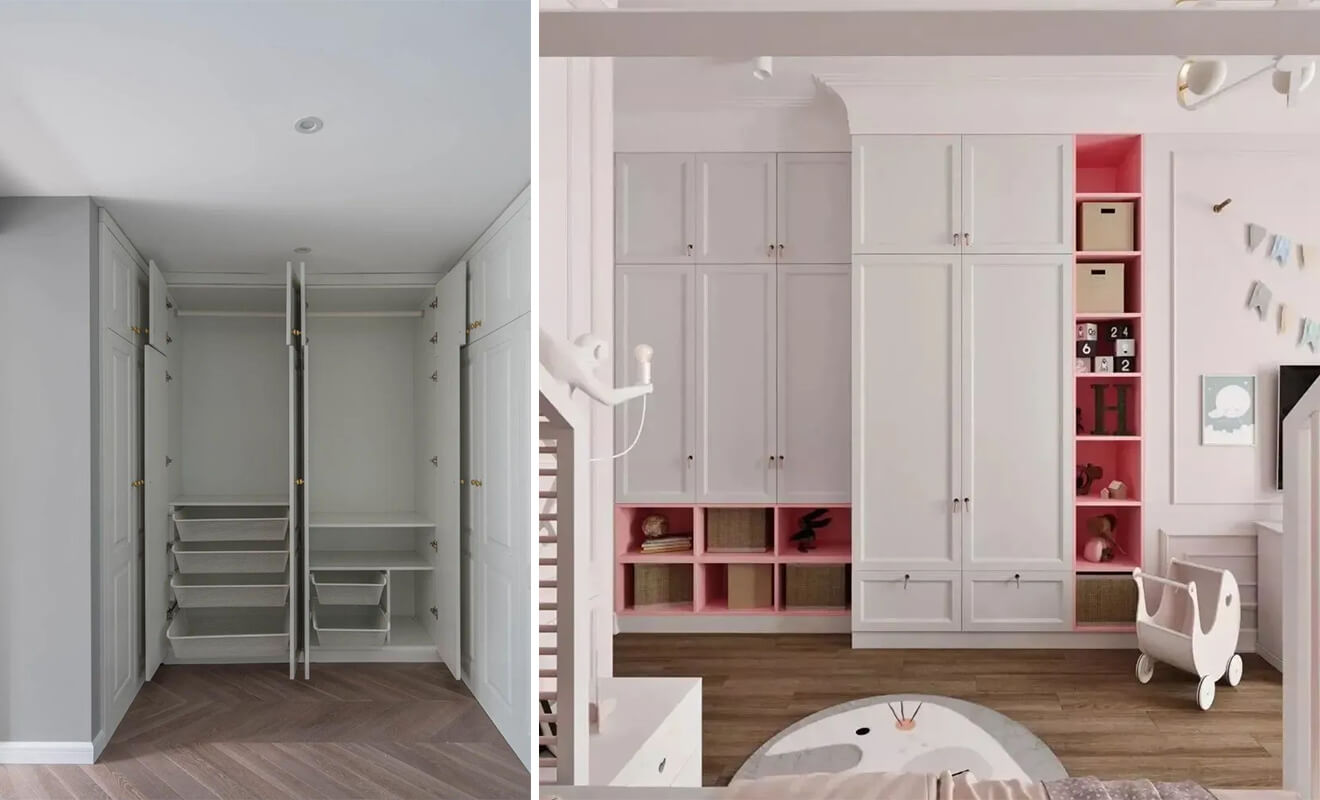 Anticipate Future Needs: During the initial design stage, it is important to consider future changes, such as having children or living with elderly individuals. Allocating storage space in advance prevents inconveniences in later stages of life.