12 Stunning Ideas to Enhance Kitchen Island Aesthetics
When it comes to open kitchen design, we cannot overlook the significance of island counters. Island counters are essential elements of open kitchens, combining functionality with aesthetic appeal. Depending on the specific space requirements, island counters can be defined and designed in various ways. So, how should one go about designing an island counter? Here, we have gathered 12 different island counter designs for your reference.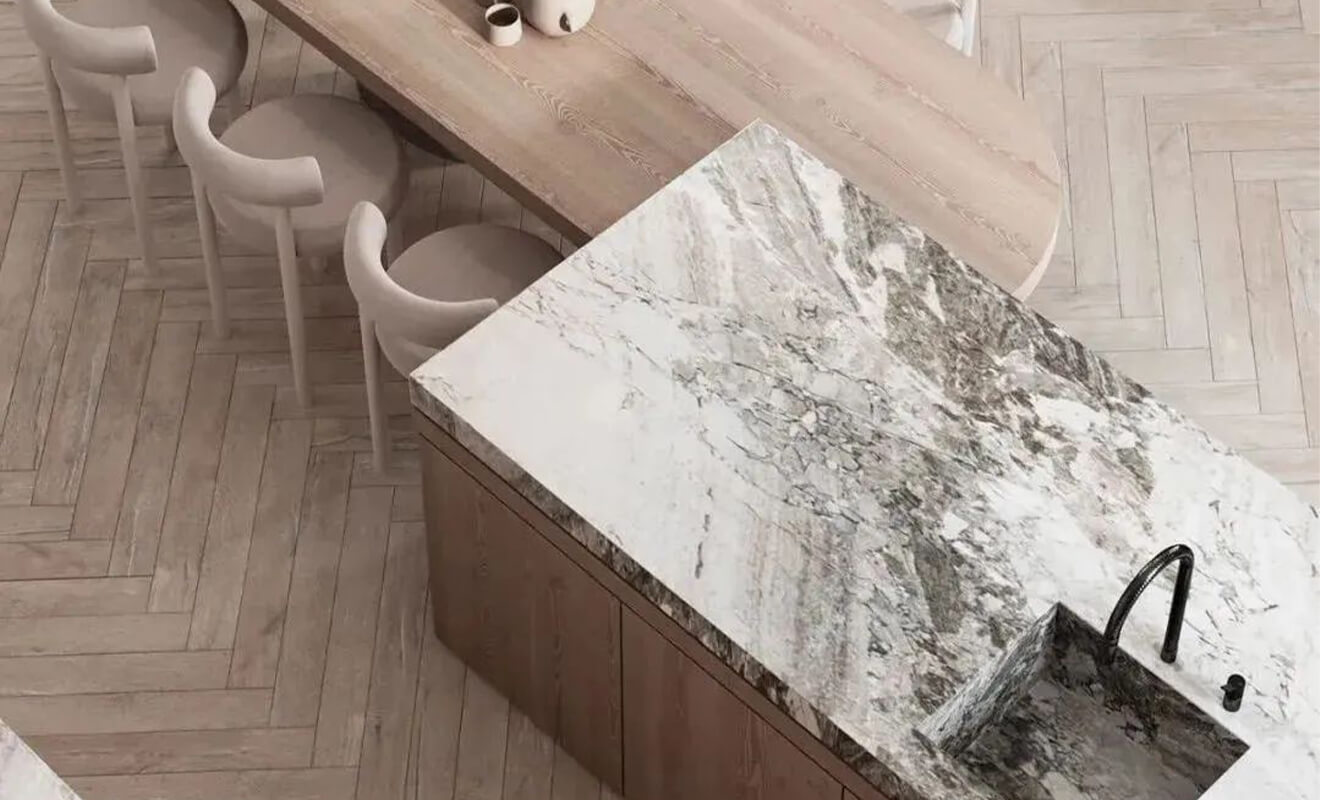 1.Categorization Based on Layout
Island counters can be categorized into 5 types based on different layouts, suited for different types of floor plans:
Extended Island Counter: This design follows a linear layout, with a fixed cabinet combination forming a straight countertop. It not only increases the working surface area in the kitchen but also serves as a dining table, offering excellent functionality and extension.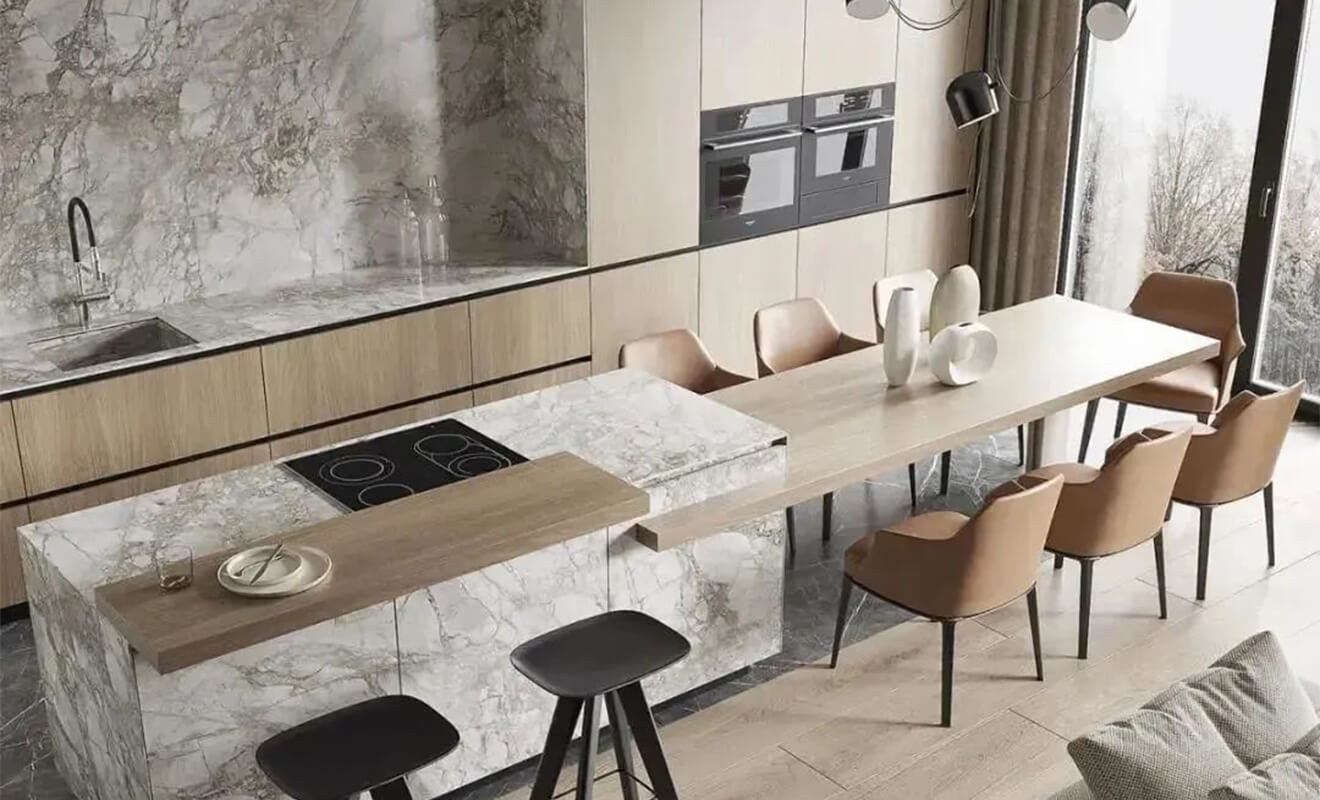 Freestanding Island Counter: Freestanding island counters are commonly found in larger open kitchens. They are positioned at the center of the kitchen, allowing easy access for important tasks like washing and food preparation. With a square or rectangular shape, they provide comfortable seating on high stools, adding volume and artistic flair to the island counter.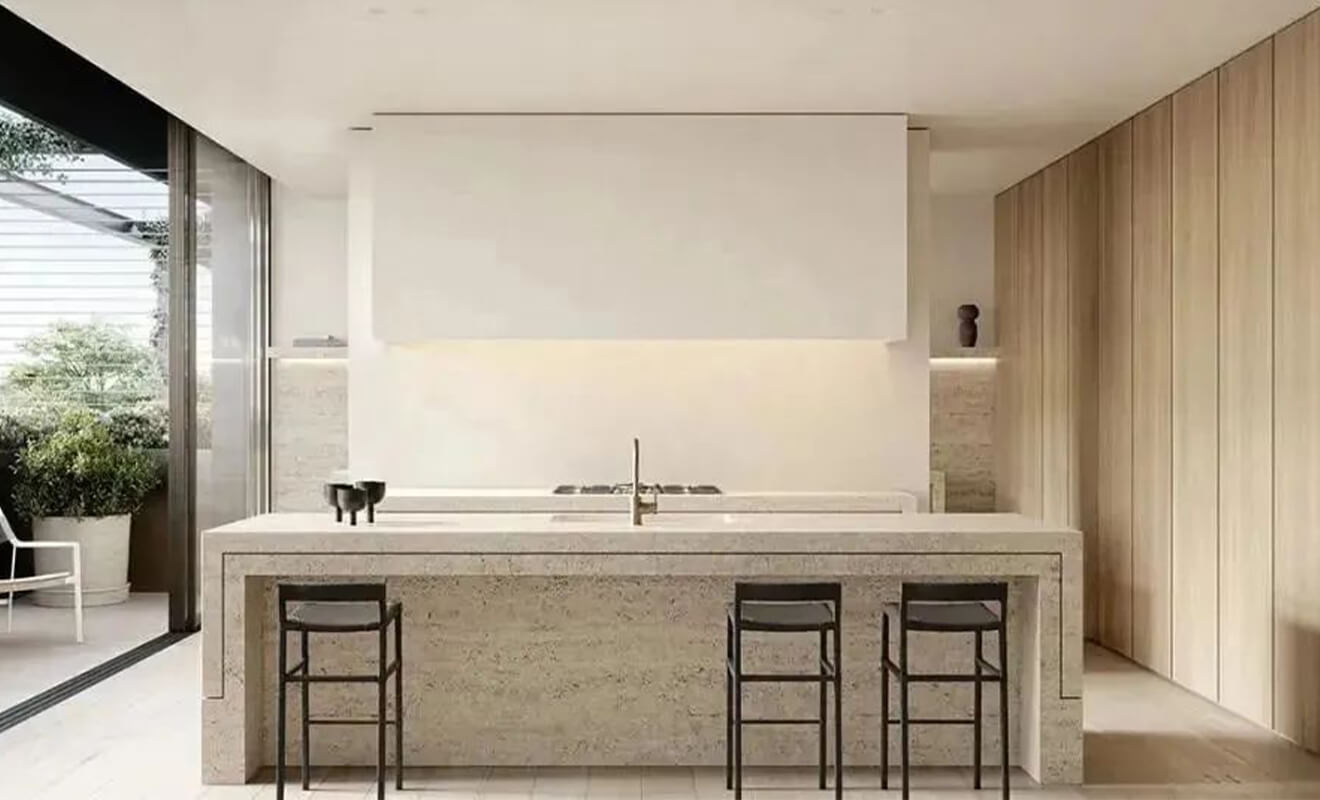 Peninsula Island Counter: In smaller open kitchens, where the island counter serves as an auxiliary element, the peninsula design is more suitable. It maximizes space utilization when an independent island counter cannot be accommodated due to room constraints. It can be attached to a wall, cabinets, or even connected to a dining table, providing functions for dining, studying, entertainment, and relaxation.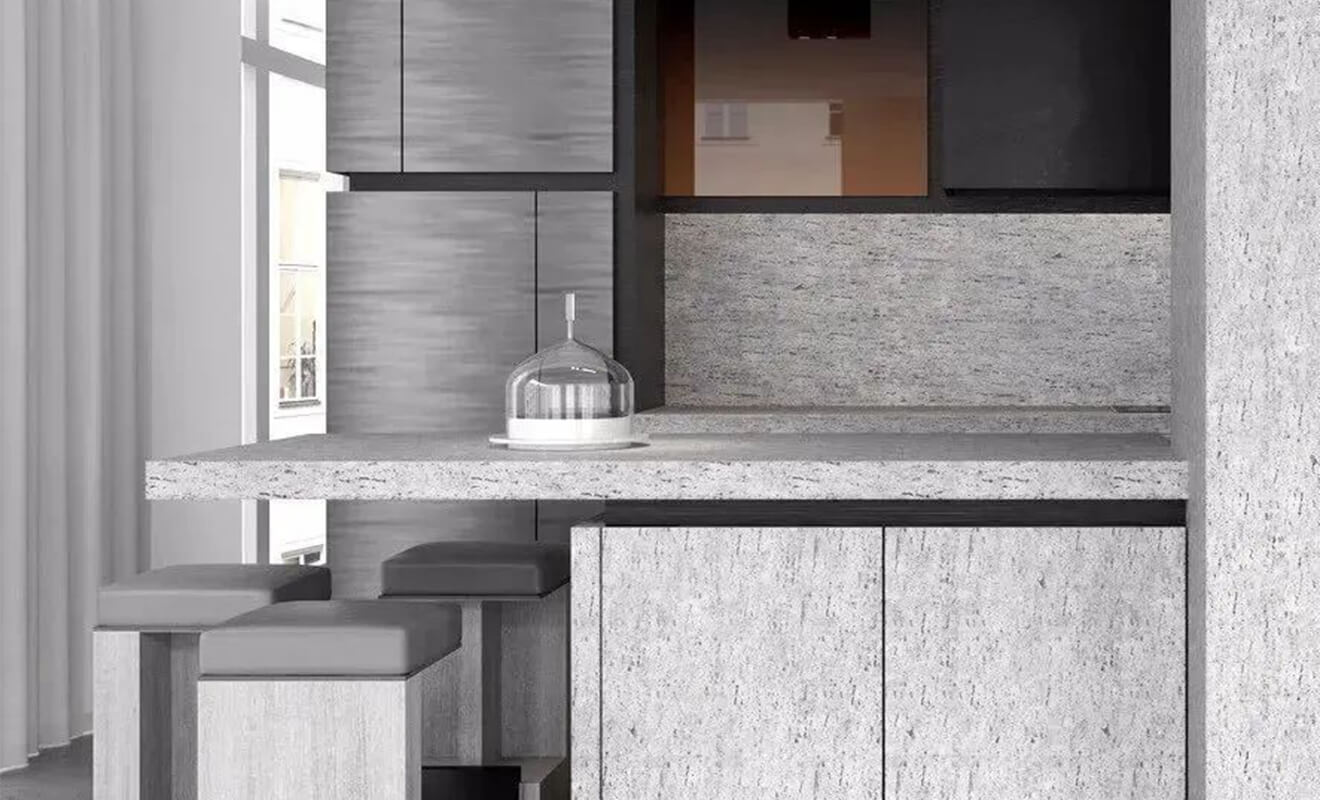 Function-Enhanced Island Counter: An island counter that aligns with a TV wall is commonly used in open kitchens or open study areas, particularly in minimalist or modern styles. This type of island counter not only separates the kitchen or study area from the dining room but also enhances the interaction between these two spaces. It acts as a transitional element, making the overall space more open and interconnected.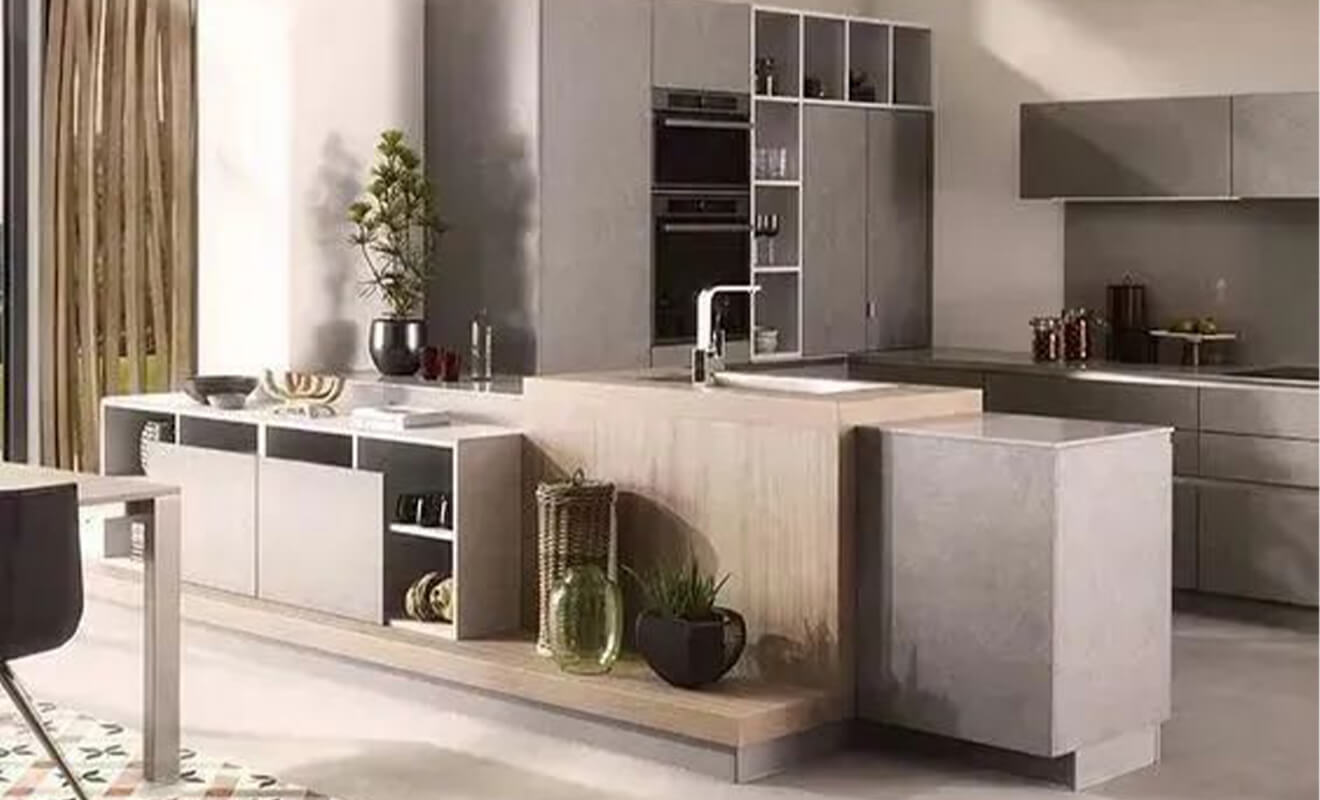 Decorative Island Counter: The defining feature of a decorative island counter is its extravagant and unconventional design, often breaking away from conventional norms. However, it should be noted that this type of design is expensive and only suitable for certain individuals and larger floor plans.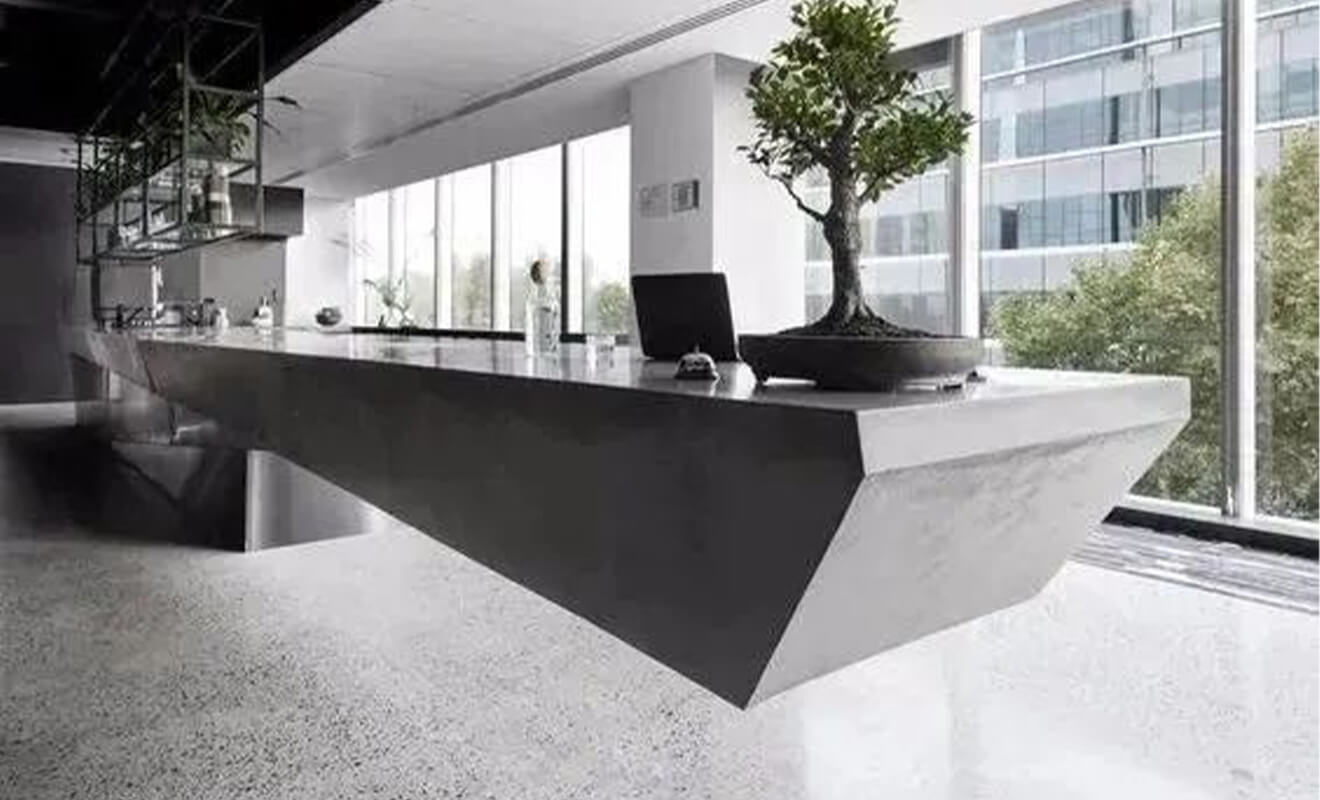 2.Categorization Based on Storage Capacity
By incorporating various cabinet combinations on the sides of the island counter, additional storage space of at least 5 square meters can be organized. The following 7 designs provide specific solutions:
Recessed Niche Design: Embedding a few small niches within the island counter allows for storing small items, newspapers, magazines, and easy retrieval.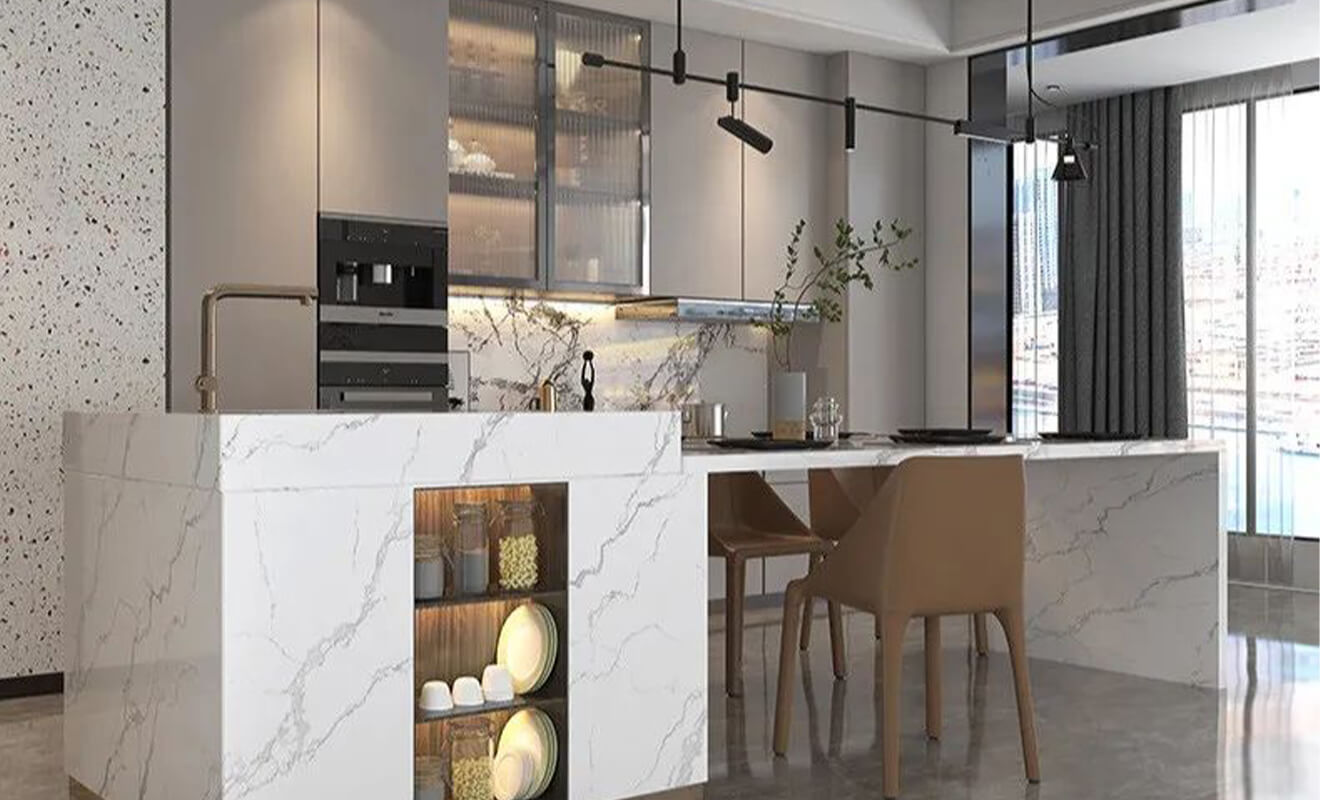 Open Space Cabinets: Incorporating a row of storage cabinets on the side of the island counter, leaving a 20cm-wide gap at the bottom, serves two purposes. Firstly, it facilitates cleaning, and secondly, when the island counter is used as a bar area, the space below serves as legroom for bar stools.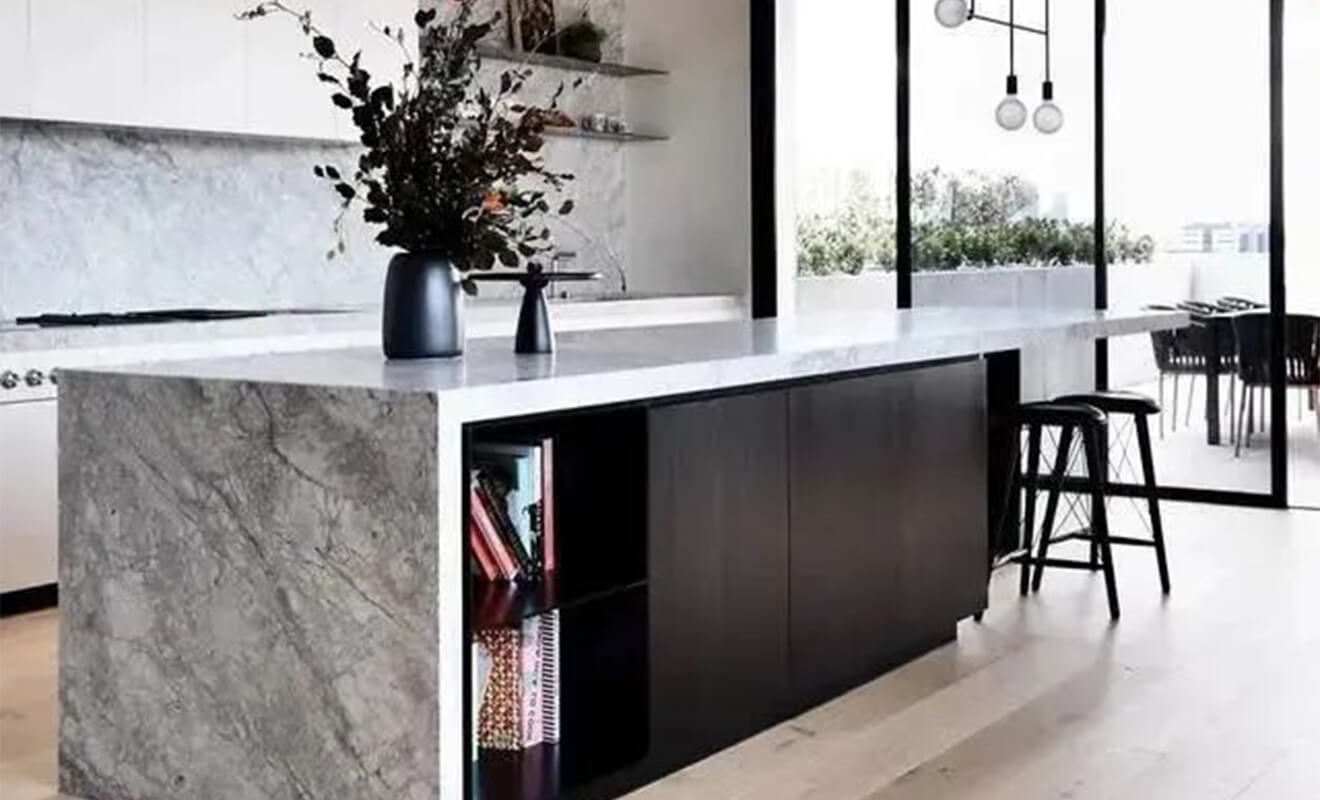 Multi-tier Display Shelves: Mounting multiple layers of shelves on the side walls of the island counter creates a multi-tiered display and storage area, adding aesthetic appeal to the arrangement of items. However, regular cleaning is required to prevent excessive dust accumulation.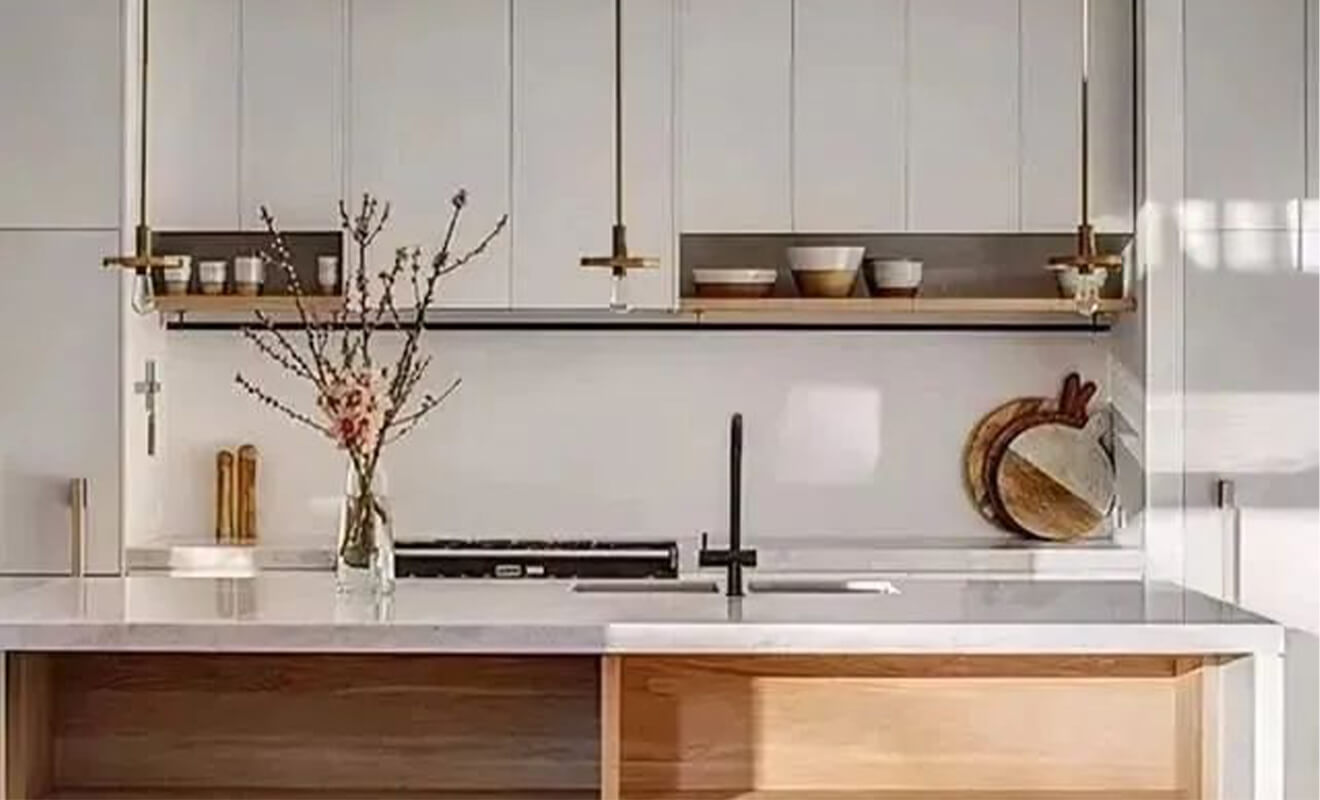 Narrow Tall Cabinets: Adding an additional set of Narrow and tall cabinets on the side of the island counter provides both storage and serving as a bar counter.
Cabinet + Desktop Combo: Installing a set of cabinets on the narrower side of the island counter while wall-mounting a desktop on the wider side not only ensures storage space but also extends the workspace.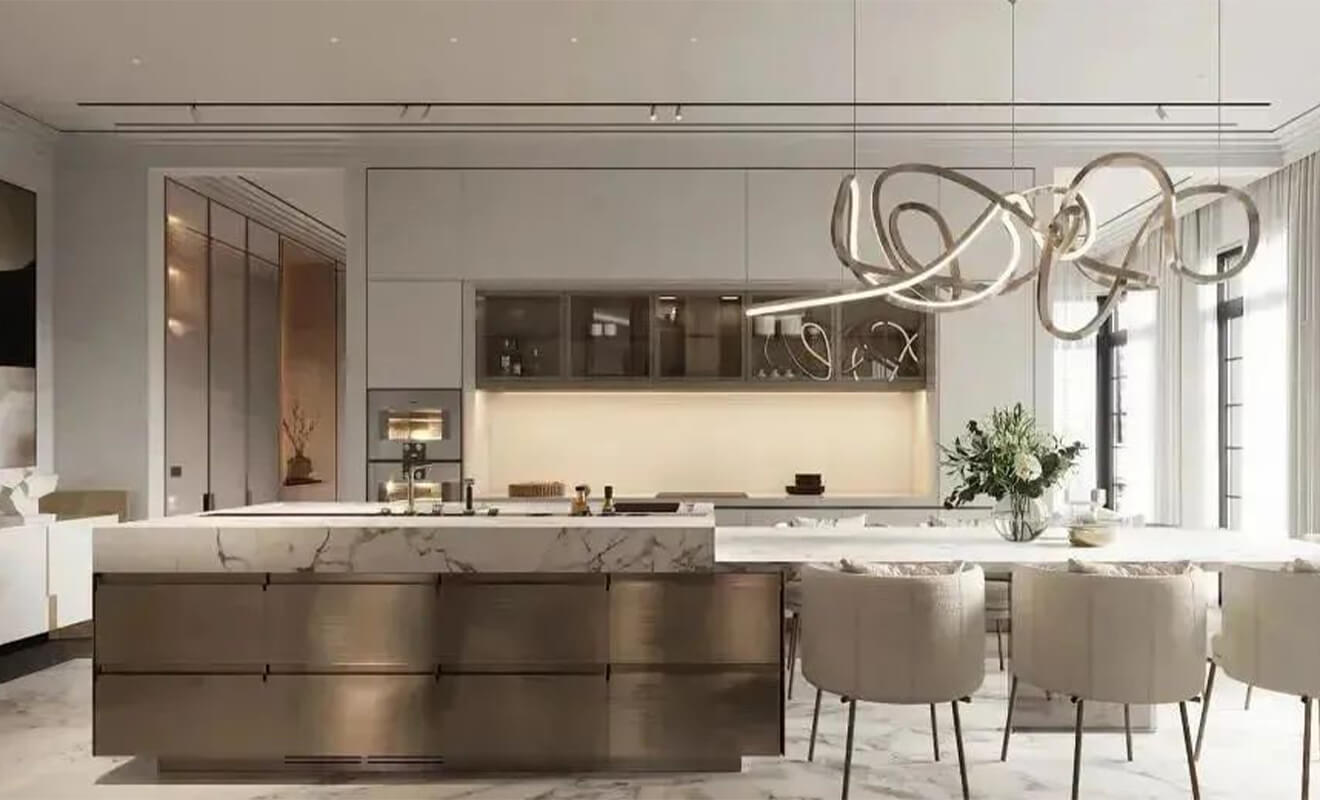 Wall-mounted Narrow Strip Shelving: Attaching a narrow strip shelf on the outer side of the island counter, utilizing less than 1 square meter, makes efficient use of the available side space.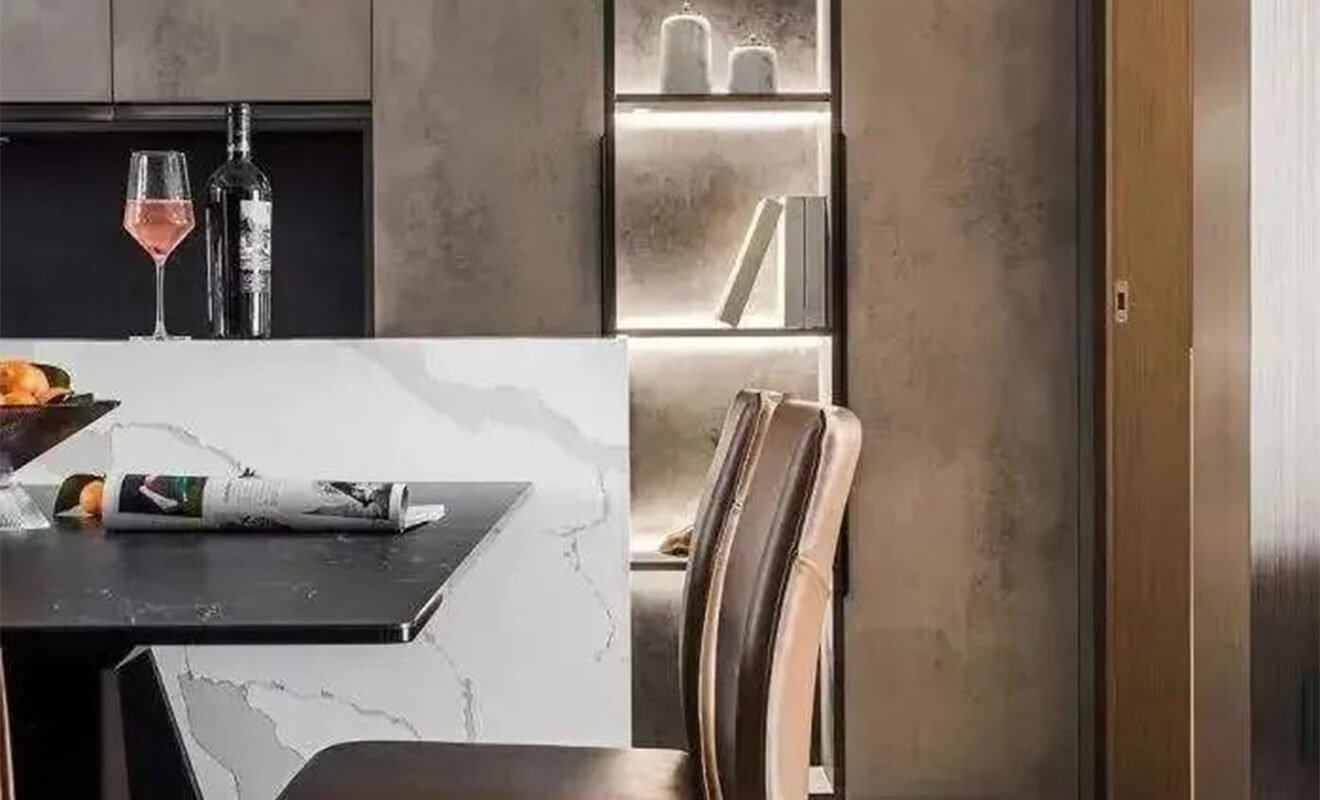 Elevated Countertop for Storage: The edge of the island counter can be raised by approximately 20cm, creating a barrier as well as a storage surface. This design protects the privacy of the workspace and maintains cleanliness, while the elevated narrow countertop can also be used for placing objects. Utilizing the side of the island counter effectively prevents wastage of space, providing storage functionality while offering additional workspace or a platform for placing items.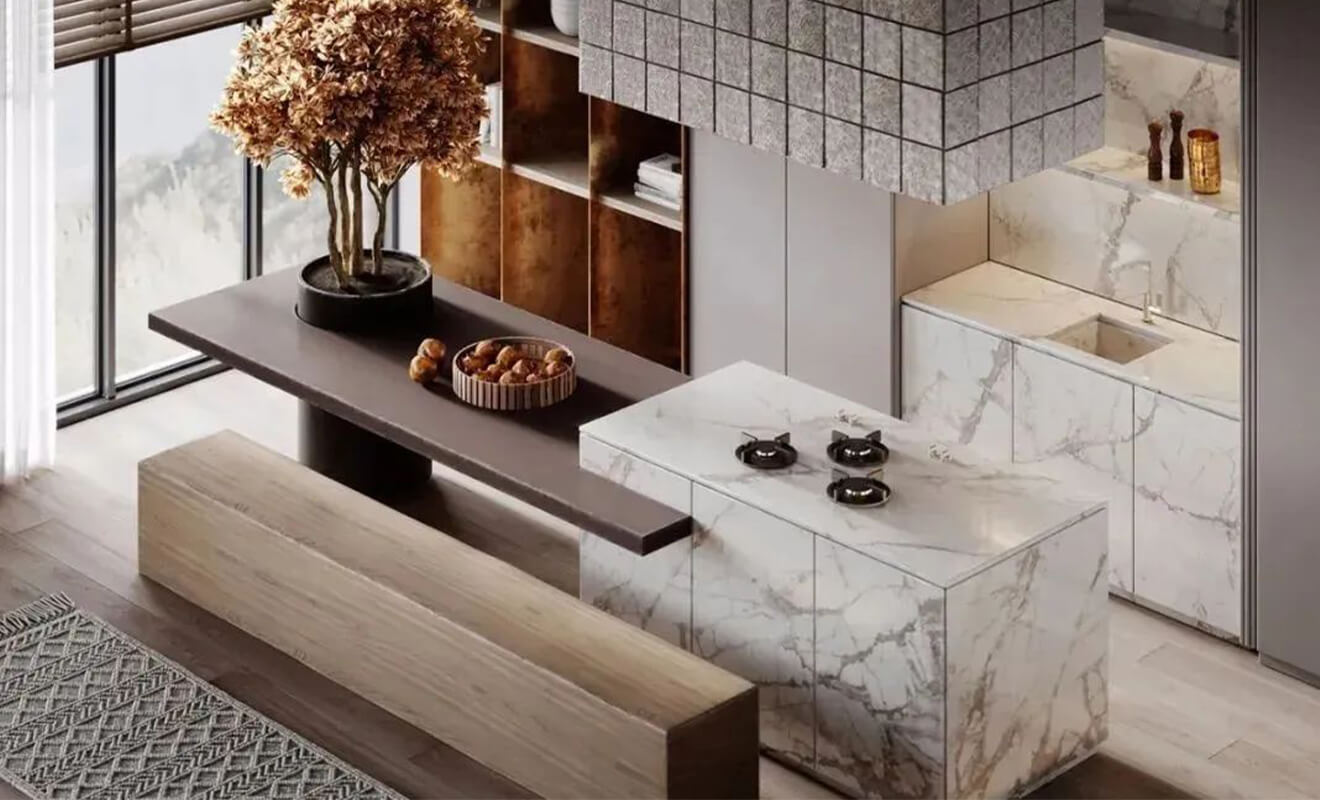 3.Dimensions of Stone Island Counters Island counter design imposes strict limitations based on kitchen area; spaces below 5 square meters are generally unsuitable. Additionally, it is not recommended to incorporate island counters in kitchens with overly narrow, elongated, or irregular floor plans.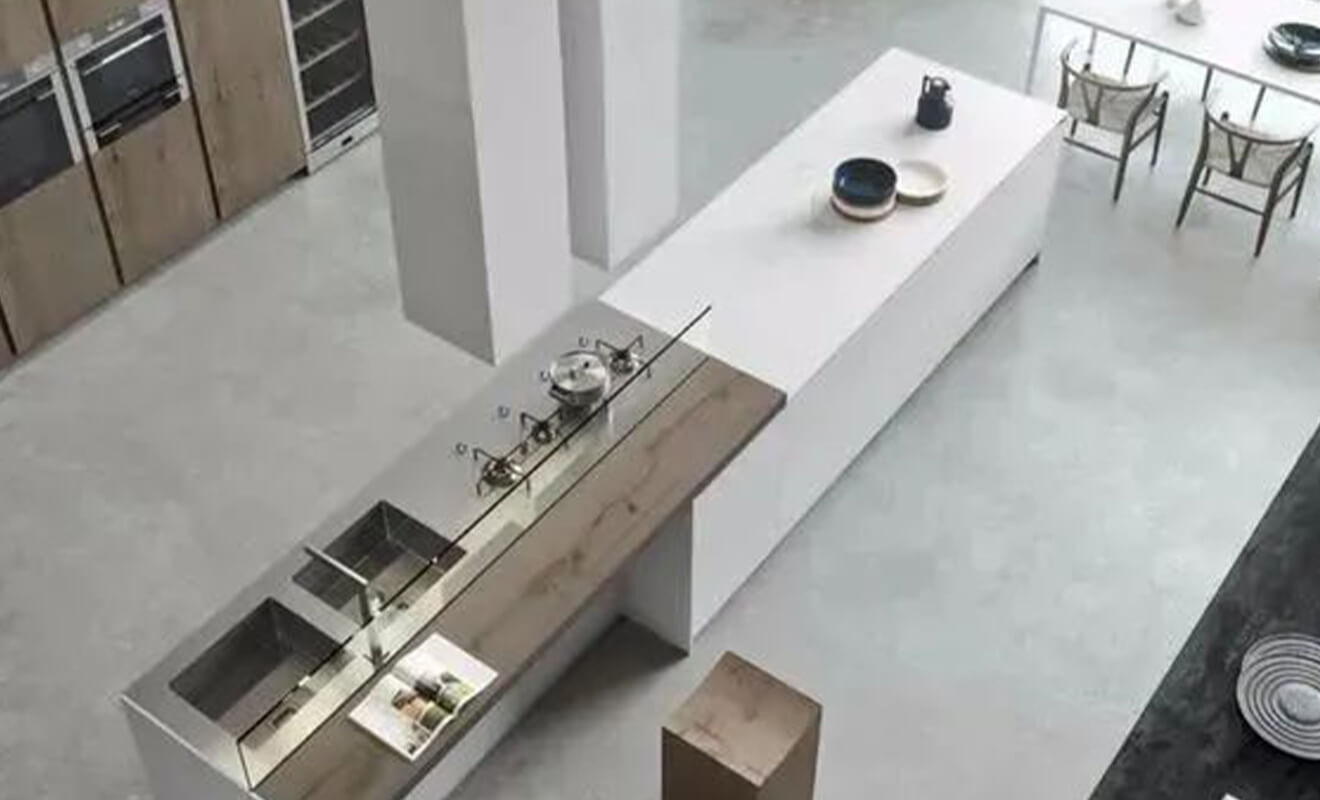 For a conventional medium-sized island counter, the minimum width should be 50cm, with a minimum height of 85cm and a maximum height of 95cm. The distance between the island counter and cabinets should be at least 75cm to ensure unobstructed movement in the kitchen. A distance of 90cm allows for easier cabinet door opening. The clearance space on the sides of the island counter should be at least 75cm, with the most comfortable distance being 90cm to accommodate smooth movement.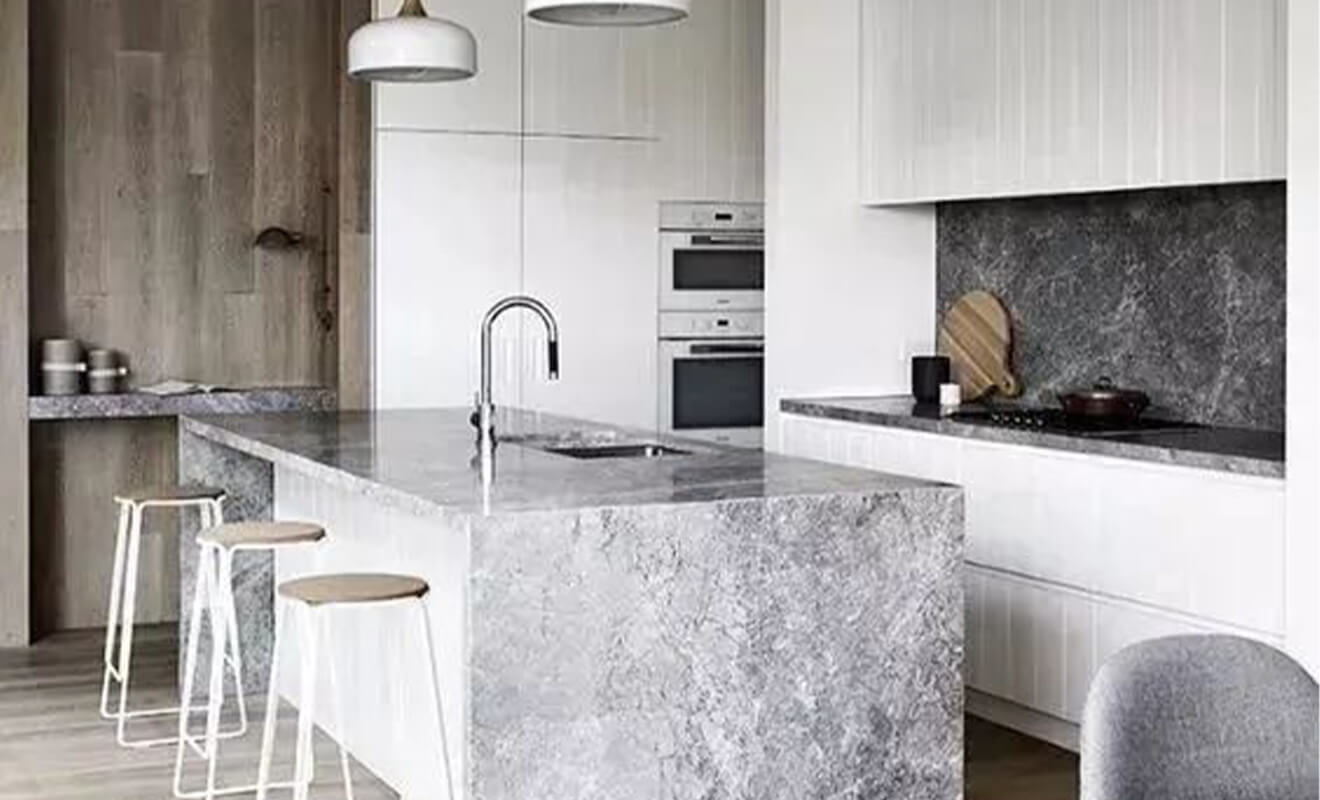 In the case of an island counter integrated with a dining table, the length is typically maintained around 1.5 meters, with a minimum requirement of 1.3 meters. Lengths below 1.3 meters tend to appear small and may compromise the aesthetics of detailed arrangements. If the space permits, longer lengths such as 1.8 meters or even 2 meters can be achieved. The width of the island counter is usually 90cm, with a minimum requirement of 80cm. Exceeding 90cm adds a grander overall look. Widths below 85cm tend to give a narrow and cramped impression.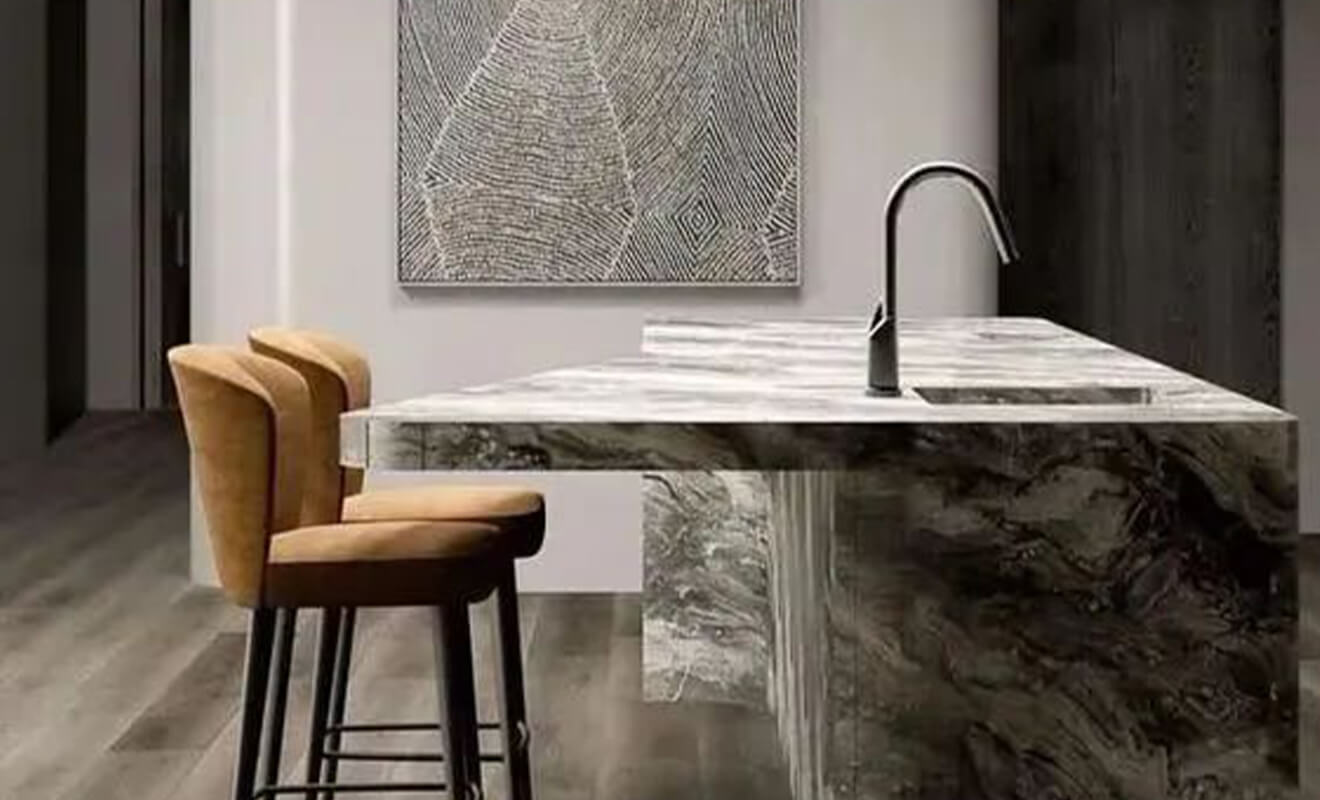 The standard height for island counters is currently set at 93cm, while the standard height for dining tables is 75cm. To create a visually appealing staggered effect, a height difference of approximately 18cm is recommended between the island counter and dining table. This not only enhances the overall aesthetics but also facilitates the installation of power outlets and switches. The seat height of high stools paired with a 93cm island counter is approximately 65cm above the ground, with a recess of 20cm to comfortably accommodate the legs and feet.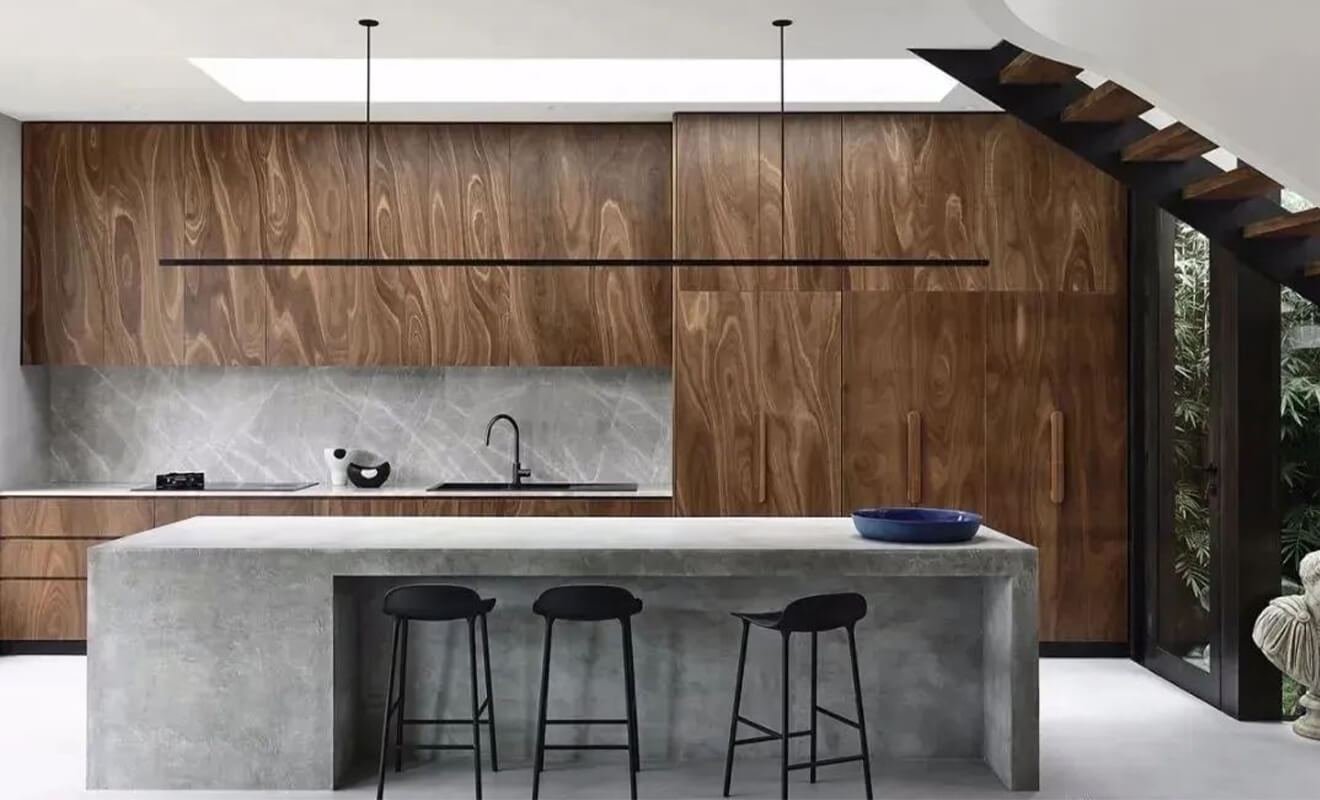 For island counters paired with dining tables, the length should be 1.8 meters or longer, with a minimum requirement of 1.6 meters. An island counter should not be perceived solely as a dining table; it can also serve as a study desk, play area, or have multiple functionalities. The width of the dining table should be 90cm, and the thickness of the tabletop is recommended to be 5cm for a substantial and quality appearance.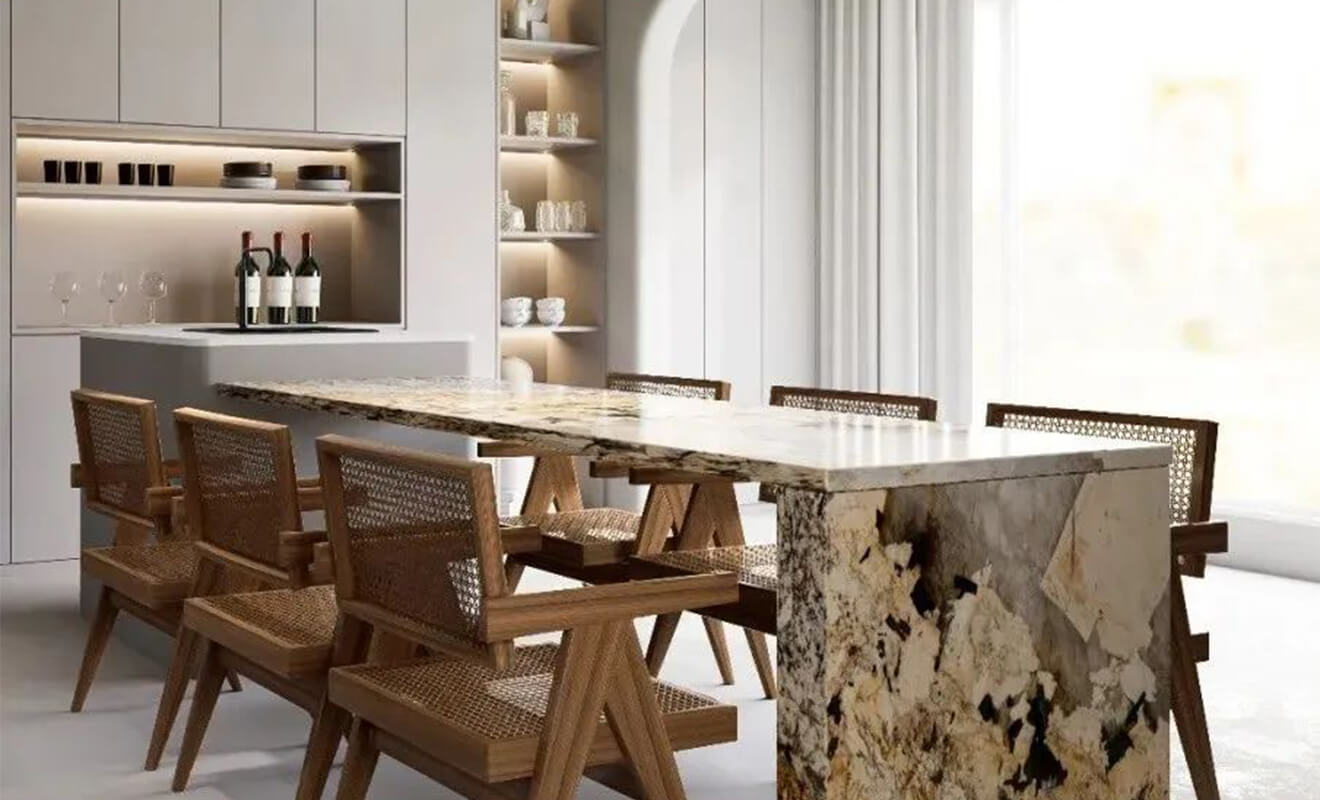 To enhance the overall texture and artistic appeal, many designers consider adding side inserts at the junction between the dining table and island counter. These side inserts typically have a length of 40cm and a width of 15cm, providing a comfortable and standard dimension. Additionally, the height of the island counter's kickboard is recommended to be controlled at 10cm.